FCC looking into disputes between Netflix and Internet providers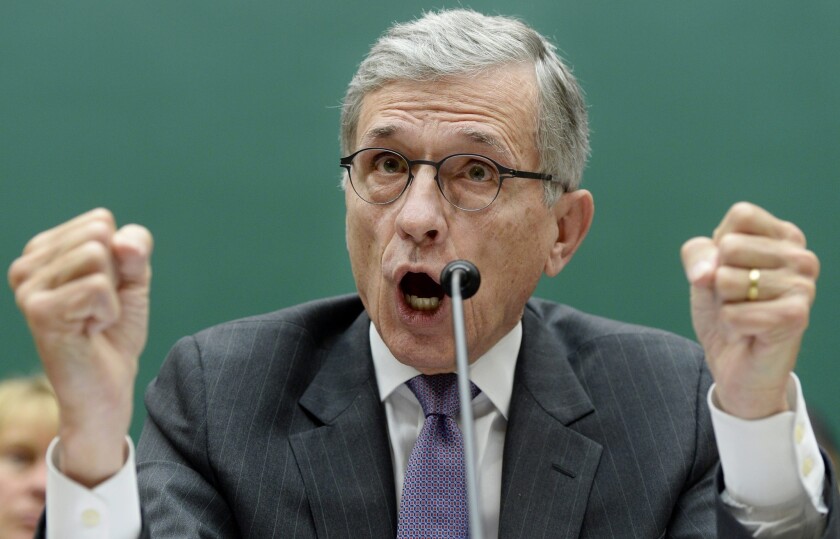 Reporting from Washington —
Federal regulators are looking into disputes between Netflix Inc. and broadband service providers such as Comcast Corp. and Verizon Communications Inc. to determine if consumers are being harmed by complex, behind-the-scenes deals that govern Internet traffic.
The broad inquiry into so-called peering agreements will determine if Internet providers are slowing down video streams and other services, Federal Communications Commission Chairman Tom Wheeler said Friday.
"The bottom line is that consumers need to understand what is occurring when the Internet service they've paid for does not adequately deliver the content they desire, especially content they've also paid for," he said.
"It's important that we know — and that consumers know," Wheeler said.
The issue is not directly related to the FCC's consideration of proposed network neutrality rules that would restrain broadband carriers from interfering with content flowing over their cable, fiber and phone systems.
The FCC also has asked for public input about whether its proposed rules should cover private peering agreements. Such agreements typically cover the exchange of data traffic between Internet service providers and content providers, including Hulu and Amazon.com Inc.
In recent months, Netflix and its customers have complained that Comcast and Verizon have been slowing delivery of the site's video streams.
In February, Netflix agreed to a peering arrangement with Comcast, paying the carrier for a direct connection to its broadband network to improve streaming speeds. Two months later, Netflix struck a similar deal with Verizon.
Consumer advocates have complained that broadband providers are using their ability to control Internet traffic to get content providers to pay to ensure their video streams are delivered. Those payments could drive up costs for consumers.
Wheeler promised at a House hearing last month that he would look into the private peering deals, which are not public. The agency already has received copies of the agreements between Netflix and Comcast and Verizon and is asking for others.
"Consumers pay their ISP and they pay content providers like Hulu, Netflix or Amazon," Wheeler said after reading one of the 19,000 emails he has received on the topic.
"Then when they don't get good service they wonder what is going on," he said. "Consumers must get what they pay for."
Netflix spokesman Joris Evers said: "We welcome the FCC's efforts to bring more transparency in this area. Americans deserve to get the speed and quality of Internet access they pay for."
Comcast spokeswoman Sena Fitzmaurice said the company welcomed the review.
But Verizon spokesman Ed McFadden raised concerns about changing a system that has worked.
"Internet traffic exchange has always been handled through commercial agreements. This has worked well for the Internet ecosystem and consumers," he said. "We are hopeful that policymakers will recognize this fact and that the Internet will continue to be the engine of growth of the global economy."
It was unclear what actions the FCC might take. Wheeler said that "what we are doing right now is collecting information, not regulating."
"We are looking under the hood," he said. "Consumers want transparency. They want answers. And so do I."
Follow @JimPuzzanghera on Twitter
---
Your guide to our clean energy future
Get our Boiling Point newsletter for the latest on the power sector, water wars and more — and what they mean for California.
You may occasionally receive promotional content from the Los Angeles Times.