Fed increases key interest rate and signals faster pace of rate hikes next year amid stronger economic growth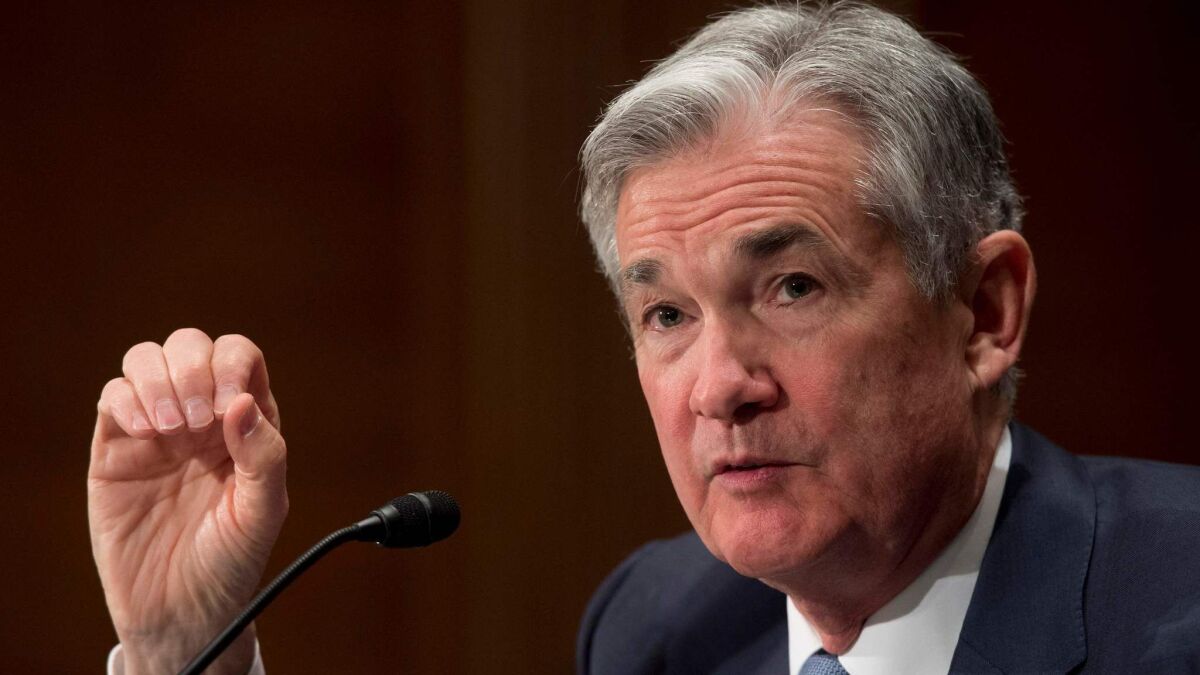 Reporting from Washington —
Federal Reserve officials see a stronger U.S. economy and signaled Wednesday that would mean a slightly faster pace of interest rate hikes in coming years.
For the moment, they're sticking with plans for three small hikes in their benchmark interest rate this year while adding one more hike in 2019 than they had indicated in December.
But their official forecast released Wednesday showed central bank policymakers were close to adding a fourth rate hike in 2018. Some analysts said they could still do so if strong growth, fueled by the large tax cuts, continues.
The first of this year's rate hikes came Wednesday.
As widely expected, Fed policymakers announced a 0.25 percentage point increase in the federal funds rate after the first meeting presided over by new Fed Chairman Jerome H. Powell.
The sixth hike since 2015, approved by a unanimous vote of the Federal Open Market Committee, brings the target range for the benchmark short-term interest rate to between 1.5% and 1.75%. Banks use the rate to determine interest rates for credit cards, car loans, small business loans and home equity lines of credit.
"The job market remains strong, the economy continues to expand and inflation appears to be moving toward the FOMC's 2% longer-run goal," Powell told reporters after the meeting. "Indeed, the economic outlook has strengthened in recent months."
He cited the tax cuts, solid job gains that boosted incomes and confidence, strong economic growth in other countries and still-low interest rates.
But Powell noted one cloud on the horizon — the potential for a trade war after the Trump administration announced stiff tariffs on heavy metals this month. The White House also reportedly is set to announce additional tariffs to punish China for theft of U.S. intellectual property.
"A number" of Fed officials brought up U.S. trade policy during the central bank's meeting this week, Powell said. Although they don't think changes in trade policy will affect their current economic projections, they reported that in discussions with business leaders in their regions, "trade policy has become a concern going forward," he said.
"It was just that this is a new risk that probably had been a low-profile risk that has become a more prominent risk to the outlook," Powell said.
Pressed on the economic effect of a trade war between the U.S. and China, Powell bluntly stated, "We don't do trade policy here at the Fed."
The first noneconomist to lead the Fed in 40 years, Powell took a plainspoken approach to describing the state of the economy and refused to be drawn into Washington political disputes, said Diane Swonk, chief economist at accounting and advisory firm Grant Thornton.
"He showed his ability to dodge and be diplomatic," Swonk continued. "He's a lawyer and he's a businessman, and that may be something that will serve him very well."
Major stock indexes bounced around during Powell's news conference and ended the day down slightly. But analysts said he succeeded in not roiling markets in his first news conference.
"He managed to keep financial markets fairly calm," said Chris Rupkey, chief financial economist at MUFG Union Bank in New York. "For a rookie, he did surprisingly well. I would give him an 'A.' "
The median projection by Fed policymakers for economic growth this year increased to 2.7% from a 2.5% forecast in December, according to new estimates released Wednesday. That was consistent with recent statements by Powell and other Fed policymakers that the tax cuts had boosted their expectations for economic growth.
The unemployment rate, which was 4.1% in February, is projected to decline to 3.6% by the end of 2019. It hasn't been that low since 1969.
Projected economic growth in 2019 was bumped up to 2.4% from a 2.1% forecast in December. Despite the brighter view of the economy, Fed officials held steady with their forecast for three total 0.25 percentage point interest rate hikes this year, including Wednesday's.
But the anonymous estimates of members of the Federal Open Market Committee showed that they were closely divided on the number of rate hikes this year.
"More fed funds rate increases are coming in 2018, but the FOMC is split right now between two and three additional rate hikes," said Gus Faucher, chief economist at PNC Financial Services Group. "It depends on what happens to the economy through the rest of the year."
Faucher said PNC's forecast is for three total rate hikes this year. Swonk predicted that after they see more economic data, Fed policymakers will tilt toward adding a fourth 2018 rate hike when they release their next projections in June.
Fed officials did indicate they planned to hike the rate three times again in 2019, compared with a December forecast of two rate hikes that year.
If the Fed holds to those projections, the federal funds rate would end 2019 at about 2.9%. The rate would be 3.4% at the end of 2020, according to the projections.
Noting that is nearly three years away, Powell said the 2020 forecast was "highly uncertain."
"You know we don't have the ability to see that far into the future, so I really wouldn't put a lot in that," he said.
Given recent signs of increased inflation that triggered financial market gyrations, analysts have speculated the Fed might enact four 0.25 percentage point increases this year. Powell suggested that might happen when he was questioned at a congressional hearing Feb. 27.
But Fed officials didn't raise any alarms about inflation in their policy statement. Their inflation forecast held steady at 1.9% for this year, just below the central bank's 2% annual target.
"There's no sense in the data that we're on the cusp of an acceleration in inflation," Powell said.
President Trump and other administration officials have predicted the tax cuts would boost U.S. economic growth to a 3% sustained annual rate or higher. But the Fed's median growth projections don't show that.
Asked for his own view on whether 3% growth was attainable, Powell said: "It's hard to say, but that is well above almost all current estimates of potential long-run growth."
This week's Fed monetary policy meeting was the first gathering since the bout of market turmoil that began in early February because of fears that the large tax cuts and a big boost in federal government spending were pushing up prices too quickly.
If that happened, the Fed could increase the pace of interest rate hikes to keep inflation from getting too high. That would make stocks a less attractive investment compared to bonds.
On Feb. 5, Powell's first workday after taking over for Janet L. Yellen, the Dow Jones industrial average experienced its largest one-day drop, plunging 1,175 points. Three days later, it tumbled more than 1,000 points again.
The Dow and broader Standard & Poor's 500 index were briefly down 10% from their recent highs — what's considered a market correction. But the Dow and S&P 500 have recovered most of those losses.
Twitter: @JimPuzzanghera
---
UPDATES:
3:25 p.m.: This article was updated with comments from Diane Swonk of Grant Thornton, Gus Faucher of PNC Financial Services Group, Chris Rupkey of MUFG Union Bank and additional comments from Fed Chairman Jerome H. Powell.
12:55 p.m.: This article was updated with comments from Federal Reserve Chairman Jerome H. Powell.
This article originally was published at 11 a.m.
Sign up for the California Politics newsletter to get exclusive analysis from our reporters.
You may occasionally receive promotional content from the Los Angeles Times.