Fed holds key interest rate steady, signals just two hikes this year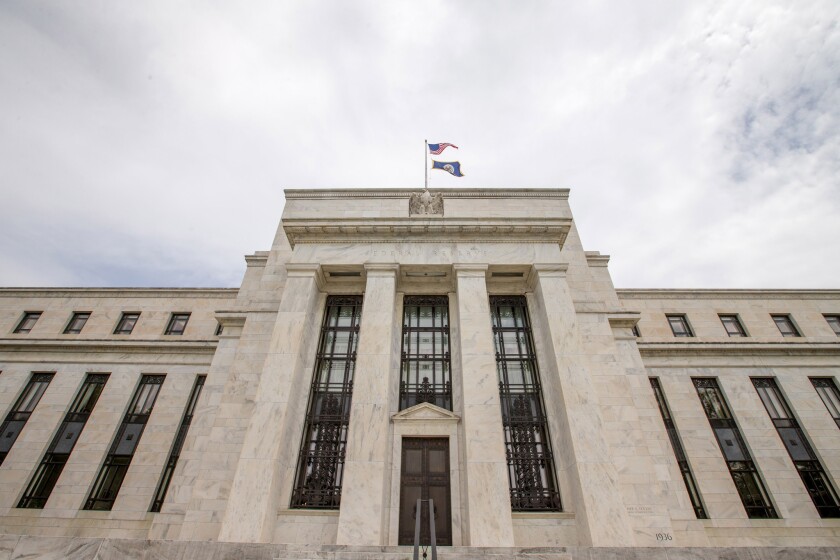 Reporting from Washington —
Federal Reserve policymakers on Wednesday held a key interest rate steady and signaled there would be no more than two small hikes this year — half what they had earlier estimated — amid lower economic growth forecasts.
Despite global turmoil in recent weeks, the U.S. economy has been "expanding at a moderate pace" because of increasing household spending, an improving housing sector and a strengthening jobs market, Fed officials said.
But overall inflation continues to run below the Fed's target, while exports and business investment "have been soft" in recent months, the Fed said in a policy statement.
Noting that "global economic and financial developments continue to pose risks," Fed officials downgraded their expectations for U.S. economic growth this year and held off on enacting another small interest rate hike.
Members of the Federal Open Market Committee voted 9-1 at the end of a two-day policymaking meeting to hold the central bank's benchmark rate at between 0.25% and 0.5%.
Esther George, president of the Federal Reserve Bank of Kansas City, dissented. She wanted to increase the rate by 0.25 percentage point, the Fed said.
Analysts had not expected a rate hike.
The short monetary policy statement issued after the meeting offered no new hints of when the next hike in the federal funds rate would come. The Fed meets eight times a year, with the next gathering in late April.
In December, Fed policymakers nudged up the rate by 0.25 percentage points. The move ended seven years of keeping it near zero in an unprecedented attempt to boost the economy and was seen as a validation of the recovery from the Great Recession.
But U.S. economic growth slowed at the end of last year, raising fears of another recession. And financial markets began tumbling in January amid concerns of slowing growth in China and elsewhere around the world.
The turmoil altered the Fed's plans.
In new forecasts released Wednesday, a majority of the Fed's 17 policymakers — including non-voting committee members — anticipated that the median rate would not be above 0.9% at the end of the year.
Assuming 0.25 percentage point increases, that means there would be just two rate hikes this year.
In December, a majority of policymakers anticipated four rate such hikes.
Fed officials also lowered their projections for economic growth this year and next.
The median forecast is for 2.2% growth this year, down from a 2.4% estimate in December. Growth would decline to 2.1% next year, down from a 2.2% forecast in December.
The labor market forecast for this year was unchanged with the unemployment rate expected to drop to 4.7% by the end of the year. The rate was 4.9% in February.
Many Fed policymakers are concerned that inflation remains low, although it has been picking up in recent months.
So-called core consumer prices, which exclude volatile food and energy, had their biggest 12-month increase in nearly three years, the Labor Department said Wednesday.
For the 12 months ended Feb. 29, core prices increased 2.3%.
Low oil prices continued to keep overall inflation down. Fed officials said Wednesday that they continued "to monitor inflation developments closely."
Fed officials want to see prices rising 2% a year. The Fed uses a different inflation measure, based on personal consumption expenditures, that showed core prices were up 1.7% for the 12 months ended Jan. 31, the latest data available.
Follow @JimPuzzanghera on Twitter
---
Your guide to our new economic reality.
Get our free business newsletter for insights and tips for getting by.
You may occasionally receive promotional content from the Los Angeles Times.