FedEx decides not to renew Amazon's U.S. air-delivery contract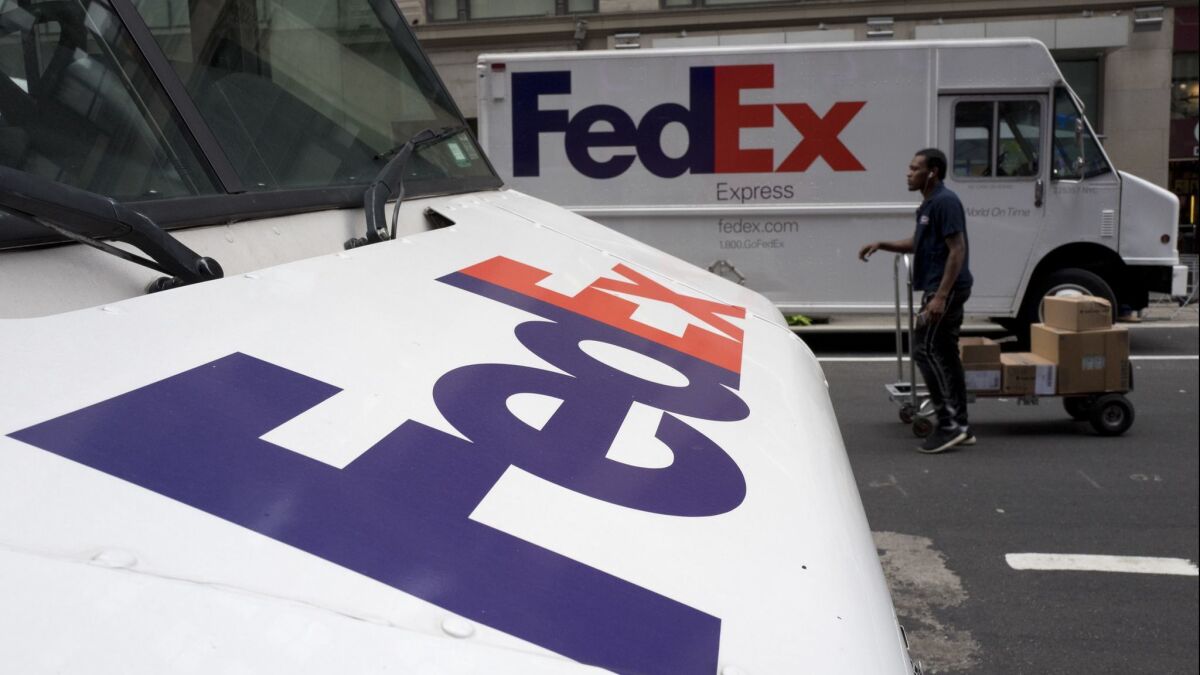 FedEx Corp. said it wouldn't renew its U.S. air-delivery contract with Amazon.com Inc., paring a key customer relationship as the largest online retailer deepens its foray into freight transportation.
FedEx's new focus will be on "serving the broader e-commerce market," with U.S. package volume from online shopping expected to double by 2026, the delivery giant said Friday. The Amazon contract with the Express air division expires at the end of this month, and it doesn't cover international operations or other services such as FedEx's ground deliveries.
FedEx's surprise move signals that the No. 2 U.S. courier will bank on e-commerce customers that lack Amazon's power to negotiate big volume discounts. Amazon's emergence as a logistics powerhouse is piling pressure on FedEx and United Parcel Service Inc. for cheaper and speedier deliveries, as the e-commerce leader builds its own aircraft fleet and delivery capabilities.
"FedEx is ripping the Band-Aid off," said Kevin Sterling, a Seaport Global Holdings analyst. "You could see the Express business eventually fading out, and FedEx made the decision to go ahead and exit that side of the business with Amazon."
The company's stock rose 0.8%, to $158.02 a share. Amazon shares rose 2.8%, to $1,804.03.
"We respect FedEx's decision and thank them for their role serving Amazon customers over the years," the e-commerce titan said.
Shrinking business
FedEx said Amazon isn't its largest customer, representing 1.3% of sales last year. Shipping consultant Satish Jindel estimated that FedEx's domestic air-parcel business with Amazon is probably "a few hundred million a year, at the best," and is poised to decline.
FedEx knows "their Amazon business is going to continue to shrink," said Jindel, founder of SJ Consulting Group. "Why have your capacity be used up by a customer that's going to continue to chip away? They'd rather use that capacity for other customers."
FedEx said it would focus on customers such as Walmart Inc., Target Corp. and Walgreens Boots Alliance Inc.
"There is significant demand and opportunity for growth in e-commerce, which is expected to grow from 50 million to 100 million packages a day in the U.S. by 2026," the Memphis, Tenn.-based courier said in the statement. "FedEx has already built out the network and capacity to serve thousands of retailers in the e-commerce space."
Cautionary tale
XPO Logistics Inc., another transportation provider, had to cut its 2019 profit forecast after Amazon abruptly took away business in December. That left XPO with $600 million in lost sales.
"FedEx didn't want to be caught off guard and come in one morning to Amazon saying we're no longer doing express business with you," Seaport's Sterling said.
Amazon has been beefing up its own freight-hauling ability for several years. In 2013, an internal report proposed an aggressive global expansion of the Fulfillment By Amazon service, which provides storage, packing and shipping for independent merchants selling products on the company's website.
Amazon encroachment
Three years ago, the online retailer struck deals with air-freight companies Atlas Air Worldwide Holdings Inc. and Air Transport Services Group Inc. to bolster the fleet of cargo planes dedicated to hauling Amazon packages.
Atlas Air and Air Transport operated a combined 40 air freighters for Amazon at the end of 2018, with agreements to add more over the next two years. In both cases, Amazon holds warrants that allow it to acquire increasing stakes in the air cargo carriers as its aircraft commitments grow.
Amazon had already been reducing its business with FedEx Express over the past 14 months, said Lee Klaskow, an analyst at Bloomberg Intelligence. Dropping Amazon will enable FedEx to carry "more desirable freight" than Amazon's business from a profitability standpoint.
"This is just a fact of Amazon using less of FedEx over the last year or so given that they're building out their own air fleet, combined with the fact their volume probably didn't warrant the kind of discounts they were getting," Klaskow said. "FedEx would like to grow with a long-term partner versus somebody who is taking transportation functions in-house."
---
Sign up for the California Politics newsletter to get exclusive analysis from our reporters.
You may occasionally receive promotional content from the Los Angeles Times.