Stocks reverse recent losses as bank shares jump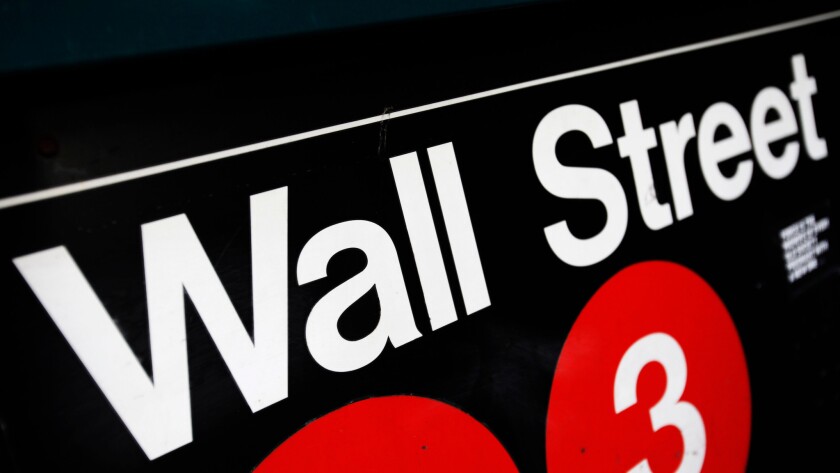 U.S. stocks climbed Friday as banks made a rapid recovery from their steep fall a day earlier. Investors hoped Deutsche Bank and the financial system in general were in better shape than they had feared.
Banks made the biggest gains Friday as Germany's largest bank tried to reassure investors about its financial health. Investors hope Deutsche Bank will be able to negotiate down the massive cost of settling a U.S. investigation into mortgage securities. Energy companies rose as the price of oil continued to move higher, and strong earnings from Costco sent consumer stocks up.
San Jose cloud computing company Nutanix skyrocketed in its first day of public trading, rising 131% to $37.
Deutsche Bank is the largest lender in Germany, and investors are concerned about not only its plunging stock price, but also the potential effect on the financial system if Deutsche Bank gets into serious trouble and the German government does not help it. Those fears faded Friday.
"People came to the realization that this isn't likely to be a big systemic risk that ripples through the financial sector," said Nate Thooft, head of global asset allocation for Manulife Asset Management.
The Dow Jones industrial average jumped 164.70 points, or 0.9%, to 18,308.15. The Standard & Poor's 500 index rebounded 17.14 points, or 0.8%, to 2,168.27. The Nasdaq composite rose 42.85 points, or 0.8%, to 5,312.
The Justice Department wants Deutsche Bank to pay $14 billion to end an investigation into mortgage-backed securities, and the stock jumped Friday after a report that the bank could settle the case with a smaller payment. Deutsche Bank's U.S.-listed stock rose 14% to $13.09. The stock has been pummeled this year and is trading near all-time lows.
Financial stocks tumbled Thursday afternoon after reports that some hedge funds were moving their business out of Deutsche Bank. On Friday, bank stocks and the broader market regained almost all those losses.
Thooft said that he does not think banks are in great danger, but that there are causes for concern, including the health of Italy's banks. Meanwhile, with interest rates so low and regulation getting tighter, there are plenty of reasons for investors to avoid bank stocks.
That didn't stop the financial sector, the weakest sector in the market this year, from rallying Friday. JPMorgan Chase advanced 1.4% to $66.59 and Citigroup climbed 3.1% to $47.23.
Benchmark U.S. crude oil rose 41 cents to $48.24 a barrel. It's up 8% over the last three days. Brent crude, the international standard, slipped 18 cents to $49.06 a barrel.
Oil prices surged this week after OPEC nations, which collectively produce more than one-third of the world's oil, surprised investors with an agreement on a small cut in production. Investors hope energy companies will book larger profits as a result. Chevron jumped 1.6% to $102.92 and EOG Resources rose 1.7% to $96.71.
Warehouse club operator Costco Wholesale jumped 3.4% to $152.51 after it reported a profit that was larger than analysts expected. Companies that make and sell household necessities also climbed. Procter & Gamble rose 1.7% to $89.75 and Wal-Mart rose 2% to $72.12.
Cognizant Technology Solutions tumbled 13.4% to $47.63 after the information technology consulting and outsourcing firm said it's investigating possible bribes paid to officials in India. Cognizant said it's looking into potential violations of the Foreign Corrupt Practices Act and has informed the Justice Department and the Securities and Exchange Commission.
Cognizant also said its president, Gordon Coburn, resigned.
Major stock indexes set records this quarter, thanks mostly to tech stocks. The S&P 500 technology index has climbed 12% over the last three months. Apple, the most valuable company in the S&P 500, surged 18%, partly on indications of strong sales for the newest iPhones. Microsoft, the next-largest company, rose 13% and Google parent Alphabet leaped 14%.
Bond prices sank Friday. The yield on the 10-year Treasury note rose to 1.60% from 1.56%. Stocks that pay high dividends, such as utilities and phone companies, traded lower.
Wholesale gasoline rose 2 cents to $1.49 a gallon. Heating oil rose 2 cents to $1.53 a gallon and natural gas fell 5 cents to $2.91 per 1,000 cubic feet.
Gold fell $8.90 to $1,317.10 an ounce. Silver rose 3 cents to $19.21 an ounce and copper rose 2 cents to $2.21 a pound.
The dollar rose to 101.41 yen from 101.07 yen. The euro rose to $1.1237 from $1.1216.
Germany's DAX climbed 1% and France's CAC 40 inched up 0.1%. The FTSE 100 in Britain lost 0.3%. Major indexes in Asia slumped on concerns about the banking industry. Japan's Nikkei 225 sank 1.5% and South Korea's Kospi fell 1.2%. Hong Kong's Hang Seng index slid 1.9%.
---
UPDATES:
2:40 p.m.: This article was updated with additional details.
1:40 p.m.: This article was updated with the close of markets.
7:35 a.m.: This article was updated with more recent market information.
This article was originally published at 7:05 a.m.
---
Your guide to our new economic reality.
Get our free business newsletter for insights and tips for getting by.
You may occasionally receive promotional content from the Los Angeles Times.