Stocks end mostly down, erasing gains from earlier in the day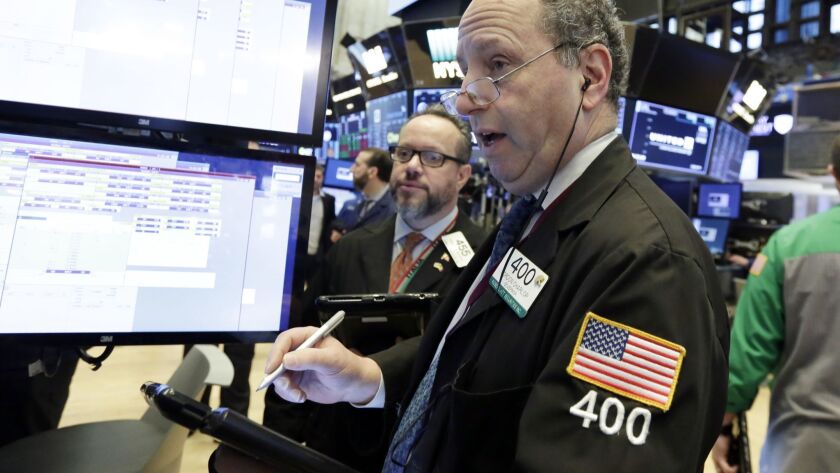 Stocks finished mostly lower Thursday in another choppy day of trading after a mid-session rally faded. Industrial and technology companies rose, but smaller companies and chemical makers skidded.
Without any major economic reports or further development on issues like tariffs, stocks drifted up and down. The market was coming off two days of losses.
Agribusiness company Monsanto fell after Bloomberg News reported that U.S. authorities have concerns about its sale to Bayer and might order Bayer to sell more assets. Toymakers Hasbro and Mattel sagged as Toys R Us moved toward shutting its U.S. stores.
Toymakers brace for disruption from closing of Toys R Us stores »
Industrial companies bounced back after three days of declines that stemmed from worries about trade tensions. After big gains earlier this month, smaller, more U.S.-focused companies continued to slip. Drugstores and packaged-food companies also declined. Technology companies finished with small gains.
Tech stocks did far better than the rest of the stock market in 2017, and they are the only part of the Standard & Poor's 500 index that has fully recovered from last month's sell-off.
Lindsey Bell, an investment strategist at CFRA Research, thinks there is a good chance the industry will outpace the broader market again this year.
"Our economy in general and our world in general is becoming more connected digitally, and this is an area that's going to continue to thrive as time goes on," Bell said. She added that chipmakers and service companies like Alphabet and Facebook should continue to do well.
The S&P 500 slipped 2.15 points, or 0.1%, to 2,747.33, its fourth consecutive loss. The Dow Jones industrial average rose 115.54 points, or 0.5%, to 24,873.66. The Nasdaq composite fell 15.07 points, or 0.2%, to 7,481.74. The Russell 2000 index of smaller-company stocks slid 7.69 points, or 0.5%, to 1,576.62.
Most of the companies listed on the New York Stock Exchange traded lower.
Monsanto fell 4.8% to $117.20 after Bloomberg News, citing unnamed sources, reported that antitrust regulators want Bayer to sell more assets before they let it buy Monsanto. Bayer agreed to buy Monsanto for $66 billion in 2016. Its U.S.-traded shares rose 22 cents to $29.76 on Thursday.
Mattel fell 2.4% to $13.84 and Hasbro slipped 0.4% to $88.15 as Toys R Us prepares to shut down its U.S. operations. Toys R Us CEO David Brandon told employees Wednesday that the chain plans to liquidate all of its U.S. stores. Hasbro and Mattel each get about 10% of their sales from Toys R Us, which has 740 stores and 30,000 employees in the U.S.
The 70-year-old company filed for Chapter 11 bankruptcy protection in late October and said in late January that it would close 182 stores. Mattel has plunged 22% since then, and Hasbro has fallen 7%.
IBM and chipmaker Broadcom helped technology companies rise. Thanks to their big gains in the last 15 months, technology companies now make up one-fourth of the total value of the S&P 500. It has been almost 20 years since any sector dominated the index that way: According to S&P Global, technology made up one-third of the index in early 2000, at the height of the dot-com boom.
Bell, of CFRA Research, said more deals are likely in the chip industry as Broadcom and Intel look to buy other companies after the U.S. government's decision to block Broadcom's effort to buy Qualcomm.
Discount retailer Dollar General climbed 4.8% to $93.44 after it said shoppers spent more money per trip during the fourth quarter. The company also gave a strong forecast for the year. Shares of rival Dollar Tree rose 1.5% to $94.16.
Oil and gas pipeline partnerships including Williams Cos. dropped after the Federal Energy Regulatory Commission announced changes to tax rules.
Benchmark U.S. crude rose 23 cents to $61.19 a barrel in New York. Brent crude, used to price international oils, rose 23 cents to $65.12 a barrel in London.
Wholesale gasoline remained at $1.92 a gallon. Heating oil rose 1 cent to $1.89 a gallon. Natural gas fell 5 cents to $2.68 per 1,000 cubic feet.
Gold fell $7.80 to $1,317.80 an ounce. Silver fell 12 cents to $16.42 an ounce. Copper fell 3 cents to $3.13 a pound.
Bond prices edged down. The yield on the 10-year Treasury note rose to 2.83% from 2.82%.
The dollar slipped to 106.24 yen from 106.25 yen. The euro fell to $1.2303 from $1.2375.
In overseas markets, the DAX in Germany rose 0.9%, France's CAC 40 gained 0.6%, and the British FTSE 100 added 0.2%. Japan's benchmark Nikkei 225 edged up 0.1%. South Korea's Kospi and Hong Kong's Hang Seng each rose 0.3%.
---
UPDATES:
2:05 p.m.: This article was updated with closing prices, context and analyst comment.
1:20 p.m.: This article was updated with the close of markets.
This article was originally published at 9:15 a.m.
---
Your guide to our clean energy future
Get our Boiling Point newsletter for the latest on the power sector, water wars and more — and what they mean for California.
You may occasionally receive promotional content from the Los Angeles Times.