Toymakers brace for disruption from closing of Toys R Us stores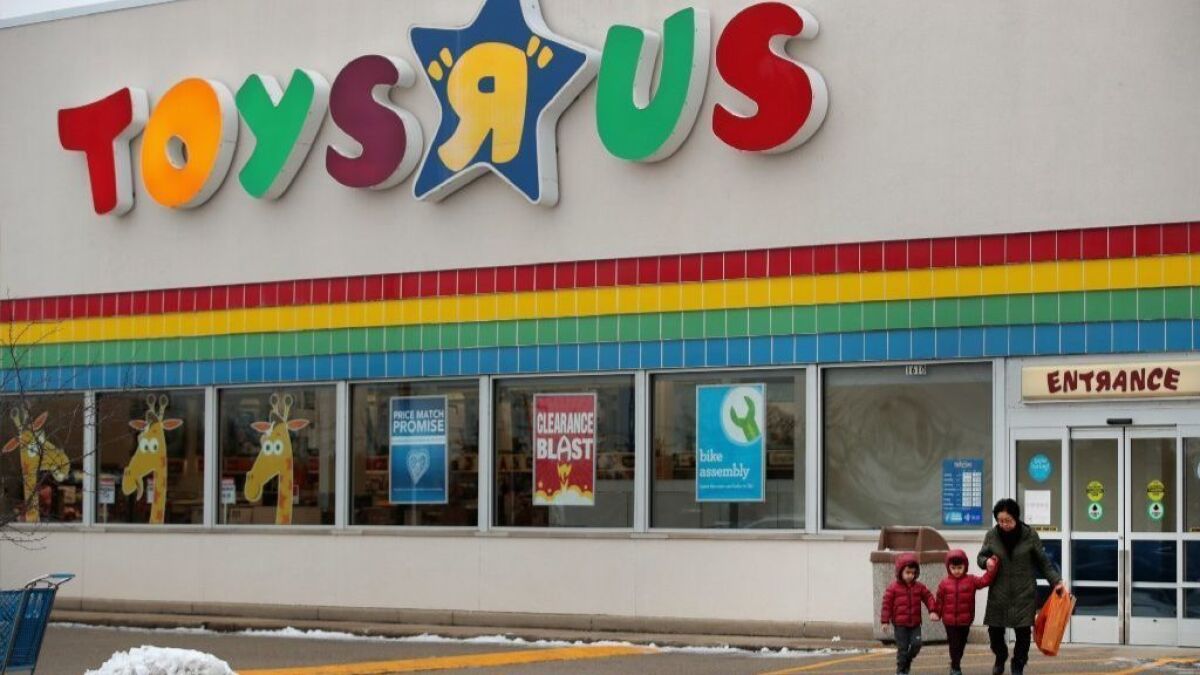 Toymakers big and small braced for severe disruption as bankrupt retailer Toys R Us Inc. confirmed Thursday that it plans to liquidate its U.S. business.
Toys R Us, which for decades was the nation's go-to store for toys and games, said it plans to shutter all 735 stores in the United States and Puerto Rico, including 22 in the greater Los Angeles area and 87 in California overall.
The move jeopardizes 33,000 jobs at Toys R Us, or an average of 45 employees per store, which means job losses in California could total 3,900.
The Wayne, N.J., company said it was in talks with unidentified parties for possibly combining up to 200 of its top-performing U.S. stores with its Canadian operations but would continue winding down its U.S. locations in the meantime.
Toys R Us also is pursuing a sale of the Canadian unit, along with its operations in Asia and Central Europe, and it's looking either to reorganize, liquidate or sell its chains in other nations. Toys R Us overall does business in 38 countries.
"This is a profoundly sad day for us as well as the millions of kids and families who we have served for the past 70 years," Toys R Us Chief Executive Dave Brandon, whose company has annual sales of about $11 billion, said in a statement.
It's also a blow to major toymakers Mattel Inc. and Hasbro Inc., along with smaller toy firms such as Jakks Pacific Inc. in Santa Monica, which now must scramble to find other outlets for their products.
Toys R Us' closure will "cause meaningful product-flow disruption" over the next six to nine months, analyst Stephanie Wissink of the investment firm Jefferies said in a note to clients Thursday.
Many of the toymakers' products that went to Toys R Us will now be shifted to e-commerce giant Amazon.com and to mass merchants such as Walmart Inc. and Target Corp., she said.
But it's unclear whether the toymakers will enjoy the same overall demand for their goods, partly because major retailers such as Walmart and Target don't have the same amount of shelf space devoted to toys as the Toys R Us stores.
"A typical Toys R Us carries about 3,000 more items in-store than a Walmart or Target," said Jim Silver, editor in chief of TTPM.com, a toy review site.
As a result, the stock of El Segundo-based Mattel, which already was struggling in part because of Toys R Us' bankruptcy filing last September, has plummeted 20% in the last month as speculation mounted that Toys R Us ultimately would liquidate.
Mattel's stock closed Thursday at $13.84 a share, down 34 cents, and Hasbro's stock fell 38 cents to $88.15 a share.
Mattel has pared its exposure to Toys R Us in recent years as the chain's problems mounted. The retailer accounted for 8% of Mattel's global sales in 2017, down from 11% in 2016, according to Mattel's annual securities filings.
Even so, the impact of Toys R Us' demise is one reason that speculation persists that Mattel and Pawtucket, R.I.-based Hasbro might soon merge, a prospect about which both companies have repeatedly declined to comment.
Hasbro spokeswoman Julie Duffy said Thursday that "we expect the pending liquidation and closure of Toys R Us stores to be disruptive to our business in the near term, most notably during 2018."
"But over the longer term we believe the market and Hasbro will continue to grow," Duffy said in an email. Hasbro's brands include Nerf toys, "Star Wars" and G.I. Joe figures and board games such as Monopoly.
Mattel, whose brands include the iconic Barbie doll along with Fisher-Price, Hot Wheels and American Girl dolls, did not have an immediate comment.
Jakks' products include Disney Princess toys and Nintendo action figures. Other toymakers in the Los Angeles area include MGA Entertainment Inc., maker of Bratz dolls; Bandai America Inc., maker of Power Rangers toys; Imperial Toy; and Alpha Group US.
In addition to seeking added retail outlets for their goods, the toymakers might have to implement job cuts, refinance their balance sheets and perhaps entertain merger offers, depending on how much business they've done with Toys R Us, Silver said.
"I'm sure this is a year that many larger companies are going to look to pick up some of these small and mid-sized [toy] brands at a good price," he said.
The toymakers also will try to get added distribution with retailers such as Kohl's Corp., J.C. Penney Co. and Party City Holdco Inc., which are increasingly expanding their space for toys, Silver said.
Toys R Us traces its roots to 1948 when founder Charles Lazarus opened a baby furniture store in Washington. He later began selling toys as well and adopted the Toys R Us name in 1957, with a backward "R" in the logo to give the impression a child had written it.
The company careened toward bankruptcy for several reasons, including its inability to keep pace with consumers' shift to online shopping at Amazon and other websites.
In addition, Toys R Us was saddled with $5 billion of debt stemming from its buyout in 2005 by a trio of investment firms that took the company private.
When it filed for Chapter 11 bankruptcy protection last September, Toys R Us hoped to reorganize and continue operating. But those hopes dimmed after the chain suffered disappointing sales during the critical holiday shopping period.
Twitter: @PeltzLATimes
---
UPDATES:
1:35 p.m.: This article was updated with closing stock prices for Mattel and Hasbro.
11:55 a.m.: This article was updated with the potential job losses from Toys R Us' liquidation and Mattel's report on its exposure to Toys R Us.
10:25 a.m.: This article was updated with the Toys R Us store count in greater Los Angeles, Hasbro's response and an analyst's comments about the impact on smaller toy makers.
This article was originally published at 9 a.m.