Stocks jump again as trade-war fears ease; Amazon and Facebook rally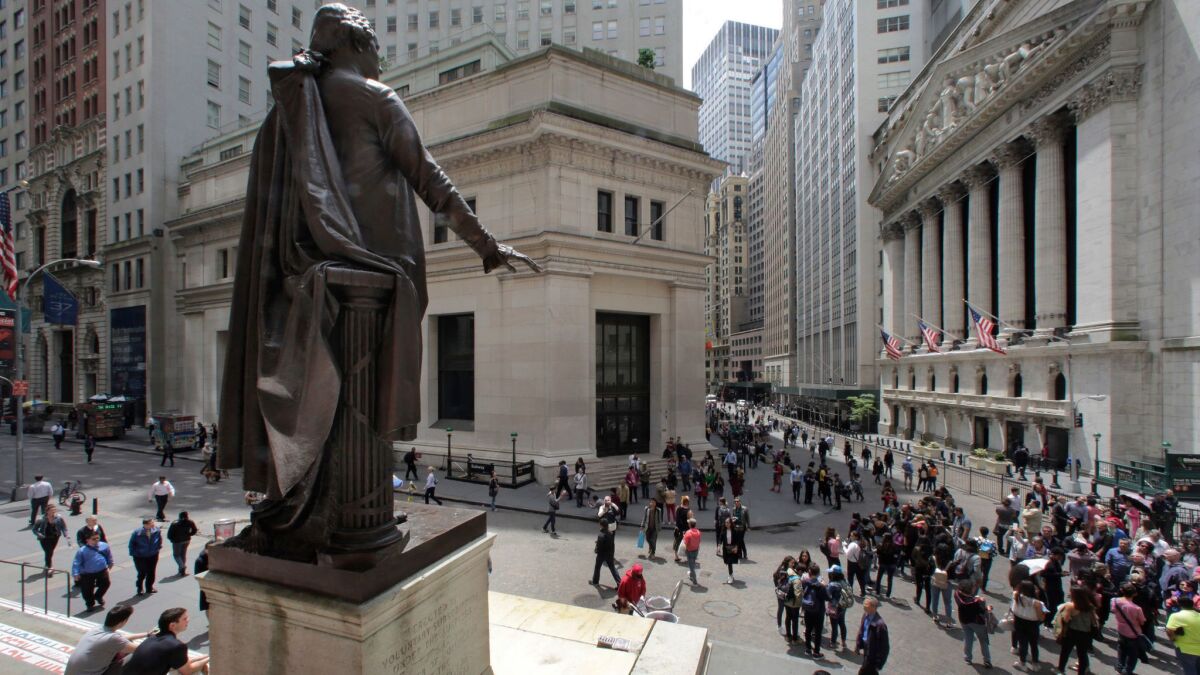 Global stock indexes kept climbing Thursday as investors around the world grew more optimistic that a trade dispute between the U.S. and China, the two largest economies in the world, will be resolved without too much damage. In the U.S., banks and retailers made some of the biggest gains.
The rally started late Wednesday as American and Chinese officials reassured investors that they are willing to talk and aren't rushing into a trade war that could hurt global economic growth and company profits. That helped stocks reverse the big losses they had taken hours earlier. On Thursday, banks rose along with interest rates, retailers and consumer-focused companies kept rising, and industrial and technology companies turned higher.
Worries and fears about international trade and new troubles for Facebook and Amazon have blotted out almost everything else over the last two weeks, and the market has been on a wild ride with a lot of unusually big moves. From March 22 to Wednesday, the Standard & Poor's 500 index rose or fell at least 1% in eight of nine trading days.
"Very often the reaction in the market is 'sell first and ask questions later,'" said Quincy Krosby, chief market strategist at Prudential Financial.
The S&P 500 index rose 18.15 points, or 0.7%, to 2,662.84 on Thursday. The Dow Jones industrial average climbed 240.92 points, or 1%, to 24,505.22. The Nasdaq composite advanced 34.44 points, or 0.5%, to 7,076.55. The Russell 2000 index of smaller-company stocks increased 11.26 points, or 0.7%, to 1,542.93.
Amazon led retail companies higher, rising 2.9% to $1,451.75. Netflix advanced 1.7% to $293.97. Nike rose 1.7% to $69.59.
Facebook climbed 2.7% to $159.34 after Chief Executive Mark Zuckerberg told reporters that the social networking giant hasn't lost many users in the wake of a major privacy controversy. The company also plans to give users more information about the data it gathers and restrict the user data that outsiders can access.
At the same time, Facebook revealed that as many as 87 million users may have had their data exposed in the Cambridge Analytica scandal, more than the 50 million disclosed in published reports. Its stock is down 14% since the scandal became public almost three weeks ago.
Stocks tumbled Wednesday morning after the U.S. and China each announced tariffs on about $50 billion in goods made by the other country. The tariffs could take a toll on industrial companies by making parts more expensive and reducing sales. But on Thursday, Deere rose 1.9% to $151.34, wiping out most of Wednesday's loss. Aerospace company Boeing rose 2.7% to $336.40.
Construction equipment maker Caterpillar, which made a small gain Wednesday, rose an additional 2% to $148.13.
Trade tensions have been the market's main focus over the last few weeks, but Krosby, of Prudential, said that could change next week because companies will start to report their first-quarter results. Investors are expecting another quarter of strong profit growth, and the reports will give investors more insight into the effects of the recent corporate tax cuts on the economy as well as on company profits and spending. They will also learn more about how the proposed tariffs might affect different industries.
"What's going to be helpful is to hear from different sectors and watch what the CEOs and CFOs tell us about how they are factoring in the tax cuts, what they plan on doing with the extra cash on their balance sheets, and also what do they say about the potential tariffs," Krosby said.
As investors grew less worried about the trade impasse, they sold government bonds. The yield on the 10-year Treasury note rose to 2.83% from 2.81%. That sent interest rates higher, which helped banks.
Companies that pay hefty dividends, such as utilities and real estate investment trusts, lagged behind the rest of the market. Their large dividend payments make those stocks similar to bonds, and investors find the stocks more appealing when bond yields are low.
Benchmark U.S. crude rose 17 cents to $63.54 a barrel in New York. Brent crude, used to price international oils, rose 31 cents to $68.33 a barrel in London.
Wholesale gasoline and heating oil both remained at $1.98 a gallon. Natural gas fell 4 cents to $2.68 per 1,000 cubic feet.
Gold fell $11.70 to $1,328.50 an ounce. Silver rose 10 cents to $16.36 an ounce. Copper jumped 6 cents to $3.07 a pound.
The dollar rose to 107.12 yen from 106.74 yen. The euro fell to $1.2256 from $1.2280.
In overseas markets, the German DAX jumped 2.9%, the CAC 40 in France surged 2.6%, and Britain's FTSE 100 leaped 2.4%. Japan's Nikkei 225 gained 1.5%. South Korea's Kospi rallied 1.2%. Markets in Hong Kong were closed for a holiday.
---
UPDATES:
2:40 p.m.: This article was updated with closing prices, context and analyst comment.
10:10 a.m.: This article was updated with the latest market data.
This article was originally published at 7:20 a.m.
---
Sign up for the California Politics newsletter to get exclusive analysis from our reporters.
You may occasionally receive promotional content from the Los Angeles Times.