Stocks mostly rise, a respite after two days of big losses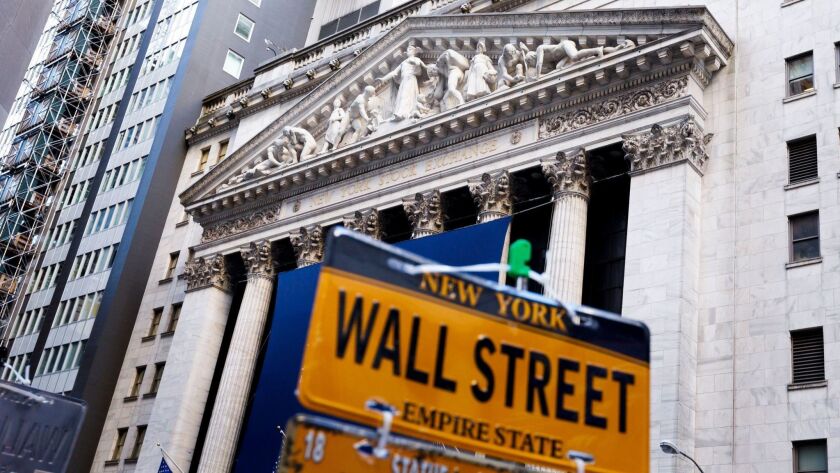 U.S. stocks finished mostly higher Wednesday, a break after two days of steep losses. Technology and internet companies and retailers were responsible for most of the gains.
High-growth stocks such as retail and industrial companies rose, and energy companies benefited as crude oil climbed about 2%. Smaller and more domestically focused companies surged. Those sectors have slumped over the last two months.
Despite Wednesday's gains, the Standard & Poor's 500 index is down 3.2% so far this week.
Alec Young, managing director of global markets research at FTSE Russell, said the market has tumbled this fall because growth in the global economy and in company profits are slowing down, and investors are worried that the situation will get worse.
Young said Wall Street essentially has a two-item wish list for the holidays: a general trade agreement between the United States and China, and a sign the Federal Reserve will raise interest rates at a more gradual clip. If those things transpire, he said, the stock market will settle down.
President Trump and Chinese President Xi Jinping are scheduled to discuss the trade situation at a Group of 20 summit at the end of this month.
"All they have to do is agree on a high-level framework that can delay the increase in the tariffs," Young said. "If the Fed is more dovish and we get some positive news on China, we can have a solid end to the year."
The S&P 500 climbed as much as 1.1% in early trading, but it finished with a gain of just 8.04 points, or 0.3%, at 2,649.93.
The Dow Jones industrial average slipped 0.95 of a point to 24,464.69. The Nasdaq composite climbed 63.43 points, or 0.9%, to 6,972.25. The Russell 2000 index of smaller-company stocks rose 19.27 points, or 1.3%, to 1,488.28.
Trading was relatively quiet ahead of the Thanksgiving holiday. U.S. markets will be closed Thursday and will be open for a half-day Friday.
Strong reports from companies including Foot Locker helped retailers. The shoe and athletic apparel company climbed 14.9% to $52.96 after its third-quarter profit and revenue beat Wall Street's expectations. The company said sales broke out of a slump and prices also rose.
Gap rose 4.7% to $25.81 after posting solid quarterly results and saying it will close more struggling Gap locations.
That contributed to a rebound for retailers after they dropped Tuesday. Home improvement company Lowe's rose 2.5% to $88.37. Nike rose 1.8% to $72.37.
Technology companies recovered a sliver of their recent losses. Adobe rose 2.8% to $225.98. Design software maker Autodesk climbed 9.7% to $135.04 after a issuing a strong quarterly report. The company also said it is buying construction software company PlanGrid for $875 million.
Amazon rose 1.4% to $1,516.73. Facebook climbed 1.8% to $134.75. Microsoft rose 1.4% to $103.11.
Apple, however, edged down 0.1% to $176.89.
Apple's market value has dropped by $264 billion since early October and Amazon has fallen by $251 billion since early September. Since late July, Facebook has lost $241 billion and Alphabet is down by $169 billion. That's $925 billion in value lost by just those four companies, more than any S&P 500 company is worth. Apple is the most valuable company on the index and is currently worth about $839 billion.
Utilities and other high-dividend stocks declined. Those companies have done better than the rest of the market during turbulent trading in October and November, but when the market makes a broad rebound they usually get left behind. Coca-Cola fell 1.3% to $48.73. Duke Energy fell 2.3% to $86.45.
Bond prices fell. The yield on the 10-year Treasury note rose to 3.06% from 3.04%.
Oil prices rebounded: Benchmark U.S. crude climbed 2.2% to $54.63 a barrel in New York after falling 6.6% on Tuesday to its lowest price in a year. Brent crude, the international standard traded in London, rose 1.5% to $63.48 a barrel.
Chevron shares rose 1.3% to $117.57. Exxon Mobil shares rose 0.8% to $77.56.
Crude prices have plunged since early October as global stockpiles surged. Production increased after the U.S. said it would reimpose sanctions on Iran's energy sector, but it later granted waivers that allowed many countries that buy oil from Iran to continue making those purchases. If the global economy slows significantly, that would also reduce demand for oil.
Wholesale gasoline rose 1% to $1.51 a gallon. Heating oil fell 1% to $1.97 a gallon. Natural gas fell 1.6% to $4.45 per 1,000 cubic feet.
Gold rose 0.6% to $1,228 an ounce. Silver rose 1.6% to $14.50 an ounce. Copper rose 1% to $2.79 a pound.
The dollar rose to 113.06 yen from 112.40 yen. The euro edged down to $1.1388 from $1.1399.
European stock indexes climbed. Germany's DAX jumped 1.6%. Britain's FTSE 100 rose 1.5% and the CAC 40 in France rose 1%.
In Asia, Japan's benchmark Nikkei 225 fell 0.4% and the Kospi in South Korea slipped 0.3%. Hong Kong's Hang Seng index rose 0.5%.
---
UPDATES:
2:40 p.m.: This article was updated with closing prices, context and analyst comment.
7:25 a.m.: This article was updated with the latest stock market results.
This article was originally published at 6:50 a.m.
---
Your guide to our clean energy future
Get our Boiling Point newsletter for the latest on the power sector, water wars and more — and what they mean for California.
You may occasionally receive promotional content from the Los Angeles Times.