A new generation of young home buyers is tiptoeing into the market
Newly married and in their mid-20s, San Clemente residents Josh and Kayleigh Hyink were ready for the next step in their "master plan."
So the couple ditched their $1,644 one-bedroom apartment in Orange County and this spring purchased a new $430,000 house in the Riverside County city of Murrieta, becoming homeowners for the first time.

For the record:
8:54 a.m. Sept. 21, 2023For the record: This article incorrectly describes a development in Rancho Mission Viejo as the Norwalk Neighborhoods. In fact, the project is known as the NorthWalk Neighborhoods.
Even though the move meant that Josh's commute to his Huntington Beach job ballooned to 75 miles, the couple said it was worth it to get a large house — something they couldn't afford closer in. The median home price in Riverside County was $365,000 in July, compared with $690,000 in Orange County, according to CoreLogic.
"We wanted to get out of renting," Josh said. "We wanted to move toward starting a family."
The rate of first-time home buyers remains low historically, but eight years into the economic recovery, it is finally picking up, as young Americans such as the Hyinks grow more comfortable in their careers and reach an age when people tend to put down roots.
Nationally, first-time home buyers purchased 35% of previously owned houses and condos sold in the 12 months that ended in June 2016 — the latest data available — up from a near-record low of 32% in the previous 12-month period.
Still, that rate is well below the historical average of 40% over the last several decades, reflecting continuing obstacles, such as heavy personal debt loads and high home prices, that are preventing more young people from buying homes.
In California, the uptick is slightly more muted, given an affordability crisis that prompted Bankrate.com to label the state the toughest for first-time buyers.
In this year's second quarter, 31.7% of houses and condos in California were purchased by first-time buyers, according to a California Assn. of Realtors survey. That's up from 29.2% a year earlier.
But even here, developers say they are ramping up construction to cater to millennials with good jobs, who are increasingly fleeing rising rents for a locked-down mortgage payment.
"They are finally ready to buy," Skylar Olsen, a senior economist with real estate firm Zillow, said of millennials.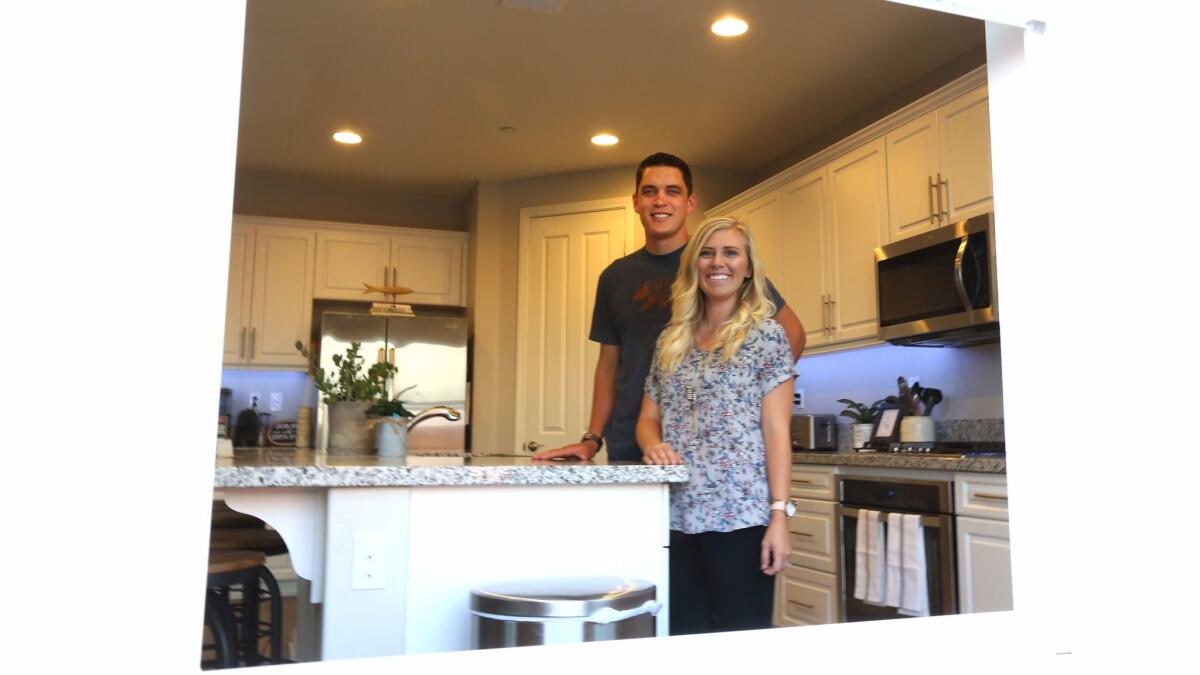 Given the high cost of housing in urban and coastal areas, many are choosing a single-family house inland.
The Hyinks said that near the coast they couldn't afford the large house they wanted for their dog and future children. In Murrieta, they have a brand-new, three-bedroom house with a three-car garage. As an added plus, they are near Temecula, where they both grew up.
"It was cool out there for a while," Kayleigh, a 26-year-old teacher, said of Orange County. "But we'd never have a yard."
Developers are rushing to fill demand from such young adults.
In San Bernardino and Riverside counties, builders pulled permits for 9,269 new homes, most of which were houses, in the first seven months of this year, up 58% from a year earlier, according to data from the Census Bureau.
In more expensive Los Angeles and Orange counties, permits were down a combined 4%, a drop that came entirely from multifamily construction, which is typically built in expensive urban areas and faces more pushback from existing residents.
"They are all shifting their business a little more to first-time buyers, whether along the coast or inland," John Burns, a well-known national real estate consultant, said of California builders. "That is where the demand is."
KB Home, a national home builder based in Los Angeles, is selling homes in 27 developments in the Inland Empire, compared with 18 a year earlier.
Jeff Mezger, the company's chief executive, said KB Home wants to build near the coast, but it's increasingly difficult to acquire lots there as prices have risen in the largely built-out area. Constructing homes farther out is easier, and homes are selling fast to millennial buyers, as the housing market goes through a familiar cycle.
"Demand always moves inland as the economy gets better, because people want to be a homeowner and … they get priced out," Mezger said.
In Lake Elsinore, Pardee Homes last year started offering single-family houses below the Riverside County median in its new Viewpoint neighborhood in the master-planned Canyon Hills, with three-bedroom homes in the low $300,000s. The price was possible because of low land costs there and a denser-than-typical layout that put homes in a semi-circle surrounding a community courtyard.
Linda Mamet, vice president of corporate marketing at Pardee's parent company, TRI Pointe, said the majority of buyers at the small 75-home project were purchasing a house for the first time. And with prices low, only three homes remain.
"It was a very fast-selling community," she said.
Even some coastal developers are trying to offer houses at a price millennials can afford, eager to cater to a demographic that now surpasses baby boomers in sheer size and number of home sales nationwide.
In south Orange County, new neighborhoods in the master-planned Rancho Mission Viejo community just east of San Juan Capistrano are being designed specifically with millennials in mind. Most homes in the Norwalk Neighborhoods there are starting from the low $300,000s to $700,000s.
The homes will have a contemporary feel and residents can watch their children scamper in a designated play area, hop on a zip line or get a drink at an outdoor lounge.
Most important are the prices, which are kept on the relatively affordable end by increasing density, even for the single-family homes.
"It really all begins with getting attainable pricing," said Paul Johnson, senior vice president of community development with the Rancho Mission Viejo company, the developer of the 14,000-home master-planned community.
The developer decided to build neighborhoods designed for young home buyers about three years ago. It wanted to get ahead of what it predicted would be a wave of millennials looking for suburban homes.
The decision ran counter to the views of many pundits who predicted millennials, compared with previous generations, would forgo homeownership to rent in big cities, where developers are building apartment and condo towers in places such as downtown Los Angeles and Seattle.
Many millennials are indeed staying in their apartments, and the national homeownership rate for those under 35 is still nearly 7 percentage points less than it was a decade ago, according to the U.S. Census Bureau. That's partly because high student loan and rent payments make saving for a down payment difficult.
Dowell Myers, a demographic expert at USC, puts most of the blame on high home prices for turning what should be a flood of young home buyers into more of a trickle.
"There is an uptick," he said. "[But] demand is being smothered by supply constraints."
In the third quarter, 33.1% of California home buyers were born between 1980 and 1999, compared with 30.5% a year earlier, according to Ellie Mae, a company that processes mortgage applications for lenders.
Leslie Appleton-Young, the chief economist with the California Assn. of Realtors, agrees with Myers, though she said she thinks the share of first-time buyers in California will continue to rise modestly going forward as millennials age.
"I don't think there can be a surge because affordability is so challenging," Appleton-Young said.
Those who do buy near the coast often need to come from a wealthy family or have a high income themselves.
Rachel Dao, 30, is among those who were ready to settle down in Los Angeles and had the cash to do so after starting her own architecture firm last year. In May, she purchased a home in a gentrifying neighborhood northeast of downtown Los Angeles for more than $700,000.
"I had been on a big project and just got paid," Dao said. "It went straight to the down payment."
Others are getting help from parents or are cashing out stock options, particularly on the Westside of Los Angeles with its burgeoning tech community.
"I have a lot of tech clients that are getting IPO money," said Cody Coffman, a Redfin real estate agent on the Westside, who said more and more of his clients are buying their first home.
For others, the search is tougher, even if they have good jobs.
Nate Hennagin and his wife, Rachel, moved to Los Angeles from Massachusetts this year and quickly set out to become homeowners.
The 29-year-olds even rented a temporary Airbnb, instead of leasing an apartment, because they believed that interest rates and home prices would only rise and they didn't want to waste any time.
But their options to stay near work are limited, even though he is a labor attorney and she is a recruiter for a major television network.
They recently made a $610,000 offer on a $600,000 house in Cypress Park, but lost out. Someone else was willing to pay $150,000 over asking. They've since expanded their search to condos.
If they don't find a place soon, Nate said, they'll rent, because he and his wife don't want to move somewhere that would mean a smaller down payment but require grueling commutes to their jobs in the Miracle Mile and Burbank.
"We are sort of hitting a wall," he said. "We don't have those savings set aside for the down payment. We don't have parents who can give us a $20,000 loan."
Twitter: @khouriandrew