In L.A. today, fitness can mean IV drips, vitamin shots and a daily freeze at -292 degrees
Regular workout fiends and gym rats are joining celebrities and professional athletes in trying  exotic, and sometimes unproven, techniques for injury recovery and prevention, such as  hyperbaric chambers, cryotherapy, compression therapy and IV dri
When Amber Dodson needs a break from her rigorous workout regimen, she steps nearly naked into a high-tech machine that looks like a giant energy drink can. Only her head is visible as the temperature in the chamber plummets to minus 292 degrees Fahrenheit for three minutes, liquid nitrogen vapor billowing down the sides.
"I tend to get extremely inflamed and I don't like taking days off," said Dodson, 36, who pays $299 a month for up to 30 sessions at Coast Cryo in Marina del Rey. "It's been a lifesaver because I can't deal with sore muscles and bad sleep."
Cryotherapy, a freezing treatment used by elite athletes such as LeBron James and Michael Phelps, is just one of the pricey injury recovery and prevention strategies that are exploding in popularity in Los Angeles — despite a lack of scientific evidence in many cases to support their efficacy. Cryotherapy alone is expected to grow to a $5.6-billion global industry by 2024, up from $2.5 billion in 2016, according to Grand View Research, a market research and consulting company.
The remedies — which also include IV therapy drips, vitamin-infused booster shots, hyperbaric oxygen chambers and compression therapy — cater to workout fanatics who insist an old-fashioned ice pack and a Gatorade won't suffice. They're now being offered at so-called wellness boutiques dedicated to administering the treatments; medical offices, weight loss clinics and traditional spas are also getting in on the craze.
Drip Doctors in downtown Los Angeles, for example, offers more than two dozen intravenous drips and booster shots to increase energy, promote faster recovery and aid in weight loss.
There's an $89 Hydroboost IV vitamin drip "perfect for those who need instant hydration," a $30 Supercharged booster shot for customers who are looking for "an intense burst of oomph" or a wallet-busting $220 Limitless IV vitamin drip. That one is billed as "an 'all in one' concoction" that will "optimize performance, neurological function, immune support, detox, and keep you feeling rejuvenated."
Skeptics contend that there is little benefit to IV drip therapy for people who are essentially healthy, saying people are capable of hydrating sufficiently and getting the nutrients they need through food. They instead point to a placebo effect.
"This is Los Angeles after all, where anything that promises to make you feel better becomes the latest fad," said Dr. Michael Gottlieb, a specialist in internal medicine who practices in Los Angeles.
Millennials are spending big on trendy places to sweat>>
True believers, however, counter with the argument that IV therapy works and beats dependence on painkillers. The global market for IV tubing and related equipment is expected to grow at a steady rate of just under 4% to more than $1.2 billion by 2025, according to a new report from Persistence Market Research.
"It's taking a more natural and preventive approach to health," said Dr. Anthony Ho, a co-founder and chief of business operations at Drip Doctors, which also provides house calls. "It started out being more at the high end, with celebrities, corporate types. We wanted to make it available to the masses."
Even hyperbaric oxygen chambers have gone beyond the traditional use of saving the lives of deep-sea divers who surface too quickly. Sessions claim to boost energy, reduce pain and inflammation, and speed injury recovery times, and they can cost $350 to $450 per treatment.
Postal worker Nicholas Howard Hayes, 28, uses the hyperbaric oxygen chamber at Infusio in Beverly Hills to help alleviate sore muscles after long days at work.
"Not only am I walking 12 to 15 miles a day on my routes, I'm also lifting a lot of heavy, awkward packages, like small refrigerators, microwaves, even small beds," he said. After his day job is done, Hayes hits the gym, where he works as a personal trainer.
"I'm constantly overexerting myself," Hayes said. But after a session in the hyperbaric chamber, where the air pressure is increased to allow the lungs to gather more oxygen, "it's amazing how I feel after 20 minutes. I feel so good that I go the gym to work out" afterward.
Infusio describes itself as "a sports optimization medical clinic specializing in integrative medical and cutting-edge stem cell therapy."
"We can use it for all sorts of problems for patients who have issues, like with their joints," said Suzanne Kim, one of the clinic's doctors.
Other fitness recovery businesses tout compression therapy. At HM Sports Performance and Recovery in Santa Monica, customers slip into pairs of bulky NormaTec boots that extend all the way to the upper thighs.
At $45 for a 30-minute session (or $350 for a package of 10), customers "recover faster between trainings and after performance by increasing blood flow and flushing metabolites from the workout out of the body," according to the company website.
Industry professionals say the fitness recovery fad stems from the rise in more intense workouts, especially in cities like L.A. The two are so closely linked that many recovery boutiques have opened up next door to fitness studios, and some cryotherapy businesses are now offering appointments on popular workout app ClassPass.
Dodson is an example. She has memberships at two gyms — Gold's and Equinox — because, as she puts it, "one gym just isn't enough." At the Marina del Rey home she shares with her restaurateur husband and her three young children, there's also a $1,995 Peloton spin bike, with its $39-per-month online classes.
So shelling out a few hundred dollars a month for whole-body cryotherapy "sounds expensive, but it absolutely isn't" when considering the benefits, she said.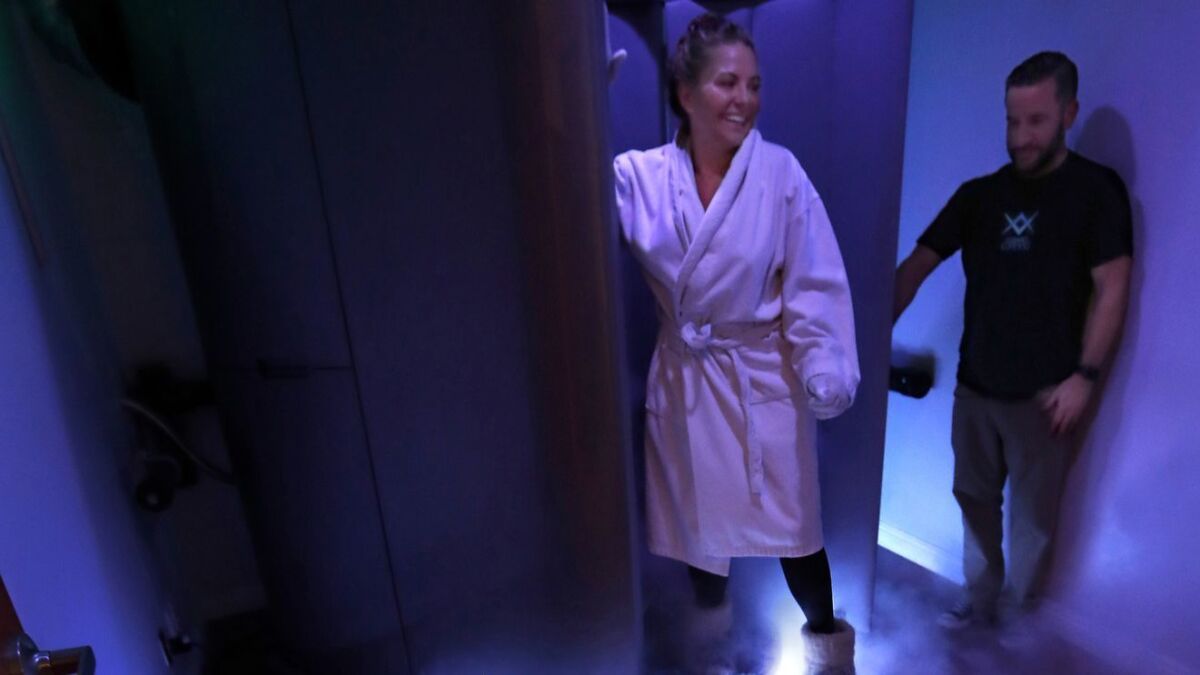 But some of the unconventional therapies, while no doubt trendy among the bootcamp-spinning-yoga-kombucha crowd, have been heavily criticized by those who doubt the purported benefits and say providers are making misleading and potentially dangerous claims.
A consumer update by the Food and Drug Administration in 2016 deemed cryotherapy — now offered at boutiques in Santa Monica, Beverly Grove and Costa Mesa — "a 'cool' trend that lacks evidence, poses risks." It said despite claims that cryo helps treat conditions like Alzheimer's, fibromyalgia, migraines, rheumatoid arthritis, multiple sclerosis, stress, anxiety or chronic pain, "this so-called 'treatment' hasn't been proven to do any of these things."
Some studies suggest one can get as much localized benefit from a simple ice pack. But a study conducted by the France-based National Institute of Sport, Expertise and Performance focused mainly on sports injuries and found that whole body cryotherapy reduced inflammation and aches, and aided in faster muscle injury recovery.
Matt Sarbello, 41, owner of Coast Cryo, first tried cryotheraphy in Texas, when he was working out so intensely to lose weight that he woke up barely able to move some mornings.
"I started doing cryo four or five times a week," Sarbello said. "I moved out here and I was like, 'How is there no cryotherapy available on the Westside?'" He went on to open Coast Cryo in late 2015.
Less controversial are stretch labs, where customers pay for one-on-one stretch sessions. They're designed to help gain more mobility and flexibility than one can get on his or her own.
Costa Mesa-based StretchLab, for example, charges $35 for 25 minutes with a "flexologist" and $65 for 50 minutes. Monthly rates range from $119 to $229 depending on the length of the sessions.
Business is booming. "We opened our first location in 2015 and we're already about to open our fourth," said Saul Janson, a co-owner of StretchLab, which operates boutiques in Venice, Santa Monica and the West Hollywood area.
Social media and Hollywood have also fueled the boutique fitness recovery fad.
Actress Mandy Moore, "Dancing with the Stars'" Derek Hough and Mark Ballas, and athletes Floyd Mayweather and Shaquille O'Neal are just some of the celebrities who have touted the benefits of cryotherapy, posting photos on Instagram of them emerging from the chambers.
Two years ago, "Beverly Hills, 90210" actress Shannen Doherty shared a photo of herself lying in a hyperbaric chamber as part of what she called an "outside of the box" treatment for cancer recommended by her surgeon.
And Madonna once told a radio station about how she gave Justin Timberlake a B12 shot in the butt when they were working together "because we only had a certain amount of days in the studio" and she wanted his energy levels to be high.
Some of the futuristic treatments are even making their way home.
Hyperice Inc. is an Irvine company that designs and sells a $199 vibrating thigh roller, as well as heat and compression devices for legs, shoulders and backs for $249 each. The products have been used by basketball stars Kobe Bryant and Blake Griffin, skier Lindsey Vonn and more than 200 professional and collegiate sports teams including the Lakers, Clippers, UCLA Bruins and USC Trojans.
Some users say they're turning to the tonics and chambers to supplement more conventional physical therapy.
Sabih Syed, 31, suffered broken bones and internal injuries after an ATV crash a year and a half ago.
"I was in an intensive care unit at the hospital for 10 days," said Syed, who runs a tent rental business in Anaheim. "The doctor told me it would take a year for me to recover, but I wanted to do it faster."
So in addition to long-term physical therapy, he started making weekly visits to Drip Doctors for an IV therapy called a Myers Cocktail at $150 a pop. The cocktail is billed as "a 60-year-old remedy that has been known to alleviate a number of health conditions like fatigue, migraines, depression, muscle pain."
"Literally after just two months I was feeling much better," he said. "When it comes down to your health and you're used to being very active and you find yourself at a point where you can barely move your arms and your legs, you are willing to throw down any amount of money to feel better, you know?"
For more business news, follow Ronald D. White on Twitter: @RonWLATimes