Two convicted in elaborate scheme to counterfeit 5-Hour Energy drink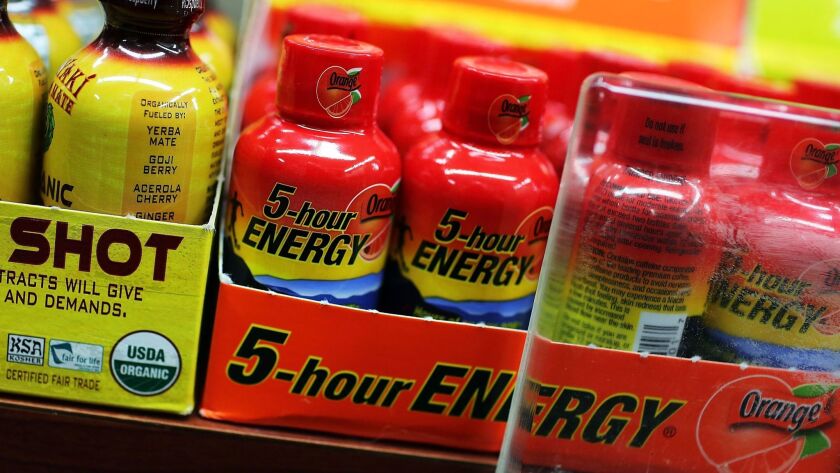 A federal jury has convicted a San Diego-area couple on conspiracy charges in connection with an elaborate scheme to sell millions of bottles of counterfeit 5-Hour Energy shots in the U.S., prosecutors announced.
Joseph and Adriana Shayota of El Cajon contracted with the distributors of the energy drink to sell the product in Mexico, then altered its Spanish-language packaging and labeling and distributed it in the U.S. at prices well below the company's normal retail price, prosecutors alleged.
That relabeling effort involved 350,000 bottles sold from late 2009 through 2011. The scheme transformed the following year into one that produced and marketed several million bottles of an entirely fake drink that was mixed under unsanitary conditions by day laborers, said U.S. Atty. Brian J. Stretch, who prosecuted the case, which resulted in the convictions Monday.
The Michigan distributor, Living Essentials, removed several million bottles of the counterfeit drink from retail outlets several years ago.
It is not known whether any consumers were harmed by drinking the fake mix. The Food and Drug Administration, which regulates 5-Hour Energy as a dietary supplement, has investigated at least eight deaths and a dozen life-threatening reactions involving energy shots before and during the time period of the counterfeiting.
"U.S. consumers rely on the FDA to ensure that their foods – and drinks – are safe and wholesome. When criminals introduce counterfeit foods into the U.S. marketplace, they not only cheat consumers, but place consumers' health at risk," said Lisa L. Malinowski, special agent in charge of the FDA's Office of Criminal Investigations in Los Angeles.
Six other defendants have pleaded guilty to similar charges in connection with the scheme, and Living Essentials won a $20-million civil judgment against all eight defendants and dozens of others this year.
"We are gratified by the court's decision," Melissa Skabich, a spokeswoman for Living Essentials, said Wednesday. "Criminal behavior should be punished, and in this case, justice was served."
Joseph Shayota, 64, and his wife, Adriana, 45, operated Baja Exporting, which contracted with the drink distributor in 2009 to sell pre-packaged display cartons filled with the energy shots in Mexico. They purchased the drinks at a 40% discount, according to court records.
Problems with interpreting the expiration dates on the bottles led to poor sales, and the couple began selling the products with fake English-language labels in the U.S., according to court documents.
After selling off the lot of 350,000 shots at 15% below normal retail prices, the couple ratcheted up the conspiracy, joining with other defendants in Michigan and Southern California to manufacture a fake beverage bottled and labeled to mimic the authentic product, according to court records.
From December 2011 through October 2012, the Shayotas ordered more than 7 million counterfeit sleeve labels and hundreds of thousands of display boxes, federal prosecutors alleged.
A Midwest distributor eventually sold 4 million bottles of the counterfeit product to the Shayotas' company and another company, prosecutors alleged. Defendants involved in that aspect of the operations were among those who have pleaded guilty.
A sentencing hearing for the Shayotas is scheduled for April. The pair could face as much as 15 years in prison, a $2.2-million fine, and could be ordered to pay restitution to Living Essentials and two other partnerships that share manufacturing, licensing and distribution rights. The six defendants who have pleaded guilty are awaiting sentencing early next year.
Attorneys for the Shayotas were not immediately available for comment Wednesday.
Follow me: @LATgeoffmohan
MORE FROM BUSINESS
No WiFi? Low on data? On a plane? Netflix offers downloads of some shows, movies
Breitbart News sees advertisers exit, calls Kellogg's decision 'un-American'
With airplane lasers, the Pentagon is trying — again — to turn a 50-year-old vision into reality
---
For reporting and exclusive analysis from bureau chief John Myers, get our California Politics newsletter.
You may occasionally receive promotional content from the Los Angeles Times.