California cities among slowest to recover since recession, study says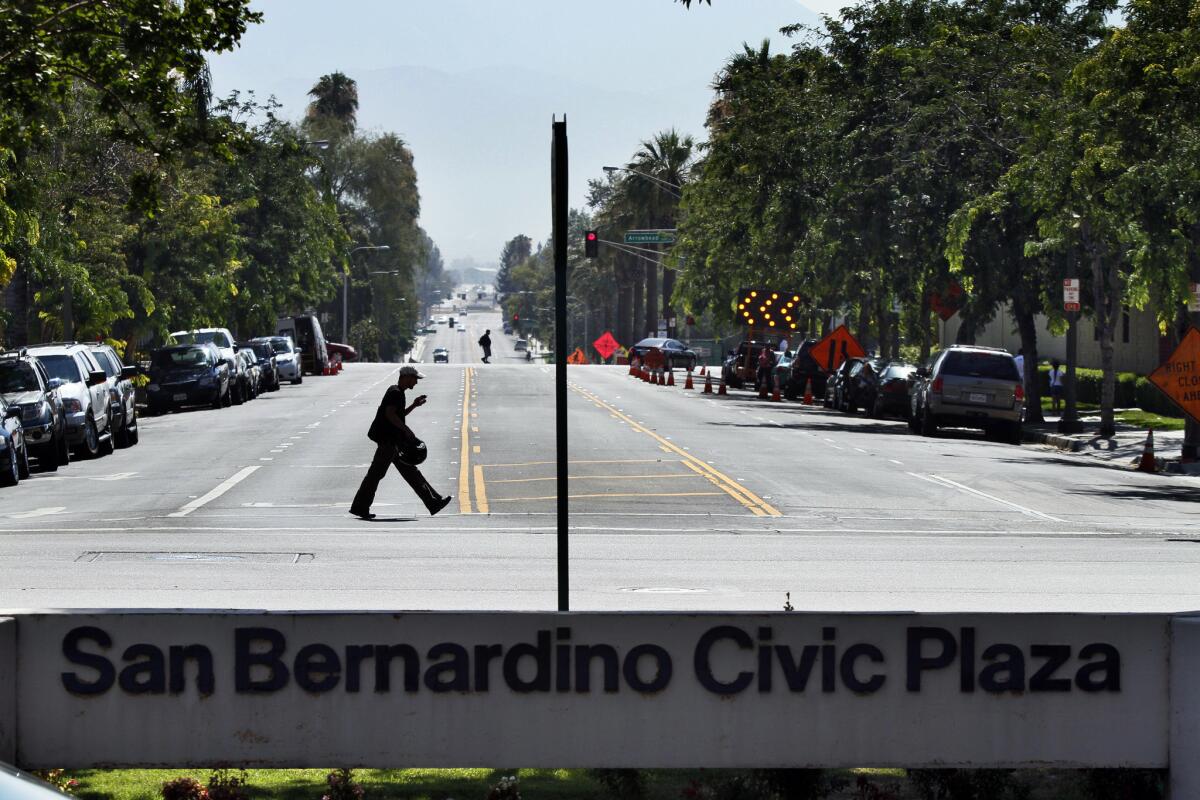 The Inland Empire city of San Bernardino has been one of the slowest-recovering large U.S. cities since the recession, according to an economic ranking from the consumer financial website WalletHub.
Several cities in the Inland Empire and Central Valley -- including Stockton, Modesto and Riverside -- ranked among the lowest in economic growth, the study found. WalletHub looked at the 150 most populous U.S. cities and scored them on various economic indicators, including changes in unemployment rates, median income and home prices.
Sources: WalletHub, U.S. Census Thomas Suh Lauder @latimesgraphics
San Francisco had the most improvement of any California city since the recession, ranking No. 20 on WalletHub's list. Cities in California ranked significantly lower than those in other parts of the country, particularly Texas.
WalletHub evaluated economic growth across 18 metrics, and San Bernardino ranked among the lowest in several categories: lowest home price appreciation, smallest decrease in poverty rate and least improvement in the ratio of part-time to full-time jobs.
The rankings also accounted for municipal bankruptcies, which helped to push both Stockton and San Bernardino to the bottom of the rankings. Both cities filed for bankruptcy in 2012.
"California has winners and losers in this recovery," said Stephen Levy, director of the Center for Continuing Study of the California Economy in Palo Alto. "It depends on whether you're in the tech economy in the Bay Area or the hotter economies in Southern California, or whether you were wiped out by the housing recession and the resulting fiscal dilemmas."
Six of the 10 fastest-recovering cities were in Texas, including Laredo, Irving and Dallas. Other top-10 cities included Denver, Minneapolis and Raleigh, N.C.
Not surprisingly, the rankings tended to mirror which areas were hardest hit by the housing crisis. Texas emerged relatively unscathed from the bubble, and cities such as Houston, Dallas and San Antonio all ranked in the top third of cities measured.
Those at the bottom also included hard-hit areas such as Phoenix, Las Vegas and Cape Coral, Fla.
"At the end of the day, it was a housing crisis where everything began," said Odysseas Papadimitriou, chief executive of Evolution Finance, which runs WalletHub. "So the areas that relied on housing, where you had some of the biggest bubbles, suffered the most."
Los Angeles, Oakland, San Diego and Sacramento all ranked in the bottom half of WalletHub's list. The highest-ranked California cities were San Francisco, Bakersfield and San Jose.
Levy, the Palo Alto economist, said Los Angeles and Orange County have been growing rapidly over the last year, and he would expect that a similar ranking next year would show a much greater economic recovery.