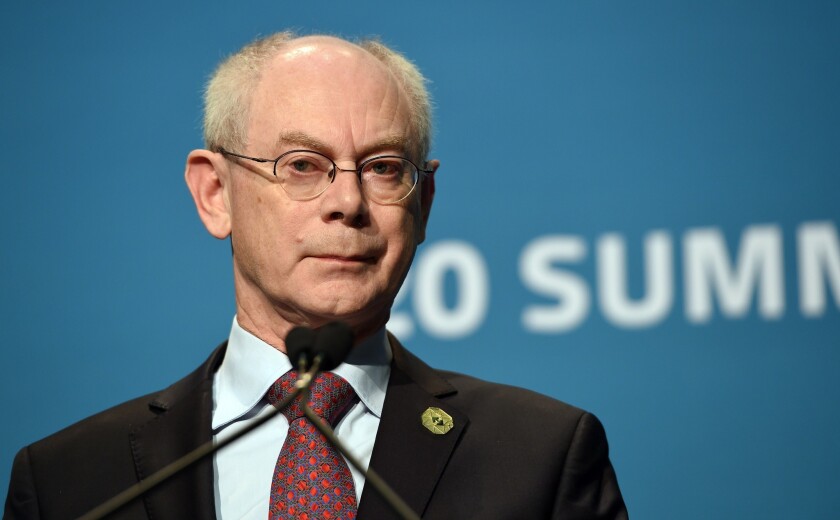 Reporting From BRISBANE, Australia —
European Union leaders pushed back against the Obama administration's criticisms that Europe had failed to take decisive action to revive growth, insisting that the continent was not headed toward a "lost decade."
At an opening press conference of the Group of 20 leaders' summit here Saturday morning, two top heads of the EU acknowledged that European economic growth had been disappointingly slow, with the 28-member union hampered by geopolitical tensions, weak exports and high private debts.
At the same time, Herman Van Rompuy, president of the European Council, said that Europe had made significant strides since the financial crisis in 2008, carrying out many reforms at the EU and member country level.
"We have to overcome our structural problems and we are doing so," he said at a conference with Jean-Claude Juncker, the recently elected president of the European Commission, the EU's executive branch.
"I'm confident that the next decade will not be a lost decade for Europe," Van Rompuy said. "Europe is doing its share."
His reference to the lost decade -- a term that has been used to describe Japan's long period of economic malaise--was a direct response to U.S. Treasury Secretary Jacob J. Lew's remarks earlier this week that "the world cannot afford a European lost decade."
Lew, who arrived here ahead of Obama's summit meetings with other world leaders, said that Europe needed to take "resolute action" to restore healthy growth, implementing a comprehensive approach that includes addressing structural problems and boosting investment and spending.
U.S. officials are concerned that stagnation in Europe, along with a struggling Japanese economy and a slowdown in China's growth, will hurt America's economic and jobs recovery, which has been gathering steam this year.
Obama arrived in Brisbane on Saturday for the final leg of an Asia-Pacific trip that included high-level meetings in Beijing, where an unexpectedly significant agreement with China on reducing greenhouse gases was announced. Obama is expected to use the two-day G-20 gathering to further reassure allies of America's economic and security commitment to Asia, as well as to urge leaders to step up investment and spending to bolster demand. Lew said the rest of the world should not count on the U.S. to be the sole driver of global growth.
The G-20 is comprised of the largest advanced and developing nations that together account for 85% of the world's economy. As president of this year's G-20, Australian Prime Minister Tony Abbott has sought concrete action plans from member countries to do their part to lift global growth by two percent within five years. If successful, that would translate into $2 trillion dollars of increased output and millions of more jobs, Australian officials say.
Although the G-20 is intended to be the top international forum for steering the global economy, geopolitics and other issues often have overshadowed the gatherings. And this year's summit comes amid increasing concerns about the crisis in Ukraine as Russia continues to provide military support for separatists fighting there.
In the news conference, Van Rompuy called on Russia "to stop the inflow of weapons and troops from its territory into Ukraine. Russia must withdraw those already present." He said that EU leaders would meet with Obama on Sunday to discuss Ukraine and other issues and that European foreign ministers on Monday would discuss the need for further steps, including additional sanctions against Russia.
Russia's President Vladimir Putin and other leaders arrived to this coastal city north of Sydney under the eye of some 6,000 police and security officials assembled for the summit. At least a dozen protests were expected to take place in the steets Saturday.
don.lee@latimes.com
---