Tribune Publishing shares surge after Gannett launches takeover bid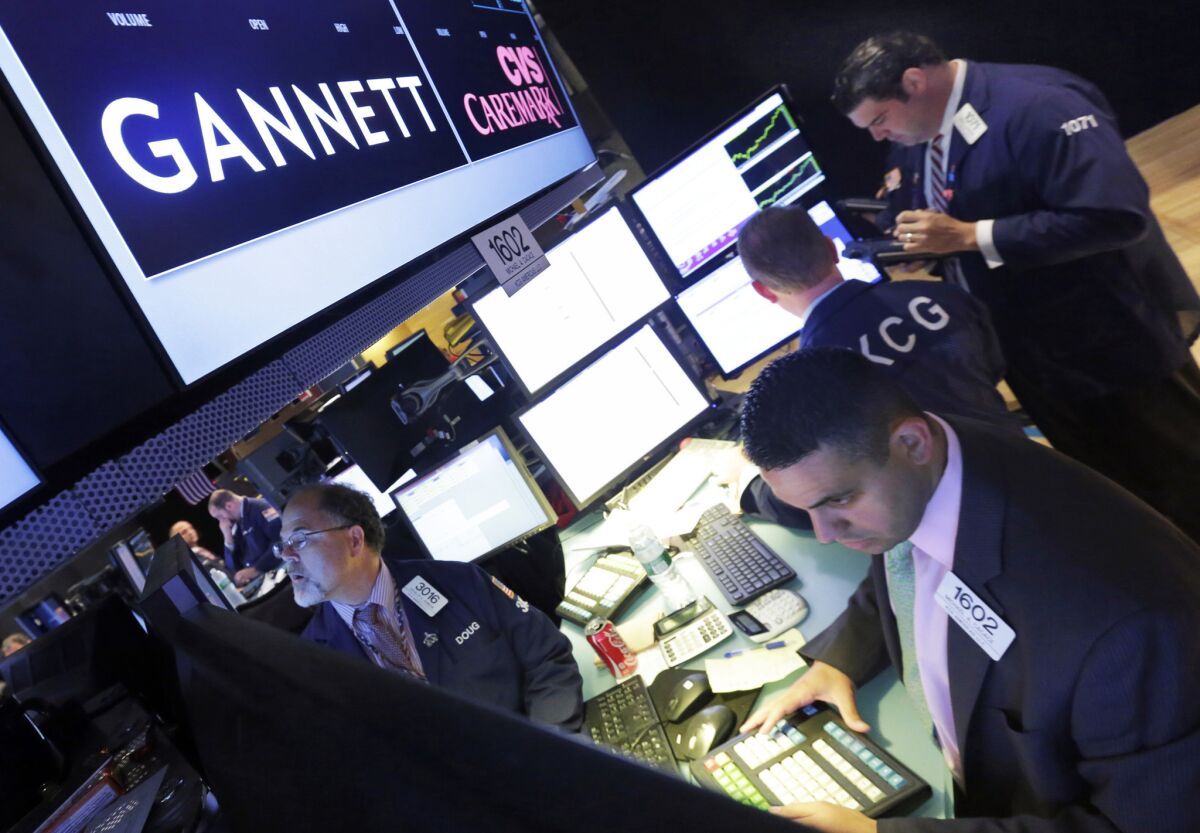 USA Today publisher Gannett Co. is making an aggressive push to buy the owner of the Los Angeles Times, a move that would bolster Gannett's position as the nation's largest newspaper company and continue the consolidation in the industry.
The bid for Tribune Publishing for about $400 million by Gannett, which owns some 100 medium- and small-sized newspapers, would give it ownership of two of America's largest newspapers — the Chicago Tribune as well as The Times.
Though Gannett is offering a premium price for Tribune — at $12.25 a share, a 63% increase over its closing price Friday — the deal is far from certain. Although Tribune will evaluate the offer, Chief Executive Justin Dearborn said management is working on plans of its own for a "significant transformation," and Tribune is "well-positioned to create value for our shareholders."
The offer sets the stage for what could be a pitched battle between two of the country's largest — but very different — publishing companies, each of which has been seeking to secure its
future in a digital era. Tribune Publishing's newspapers have long prided themselves on award-winning journalism with a national and international reach, and Gannett has made its mark by building its USA Today flagship into an engaging and well-designed national newspaper to accompany its growing chain of local dailies.
The outcome could depend on which side can persuade shareholders that supporting its vision for Tribune Publishing is best for them.
Tribune management must now "make a presentation that says this is what the future holds for Tribune and that's why $12.25 is not an attractive offer" — or take the deal, said Lloyd Greif, CEO of downtown L.A. investment bank Greif & Co.
Gannett made its offer public after approaching Tribune on April 12 and being rebuffed. In a letter to the board released Monday, Gannett said Tribune's management has refused to negotiate, setting up a fight for control of Tribune and its stable of big-city dailies.
"Gannett may be seeking to turn up the heat on Tribune's board," analyst Lance Vitanza of CRT Capital said in a report.
Gannett Chief Executive Robert Dickey warned in the letter, "We have determined that making your stockholders aware of our all-cash proposal is necessary, given Tribune's attempts to delay constructive engagement."
Michael Ferro, a Chicago entrepreneur, invested $44.4 million for a 16.5% stake in Tribune Publishing in February — enough to make him the biggest shareholder, but not a controlling one.
A few weeks later, Tribune CEO Jack Griffin was ousted and replaced by Dearborn, Ferro's longtime associate.
"In a few short months, we have made important progress," Dearborn said in an email to employees. "We've implemented a new organizational structure to increase agility and drive innovation while focusing on driving efficiencies and reducing costs."
Gannett's offer could tempt shareholders, but the Tribune board doesn't have to bring the bid to them if it decides that staying independent is a better option. Including the assumption of $390 million in Tribune debt, pension obligations and other liabilities, Gannett's offer is valued at $815 million.
Given the challenges of the newspaper industry and the premium Gannett is willing to pay, major shareholders could prefer to cash out now. One of the largest investors, downtown L.A.-based Oaktree Capital Management, has indicated in securities filings that it's open to selling its 14.8% stake.
Gannett could choose to approach shareholders directly, though Dickey said so far he's spoken only with Dearborn and Ferro, who paid $8.51 for each of his 5.22 million shares of stock and could make a profit of nearly $20 million if Gannett succeeds.
In addition to Ferro and Oaktree, the other top shareholder is Pasadena's Primecap Management, which owns about 12%. The next largest shareholders control less than 5% of Tribune stock.
Neither firm returned calls for comment Monday, but if one does show interest, that would increase the deal's odds. Gannett could offer to buy out all current shareholders, but that is unlikely without support from at least one of the larger shareholders.
Analysts suggested Monday that Gannett could sweeten its offer. The company estimates that it could cut $50 million in costs if it acquired Tribune. With that much in estimated savings, analysts said Gannett could afford to pay more.
Dickey told The Times that those cost savings would come mostly from combining corporate, printing and distribution operations.
Earlier this month Gannett closed its acquisition of Journal Media Group, the owner of the Milwaukee Journal Sentinel and more than a dozen other dailies. Gannett estimated that it will result in cost savings
of $35 million.
Dickey said his company's interest in Tribune Publishing is part of that same strategy, promising that the newspapers owned by both companies would be better off together.
"The challenges for our industry in the digital age continue," Dickey wrote in the letter to Tribune. "By combining, we would create a company with the financial stability and flexibility equipped to preserve journalistic integrity, high standards and excellence for years to come."
Still, the sudden push to acquire Tribune marks a shift for Gannett, which mostly owns newspapers in small and mid-size cities. The Los Angeles Times and Chicago Tribune are larger than all but Gannett's marquee daily USA Today. Other Gannett publications include the Arizona Republic and Indianapolis Star.
Dickey said Tribune's papers would expand Gannett's footprint and provide more content that could feed into the company's online USA Today network.
Consolidating and cutting costs have been the near-universal strategy for newspaper companies over the last several years as print circulation and advertising revenue have continued to decline.
After buying the San Diego Union Tribune last year, Tribune Publishing this year emerged as a leading bidder for the Orange County Register and Riverside Press-Enterprise. Those papers, formerly owned by bankrupt publisher Freedom Communications, instead went to Digital First Media, another newspaper conglomerate, after the Justice Department raised antitrust concerns about a purchase by Tribune.
Dickey said he does not believe that antitrust issues will be a problem for Gannett. "We don't foresee any questions we can't address," he said.
Gannett owns no newspapers in Illinois, and its two Southern California papers, the Ventura County Star and the Desert Sun in Palm Springs, are small enough that Gannett would probably be willing to sell them if regulators saw a monopoly in the making.
Gannett's offer adds another act to what's already been a dramatic existence for Tribune Publishing.
It has been less than two years since the company was spun off from its former owner to become its own public company.
During that span, it rebuffed an overture for The Times and the San Diego Union Tribune from billionaire Eli Broad, failed in its
attempt to buy the Register and endured management shake-ups.
Through it all, shares have declined. They traded for more than $25 in the summer of 2014 and bottomed out in February, shortly after Ferro's investment, at less than $6.
Tribune Publishing shares rose sharply Monday, closing at $11.50 — a 53% improvement over Friday's closing price and the stock's highest close since August. Gannett closed up $1.02, or 6.5%, to $16.79.
james.koren@latimes.com
Sign up for the California Politics newsletter to get exclusive analysis from our reporters.
You may occasionally receive promotional content from the Los Angeles Times.