Beloved guitar maker Gibson faces crushing debt that's due this summer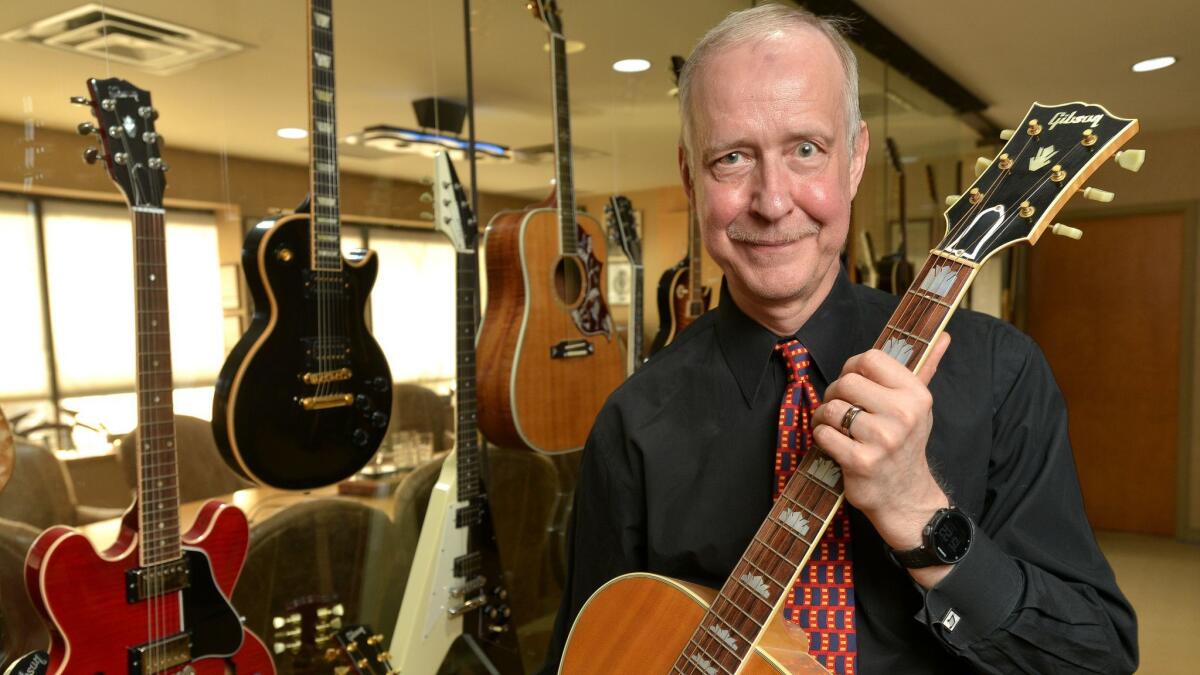 Like the blues giant Robert Johnson, whose mastery of a Gibson guitar was said to be the result of a deal with the devil, Gibson itself has come to a crossroads.
After 116 years, the devil's knocking on the guitar company's door. Debt of as much as $560 million is due this summer, and investors are whispering that Chief Executive Henry Juszkiewicz has got to go.
Juszkiewicz traded a slice of Gibson's soul in an attempt to become more than just the maker of the world's most beloved guitar. He bought pieces of consumer electronics companies to relaunch Gibson Guitars as Gibson Brands Inc., a "music lifestyle" company. It didn't work out as planned.
"My dream was to be the Nike of music lifestyle," Juszkiewicz said. "At this point, I have to cut back on that ambition, frankly."
Elvis Presley changed history on a Gibson J200. Eric Clapton's famous solo on the Beatles' "While My Guitar Gently Weeps" was played on a Gibson, and when young B.B. King fled a burning building and realized he'd left his Gibson behind, he risked his life by going back inside to retrieve it. The fire had been accidentally started by two men fighting over a woman, and King gave his semi-hollow-body guitar its name — Lucille.
But pop cares little for legend. Gibson says sales are strong, but guitars don't have the mystique they did in King's day.
Consumer electronics
"We have a younger generation coming in with tastes toward a different type of music," said Al Di Meola, a Grammy-winning jazz guitarist.
Juszkiewicz tried diversification. He bought a line of consumer electronics from Japanese company Onkyo Corp., and in 2014 he added Royal Philips NV's audio and home entertainment business, WOOX Innovations, for $135 million.
The purchases fit into Juszkiewicz's vision for the company's future. Not everyone was pleased.
"Gibson has chosen to go into that market where they're competing with the really big dogs," said Pat Foley, who leads artist relations at Orange Amplifiers. He ran Gibson's entertainment relations worldwide before being fired in 2014. "In the guitar market, we were the big dogs."
Cash drain
There appears to be no going back. The closely held company skipped January's National Assn. of Music Merchants show, the music industry's leading trade event. Instead, executives attended the International Consumer Electronics Show alongside tech behemoths such as Sony Corp.
The transition has drained more cash than expected, with a particular downhill turn after the Philips deal.
"We got sort of a grab bag full of stuff, and some of it really did make sense, but some of it was very unprofitable," Juszkiewicz said.
A looming $375-million bond maturity means he's running out of time for a turnaround, according to Moody's Investors Service senior analyst Kevin Cassidy. On top of the Aug. 1 payment, the company has a "springing lien" that will cause $185 million of debt to become current in July if Gibson falls behind on payments, according to S&P Global Ratings. Gibson is also facing tighter credit terms from its suppliers and growing pressure from new import regulations on rosewood, a crucial material for Gibson's high-end instruments, according to S&P.
Made in the U.S.
The company has expressed pride that its Gibson guitars are made in the United States. Acoustic instruments come out of a factory in Bozeman, Mont., and solid-body electric guitars are made in Nashville. Hollow bodies are crafted at its Memphis plant.
The Memphis factory sits near B.B. King's Blues Club and not far from the old Sun Records studio, where Presley cut his first album. The guitars are shaped, sanded, painted and polished by hand. Wood chips fly, sending the scent of cut rosewood into the air. It takes up to a month to make each instrument into a work of art. Only 60 are completed each day.
"We're preserving the artistry," Juszkiewicz said. "That's what Gibson is, and that's what people want from Gibson."
To raise cash, Gibson Brands sold the Memphis factory in December to private equity firms Somera Road and Tricera Capital for $14.1 million. It continues work there, for now.
Reduce leverage
"Their hope is that the capital structure is refinanceable if they can reduce leverage," said Cassidy of Moody's. "We think the likelihood of a default or some type of financial restructuring is pretty high."
Another obstacle to the company's resurgence is its broken relationship with some retailers. A number of them have stopped selling the brand, citing unmanageable demands that include annual credit checks and upfront orders for a year's merchandise.
"You have to eat so much garbage in order to be a Gibson dealer that it's not worth it," said George Gruhn, who owns Gruhn Guitars in Nashville.
Other vendors echoed that sentiment, including Frank Glionna, who said he'd been a Gibson dealer since the 1970s and called his decision to cut ties last year "bittersweet."
'Everybody bailed'
"In the last couple of years, everybody bailed," said Glionna, owner of the Music Gallery in Highland Park, Ill. "The company is in the worst place I've ever seen it in my decades as a dealer."
Juszkiewicz said that lightening Gibson's debt load and integrating the consumer electronics operations are difficult tasks, but ones that he thinks he can do.
If the creditors have their way, though, Juszkiewicz, after 30-plus years with the company, won't be leading Gibson much longer. An organized group of bondholders is pushing for a restructuring that would hand them ownership of the company and let them install new leadership. Juszkiewicz has pushed back publicly.
Gibson is "a company that's lost focus," said Laurence Juber, Grammy-winning former lead guitarist of Paul McCartney's 1970s band Wings, who owns seven Gibsons. "It's one of the iconic brands. I can't imagine that it would go away."
Orr and Weinstein write for Bloomberg.