Gibson Brands transforms guitar-making into a diverse 'music lifestyle' firm
Resting in its case on top of a desk at the corporate headquarters of the company that makes Gibson guitars is a technologically head-spinning model that Chairman and CEO Henry Juszkiewicz describes with parental pride.
The craftsmanship that went into Gibson's Firebird X "hexaphonic" limited-edition electric instrument is obvious. Less apparent is this contraption's ability to do just about anything short of brewing a cup of coffee.
Consider: Advanced sampling technology allows it to sound like any one of dozens of vintage electric or acoustic guitars at the touch of a button. A player can also quickly shift among any number of conventional and unconventional tuning setups at the touch of another button. And thanks to automatic tuning technology, one will never worry about it going out of tune.
And that's barely scratching the instrument's high-gloss surface.
"This has got more technology than you can shake a stick at," Juszkiewicz, 64, said during a recent interview at his office.
It's a glistening example of a strategy that has driven Juszkiewicz since he bought the company in 1986: to gradually remake Gibson into a lifestyle brand. His methods — rapid expansion, a planned West Hollywood outpost and a reliance on technology — have sometimes been met with skepticism, or even legal challenges, but none of it has deterred Juszkiewicz's ambitions to, in his words, become a powerhouse on par with Nike.
This aggressive approach is necessary, he says, as long-standing companies such as Gibson, Fender Musical Instruments and C.F. Martin & Co. are facing a conundrum: How can a guitar maker survive in a world largely devoid of old-school guitar heroes?
Today's biggest hits are often the end result of elaborate studio productions — unlike the 1960s, when rock gods such as Jimi Hendrix, Eric Clapton, Jeff Beck, Jimmy Page and guitar-centric bands such as the Beatles, the Rolling Stones, the Grateful Dead and others were at the forefront of pop music.
Juszkiewicz has been down a similar path in the mid-1980s when he undertook his mission to revive the Gibson brand, which today generates about $3 billion in annual revenue.
At that time, he was up against the onslaught of electronic keyboards, synthesizers and programmed sequencers that were de rigueur in '80s pop music. He survived, in part, by putting the spotlight back on the iconic Les Paul guitars, and created a clear delineation between Gibson and its subsidiary Epiphone brand, stemming the tide until the grunge wave helped bring guitars back in the 1990s.
Having earned an MBA from Harvard while still working for General Motors, Juszkiewicz combined his Ivy League business school education with a lifelong passion for rock music when he took the reins at Gibson.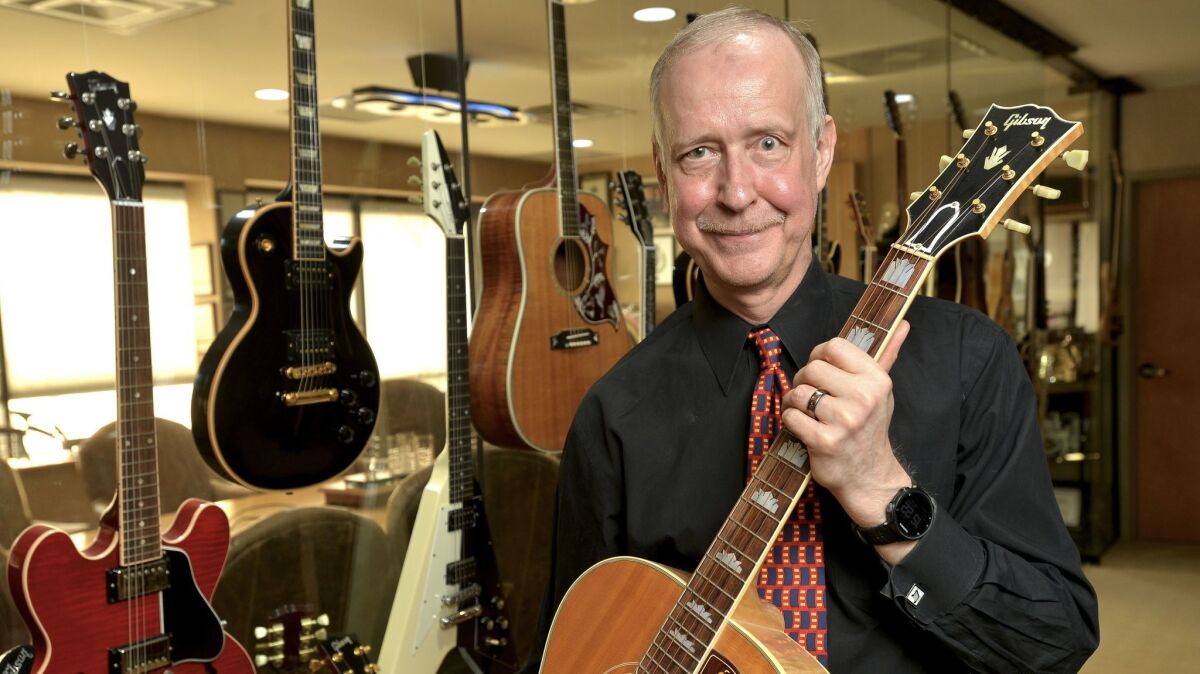 But even with that background, the guitar industry remains as much art as science. Making things even more complicated is the fact that Gibson's competition comes not just from other guitar makers, but from its own vintage creations.
"Personally speaking," said Jeff King, lead guitarist for country star Reba McEntire's touring band, "if I'm going to spend 10 grand on a Les Paul, I'd want it to be an older vintage one, a player's guitar, and hopefully one that would retain its vintage value. The newer ones — you'd think they'd be better with all the new updates and the manufacturing gear they've got today. But I've never had the urge to pick one up, no disrespect."
That's one example of how the technology of guitar-making can still be trumped by the psychology of guitar-playing. As Jeff Goldblum's eccentric chaos theorist character said in the original "Jurassic Park," "Your scientists were so preoccupied with whether or not they could, they didn't stop to think if they should."
Another case in point: The self-tuning guitars that Gibson pioneered in recent years tripped up the company when Juszkiewicz insisted the technology be rolled out on a broad swath of its models, turning off some traditionalists.
"Technology is a wonderful thing," Juszkiewicz said. "But technology doesn't always sit well [with consumers], mostly because there's not enough marketing dollars to let everybody know what it's all about."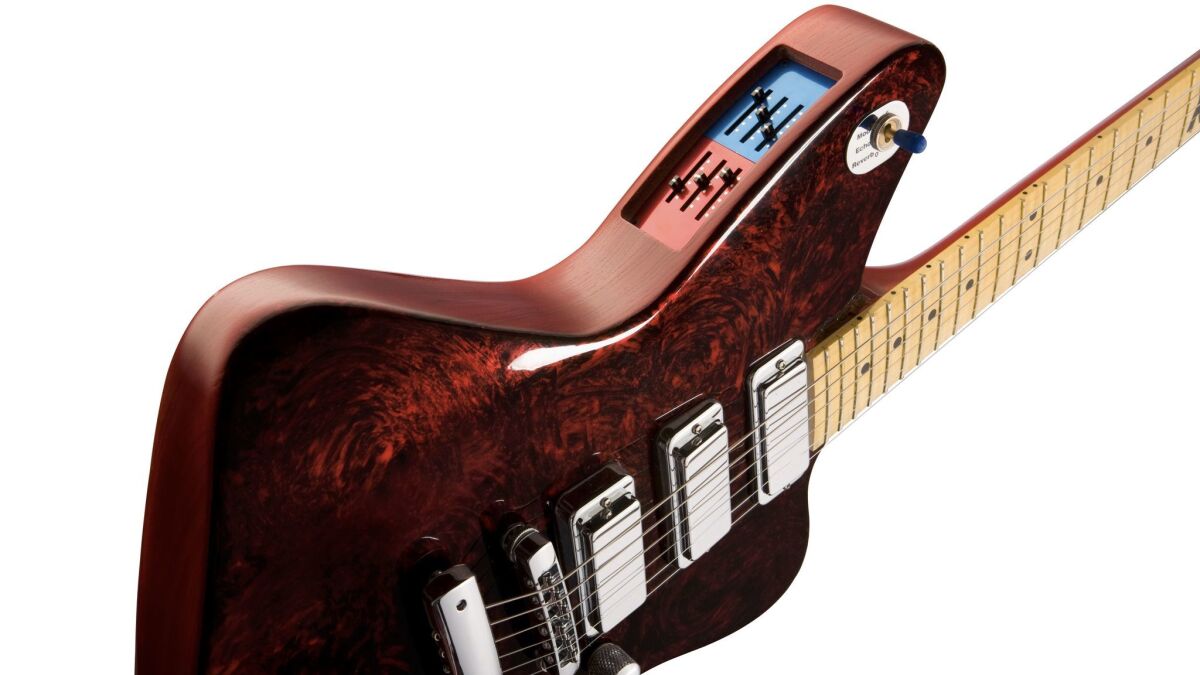 ---
Juszkiewicz's grand plan for Gibson goes back to the beginning of his association with the company: to do for music what Nike has done in the world of sports.
The company's latest business motto, "Play. Record. Listen.," reflects Juszkiewicz's aim to plant its flag in all corners of what he often refers to as "the music lifestyle."
In recent years, Gibson Guitars morphed into Gibson Brands, the parent company of an ever-growing array of instrument makers, recording equipment, playback hardware, studio software and other consumer electronics products.
The company now also has an acoustic-guitar division in Bozeman, Mont., another electric-guitar plant in Memphis, Tenn., and a digital technology R&D facility in Cupertino, Calif.
Juszkiewicz also snapped up the former Tower Records site in West Hollywood with the intention of developing it into a high-profile flagship new-products showroom.
Gibson's biggest acquisition yet was the 2014 purchase of the Philips audio and home entertainment division of 126-year old Netherlands-based Royal Philips, the consumer electronics firm that, along with Sony, was instrumental in the development of the audiocassette, the compact disc, the DVD and Blu-ray home video formats.
The fact is, we don't see ourselves as a guitar company, we see ourselves as a music lifestyle company."

— Henry Juszkiewicz
"The first question we get about that is, 'Why would a guitar company do that?'" Juszkiewicz said. "The fact is, we don't see ourselves as a guitar company, we see ourselves as a music lifestyle company."
The Philips deal took Gibson a huge step in that direction. Yet it also put a severe strain on Gibson's finances.
"Overnight we tripled the size of our company," Juszkiewicz said. "That's been a challenge. But I felt it was a once-in-a-lifetime opportunity that I couldn't pass up."
For one, it delayed the development of the Sunset Boulevard site, although Juszkiewicz said he expects to have that back on track later this year.
In fact, he considered the purchase a bargain at something on the order of $135 million. Ripples from that purchase continued into 2015 and 2016, causing Moody's and Standard & Poor's ratings firms to downgrade the company's financial ranking.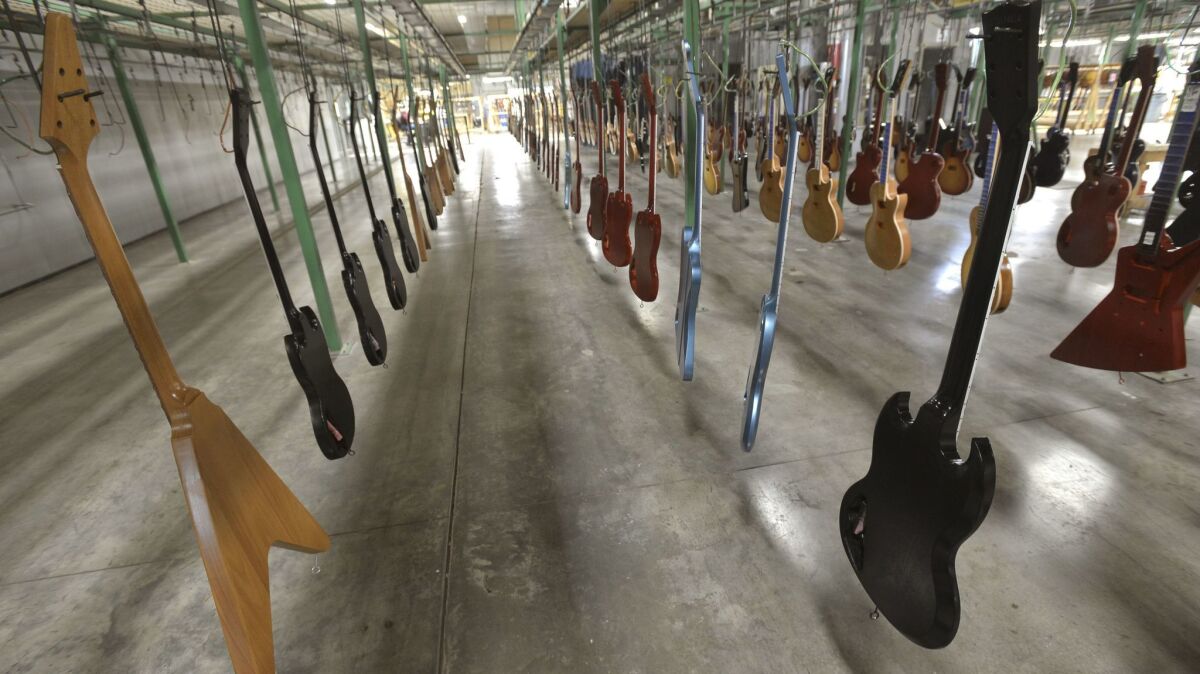 Within the last year, however, things have started to turn around.
"The principal thing is they've been able to refinance revolving credit," said Kevin Cassidy, senior credit officer for Moody's, which hasn't formally updated the high-risk assessment it gave Gibson in August. "That will help."
"But we still have concerns, no question about it," he said.
---
Every year, upward of half a million guitars roll out of the 140,000-square-foot primary factory a few miles outside downtown Nashville, its custom shop, Epiphone division and other plants. And that's just the number of Les Paul-style instruments.
Strolling through the Nashville plant on a recent morning, master luthier Jim DeCola showed off various stations along the far-flung assembly line.
It begins at the far end of the plant where selectively chosen blocks of wood are rough carved into basic shapes by computer-controlled saws and lathes. Moving down the line, they are further shaped then finished by a combination of precision machines and delicate human hands.
"Around here we like to say that 'Machines make great tools but people make great guitars,' " DeCola said.
He snags finishing specialist Ray Lambert, asks him to demonstrate something he does most every day: hand spraying the famous sunburst finish onto a nascent Gibson Les Paul, one of the most recognized and influential electric guitar models ever created.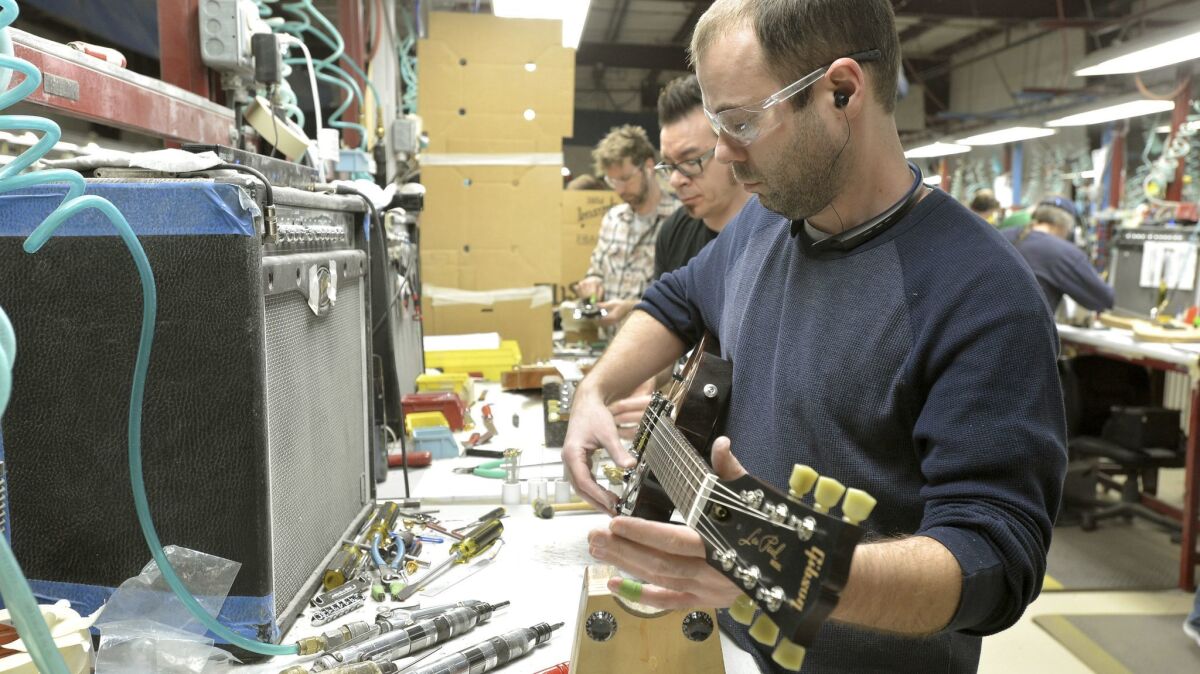 "Ray can do one in 2 minutes."
Along with all the intricacies of manufacturing to contend with, Juszkiewicz has to keep on top of myriad other issues that affect the operation. For instance, Gibson was accused as part of a criminal investigation with violating the federal Lacey Act with its imports in 2009 and 2011 of ebony from Madagascar and Indian rosewood used to make their guitars.
Gibson paid a $300,000 fine and gave up its claim on more than $250,000 of seized wood — a settlement Juszkiewicz agreed to do, although he still regularly grouses about what he considers governmental over-regulation of the business world.
The one-two punch of that high-profile case followed by the financial strain from the Philips acquisition resulted in a pummeling in the business press.
"We've had a very rough period, and they've reported on it," he said. "Now they're reporting on our current period and it is quite positive. We still have very ambitious goals."
To realize them, he references one of his first jobs -- offering guitar lessons to other kids in his neighborhood.
"I didn't try to make them the world's best guitar player," he said. "I would just say, 'What's your favorite band? What's your favorite song?' If I taught them to even sound half-good, they were the happiest people in the world.
"My job is to help people have a good time," he said. "If they're having a good time and they're learning things, it's a wonderful thing, and we should never lose sight of that."
See the most-read stories in Entertainment this hour »
Follow @RandyLewis2 on Twitter.com
For Classic Rock coverage, join us on Facebook
ALSO
What Chuck Berry's and Glen Campbell's final albums have to say about the end of the road
Bob Seger finally brings 'Night Moves' to streaming-music services
Yoko Ono to be credited alongside John Lennon as songwriter of 'Imagine'
Can Gene Simmons trademark his horns gesture? Maybe — but then there's the enforcement issue
Get our L.A. Goes Out newsletter, with the week's best events, to help you explore and experience our city.
You may occasionally receive promotional content from the Los Angeles Times.