EU accuses Google of using its search dominance and Android to hinder rivals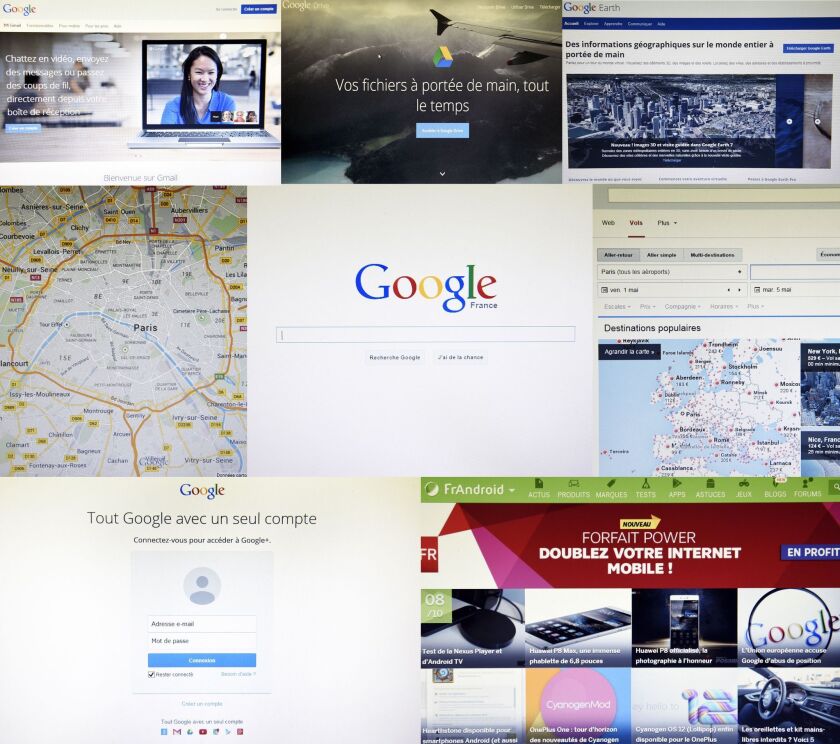 Reporting from Washington —
European Union regulators on Wednesday accused Google Inc. of antitrust violations, alleging that the online giant abused its search-engine dominance to favor its own comparison shopping services over those of its rivals.
The EU's antitrust chief also announced the opening of a separate investigation into whether Google abused its widely used Android mobile operating system to hinder the development of rival software and products.
The announcements mark a new set of legal troubles for Google in Europe, where regulators have been tougher on the practices of technology companies than have U.S. officials.
"If the investigation confirmed our concerns, Google would have to face the legal consequences and change the way it does business in Europe," said Margrethe Vestager, the European Union's competition commissioner.
The commission, the region's executive body, began investigating Google's search engine practices in 2010 after complaints from competitors that the company was favoring its own services in search results.
Shivaun Raff, chief executive of Foundem, a British price comparison site that filed one of those complaints, called Wednesday's actions "a decisive step towards restoring the level playing field required for competition and innovation to thrive."
The probe's preliminary conclusion is that Google displays products offered through Google Shopping more prominently than those from other websites. By doing so, Google has been able to "artificially divert traffic from rival comparison shopping services" and hinder their ability to compete, regulators said.
Vestager said she was concerned that Google "has given an unfair advantage to its own comparison shopping service" in violation of EU rules. Google has 10 weeks to respond to the findings.
In a blog post, Amit Singhal, senior vice president for Google Search, said company officials "respectfully but strongly disagree" with the accusations "and look forward to making our case over the weeks ahead."
He said there are several other search engines, as well as sites such as Amazon and EBay, that allow consumers to find shopping results.
"While Google may be the most used search engine, people can now find and access information in numerous different ways -- and allegations of harm, for consumers and competitors, have proved to be wide of the mark," Singhal said.
But European regulators said Google has a dominant position in the region, with its search engine market share above 90% in most countries.
Google still could settle the allegations with European officials, but the company also faces a new front related to its Android mobile operating system.
EU regulators said Wednesday they had launched an in-depth investigation into Android, which is used on a majority of smartphones in the region, after receiving complaints from competitors.
One allegation is that Google "has illegally hindered the development and market access of rival mobile applications or services" by requiring or providing incentives for makers of smartphones or tablets "to exclusively pre-install Google's own applications or services."
Regulators also will look at whether Google used its dominance to prevent manufacturers who want to install company products on their devices from developing competing versions of Android.
"Smartphones, tablets and similar devices play an increasing role in many people's daily lives, and I want to make sure the markets in this area can flourish without anti-competitive constraints imposed by any company," Vestager said.
Google said the pace of innovation for mobile applications "has never been greater" and that "consumers now have unprecedented choice at ever-lower prices."
Hiroshi Lockheimer, vice president of engineering for Android, said in a blog post Wednesday that "there are far fewer Google apps pre-installed on Android phones than Apple apps on iOS devices."
"The European Commission has asked questions about our partner agreements," he said. " It's important to remember that these are voluntary -- again, you can use Android without Google -- but provide real benefits to Android users, developers and the broader ecosystem."
---
For reporting and exclusive analysis from bureau chief John Myers, get our California Politics newsletter.
You may occasionally receive promotional content from the Los Angeles Times.