Haggen bankruptcy is a buying opportunity for Smart & Final, other grocers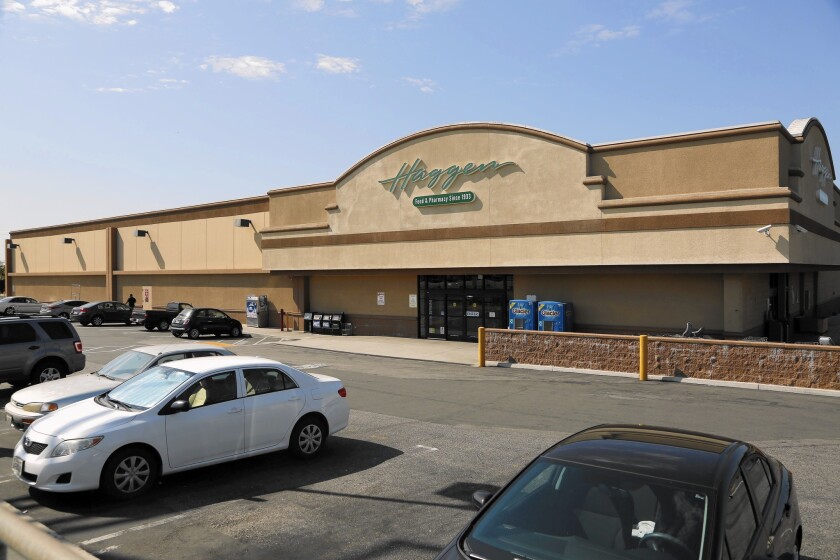 The misfortunes of Haggen Inc. spell opportunity for several rival grocers.
Remnants of the Northwest chain, which underwent an ill-fated expansion this year, will be parceled out by a bankruptcy judge to bidders in the next few days.
The 18-store Haggen operation had bought and begun rebranding 146 Albertsons, Vons, Pavilions and Safeway locations, which regulators had ordered sold as part of the merger between Safeway and Albertsons. After failing to entice shoppers, the company filed for bankruptcy protection in September and closed all but 37 stores in Washington and Oregon.
Several supermarket chains have put in bids on the stores in California, Arizona and Nevada. They include high-end grocer Gelson's, for eight stores, and Sprouts, for four locations, according to court documents. Even Albertsons has bid on 36 stores.
Not all Haggen shops have bidders, and some may eventually end up subdivided into smaller storefronts for other businesses.
Haggen's retreat represents a prime chance for other grocers to expand in Southern California's ultra-competitive supermarket industry, analysts said.
"It could be a once-in-a-lifetime opportunity," said David Livingston, founder of supermarket research firm DJL Research. "It's always a good time to expand if you have a proven concept."
Smart & Final Stores Inc., the warehouse-style grocer that went public last year, could be a big winner: It will acquire 32 stores in Central and Southern California.
David Hirz, chief executive of the Commerce chain, said the new locations are "a real opportunity to accelerate growth."
"A lot of these markets are markets we have been trying to get into in the last three years," Hirz said. "They are on really good real estate."
Smart & Final is paying nearly $70 million in cash for the stores, and sinking another $70 million into rebranding and refreshing the stores, Hirz said. The chain currently operates 270 stores under the names Smart & Final, Smart & Final Extra and Cash & Carry Smart Foodserve.
The company, which has deep roots in Los Angeles, is betting that the investment will pay off, Hirz said. The longtime leases at these stores are about 40% cheaper on average than current market rates. And the locations are in well-trafficked areas — or "on Main and Main," as Hirz put it.
Five out of the 32 stores will serve as new homes for existing Smart & Final stores that will be relocated as Smart & Final Extra stores. The remaining 27 represent an expansion of the Extra brand, which has locations that tend to be larger and carry more fresh produce than the company's traditional warehouse stores.
Smart & Final will have to woo shoppers back to the locations it's buying because they will have switched to other supermarkets by the time the stores are converted, Hirz said. But before Haggen came, many of those locations were "high-volume Albertsons or Vons stores," he said.
"When we talk to Haggen customers, we looked at why they weren't successful," Hirz said. "A lot of it goes to price."
That shouldn't be a problem for Smart & Final, which attracts shoppers with its lower prices and bulk items, Hirz said. A third of its sales come from businesses. Products will be priced about 17% lower than Haggen, he said.
Smart & Final has been expanding since going public; in September, it announced plans to add 100 more stores in the next four years.
Its low-cost model saves on labor — there are no service delis or meat counters, for example, and extra products are kept above shelves to make restocking easy.
This week, Smart & Final reported net income of $12.4 million for the third quarter, up from $10.2 million a year ago. Sales grew 10.1% to $1.3 billion.
Grocery chains are facing growing competition in the Southland supermarket industry.
Local grocers such as Trader Joe's have been opening new locations, while big-box retailers such as Wal-Mart Stores Inc. have beefed up their food offerings. Even e-commerce companies such as Amazon.com Inc. and Google Inc. are expanding grocery delivery.
The rivalry has done in not only Haggen but Fresh & Easy, which filed for bankruptcy protection last month and will close stores by mid-November.
Extra competition is coming in the form of Aldi, the German discount grocer that plans to open 45 Southern California stores next year.
Twenty-five of the stores will open from March through July. The company has already built an 800,000-square-foot distribution center and regional headquarters in Moreno Valley to support future expansion.
"With the population density here in Southern California, it's a market where we can do well," said Liz Ruggles, Aldi's director of public relations.
More than 90% of products for sale at Aldi are private label, with stores offering only one or two options for items such as cranberry sauce or canned green beans.
Aldi also saves on labor costs. Customers who want to use a shopping cart, for example, must deposit a quarter, which they get back once they return the cart. Shoppers also bag their own groceries.
Ruggles said Aldi isn't looking to make big acquisitions of stores that are coming on the market with Haggen or Fresh & Easy's departure. But she said the chain might pick up one or two locations.
"We want to make sure store locations are convenient for our customers," she said.
Twitter: @ByShanLi
ALSO
Q&A: DraftKings co-founder bets on strong growth
Beer merger will not bring Budweiser, Miller under same roof
With help from 007's Daniel Craig, how Alibaba turned 11-11 into China's biggest shopping day
---
Your guide to our new economic reality.
Get our free business newsletter for insights and tips for getting by.
You may occasionally receive promotional content from the Los Angeles Times.