Q&A: DraftKings co-founder bets on strong growth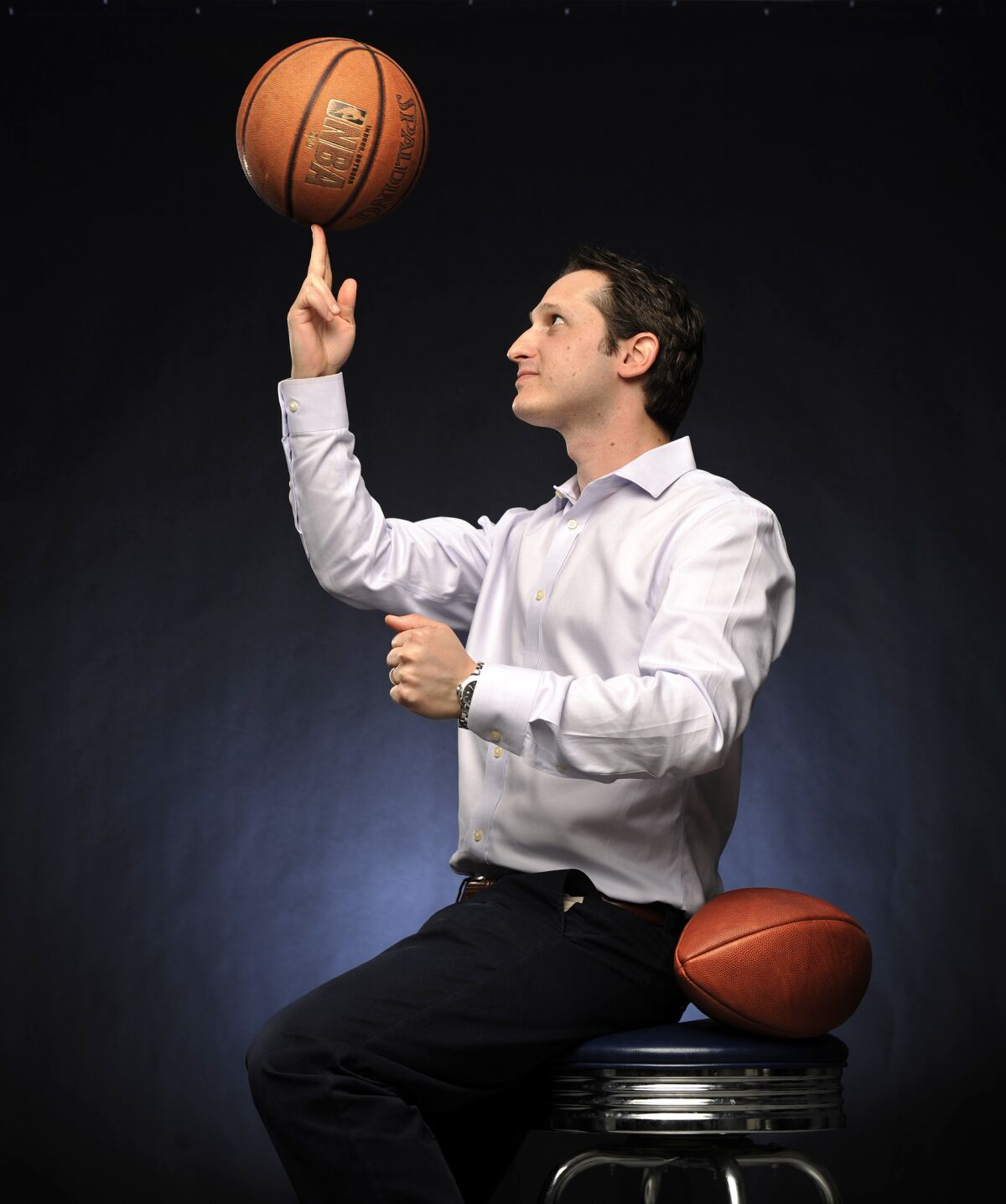 As with a major upset in sports, Jason Robins never saw it coming.
Robins is co-founder and chief executive of DraftKings Inc., one of the two big websites — the other is FanDuel Inc. — in the exploding business of daily fantasy sports contests.
Customers pick virtual teams composed of real athletes and, depending on how those athletes perform on a given day, the customers can win cash prizes. The industry's entry fees are expected to total nearly $4 billion this year.
But the business was rocked last month when it came to light that a DraftKings employee had won $350,000 playing a game at rival FanDuel after having access to nonpublic data about contestants' player choices at DraftKings.
That raised questions about whether consumers were getting a fair shake. Boston-based DraftKings later said an independent probe showed the employee, Ethan Haskell, did not improperly use the data for his benefit. But the damage was done.
Get the latest in sports with our free newsletter >>
Federal and state investigations reportedly were launched. DraftKings and FanDuel barred their employees from further play. The debate intensified about whether daily fantasy sports is gambling and should be more regulated. (DraftKings and its peers say it's skill-based and thus not gambling.)
The latest blow came Tuesday, when New York state's attorney general ordered DraftKings and FanDuel to shut down in the state on grounds their games constituted illegal gambling. The companies said they are examining their legal options.
During a trip to Los Angeles this week, the 35-year-old Robins explained how the controversy caught him off guard and rattled his company. The interview occurred before the report of the New York ban. Here's an excerpt:
Were you surprised by the reaction to what happened?
In retrospect I get it. There's this new industry, all of a sudden it's all over the airwaves, it's growing like crazy, everyone is looking at it, trying to make sense of it. A lot of people naturally go to the assumption that if there's a fast-growing industry and a new disruptive technology they must be doing something wrong. And then this story that wasn't true gets publicized and there's this big scandal. It's sort of the perfect storm.
In retrospect it makes sense but, no, I never expected anything like that to happen. I couldn't believe it. It was superseding major world events.
Did the scandal damage the company?
Certainly. The business metrics have been fine. The damage has been to our brand, people questioning our integrity, the morale of the company. It was a tough period and still is a tough period. There were people there [at DraftKings] that were scared. [Employees were saying] "I played a game once on a competitor's site — is my name going to be dragged into the press?"
Ethan had reporters showing up at his parent's house, stalking his parents. People don't want to think, "I come work for this cool company and the next thing you know my house is getting swarmed by reporters."
For a few weeks it was very tough. I had to go speak in front of the company three, four times a week just to keep everyone's head up and keep everyone focused.
Does Haskell still work at DraftKings?
Of course.
Do you wish you had earlier barred employees from playing?
In retrospect, yeah. But everything is easy in hindsight. We had monitoring in place to investigate whether anyone was inappropriately using and accessing data if there ever was an accusation. We had those types of safeguards in place.
A lot of the people that we got to work for us early on were people into fantasy sports, and part of the appeal and part of what gets people to work 24/7 is they love the product and what it's about. If part of having to ask somebody to come work for you is that you can't play anymore, that's a big "ask."
But at this point we're in a different world. We're a much bigger company, we're more established.
Do you expect more regulation for the business?
Yes. I don't know that I expect anything to happen instantaneously. My hope is that [regulators understand] we are a new type of product. We want the right kind of oversight and the right kind of consumer protections.
The thing I fear is that there are many more people who don't play the game and maybe don't understand it, and the easy thing to do is say, "Let's put this in the same [regulatory] box as this other thing we already have." That's not the right solution.
Were you a sports fan while growing up?
Loved sports, still do. I was always into games as a kid. I loved strategy games. I was a big chess player. I also really liked video games. Before I was even into fantasy sports I learned all the players from sports video games.
Do you hope to take DraftKings public?
The industry is going through an important process of becoming mainstream, getting vetted. I can't really predict how long that will take to play out, but I think that's an important step to complete before we can contemplate any public offering. Also there are benefits to being private, so we're not in a rush on that front. That is an option that at some point we would consider.
Will the recent controversy affect the company's growth?
I'm as excited about the business as I've ever been. We just increased our forecast for next year because we had a better-than-expected number of new customers join this NFL season. We're also going to be launching overseas in a few weeks; we'll be in Britain in December. It's a very exciting milestone for us, and I hope it sets the stage for more worldwide expansion.
Twitter: @PeltzLATimes
ALSO
Newport Beach ordinance will ban marijuana growing and sales
Why the success of the $15 minimum wage movement has surprised its leaders
Disney's Bob Iger hired by Chargers, Raiders to oversee Carson stadium project
---
Sign up for the California Politics newsletter to get exclusive analysis from our reporters.
You may occasionally receive promotional content from the Los Angeles Times.