See what's killing haunted houses and other independent Halloween attractions
Actress Misha Reeves occupies one of several themed rooms inside CreepLA, a haunted house experience set up in a warehouse in the Glassell Park neighborhood.
(Jay L. Clendenin / Los Angeles Times)
Justin Fix is creator of CreepLA, which has 28 actors working in multiple themed rooms.
(Jay L. Clendenin / Los Angeles Times)
Guests are on the move at the Los Angeles Haunted Hayride in Griffith Park.
(Glenn Koenig / Los Angeles Times)
A monster poses with guests at the Los Angeles Haunted Hayride in Griffith Park.
(Glenn Koenig / Los Angeles Times)
Guests ride the creepy carousel at the Haunted Hayride.
(Glenn Koenig / Los Angeles Times)
Inside the Glassell Park warehouse that is transformed for Halloween into CreepLA.
(Jay L. Clendenin / Los Angeles Times)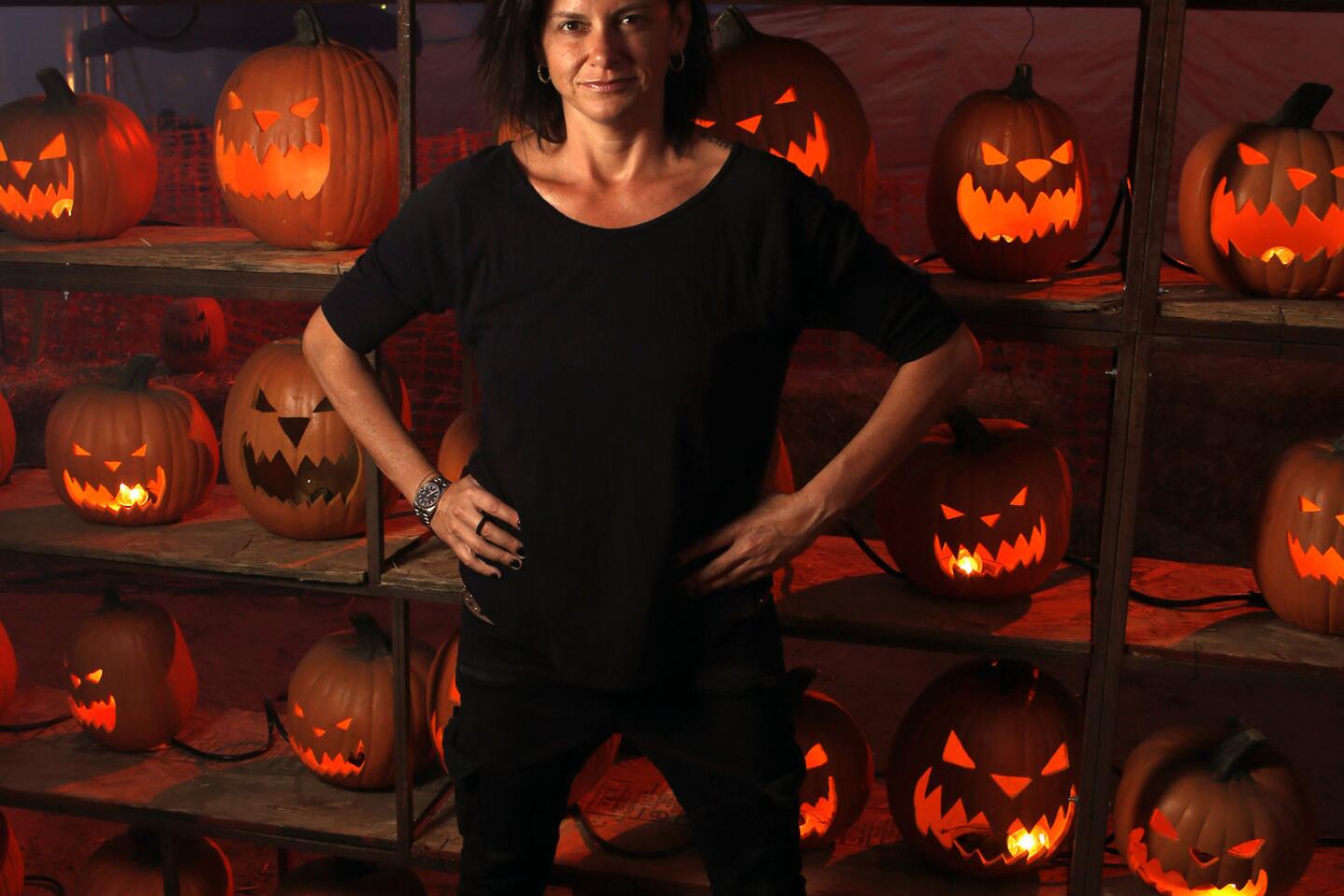 Melissa Carbone founded the Los Angeles Haunted Hayride in Griffith Park.
(Glenn Koenig / Los Angeles Times)
Visitors to CreepLA may find themselves running or crawling through the immersive performance.
(Jay L. Clendenin / Los Angeles Times)
Melissa Carbone quit her high-paying marketing job eight years ago and invested her life savings into something extremely scary: She launched a haunted hayride attraction in the heart of Los Angeles.
The investment seemed to make sense. After all, Americans are expected to spend a record $8.4 billion this year on Halloween candy, costumes and parties, with one in five planning to visit a haunted attraction, according to the National Retail Federation.
The move has paid off for Carbone. The LA Haunted Hayride is on track to draw 80,000 visitors this year with thousands more at a similar hayride attraction she launched in New York last year.
"For an industry that big, I thought Los Angeles was super underserved," she said. "Clearly there was room for another attraction."
But entrepreneurs looking to capitalize on the surging popularity of Halloween have learned that the business of scaring can be frighteningly fickle.
For every success like Carbone's, there are several mom-and-pop haunted attractions that have been killed off by mounting insurance and other expenses as well as extensive government regulations. On top of that, they face competition from Halloween events produced by giants including Universal Studios Hollywood and Knott's Berry Farm.
Take the Tustin Haunt in Tustin, the Scareplex Halloween Haunt in Pomona and Satan's Chop Shop in Hawthorne, all local haunted attractions that earned high praise from horror fans but closed after a year or two.
"It's getting so expensive that unless you have $100,000 to put into it and $30,000 into marketing, you are not going to make it," said Jeff Schiefelbein, chief executive of Sinister Pointe Productions, an Orange County company that builds haunted attractions for theme parks and individual entrepreneurs.
"Almost every independent haunted house we've built for someone no longer exists," he said. "They maybe last two years, and that's it."
In fact, Schiefelbein said he is thinking of discontinuing his own haunted attraction in Fullerton — after 20 years in operation — because of expensive and time-consuming government regulations, including fire-safety requirements imposed by city officials.
"It's literally drained the fun out of it," he said of the regulations.
In addition to investing a huge amount of capital, local attraction owners say the formula for success in the haunt business involves spending heavily on marketing, hiring creative staff and developing a unique product.
"It's not as easy as it may seem," said Jennifer Bandich, a producer at Evil Twin Studios, which ran a haunted house in South Pasadena from 2013 to 2015. The attraction won't operate this year, but Bandich hopes to relaunch it in 2017.
Evil Twin had the benefit of running its haunted attraction — dubbed Ward 13 last year — as a nonprofit that raised money for local charities. It meant that the business could slash its labor costs by relying primarily on volunteers.
But this year, Bandich said, the business couldn't find a commercial building that it could rent for only six weeks, with at least 15,000 square feet of space but in a location where the noise wouldn't be a problem for neighbors, among other requirements.
"We realized, basically, this was going to be a concern," she said.
In addition to other expenses, Bandich said, operators of haunt businesses have had to pay steadily increasing insurance costs over the past few years.
Justin Fix, an actor and Halloween fan, last year launched a haunted attraction known as Creep LA, funding it with $60,000 he generated by maxing out three credit cards. Creep LA combines immersive theater and the features of a traditional haunted house to give guests the creeps, he said.
"There are different ways to scare people, and I like to think we are doing the slow burn to frighten them," he said
Fix's haunt generated enough money last year to pay off his credit cards, and he expects to generate even more revenue this year because he has opened the attraction three weeks earlier than last year. But it means investing $168,000 into the business.
"I'm nervous as all hell," he said.
Carbone, 40, attributes her success to creating an attraction that is unique.
"Haunted houses are cool, but they are kind of a dime a dozen," she said.
The idea for her haunted hayride came from the traditional hayrides she remembers growing up in Connecticut. "I loved them," Carbone said. "I couldn't get enough of them."
After seeing neighbors admire the Halloween decorations on her Westwood home, it dawned on Carbone that there was big money to be made in scaring people.
"It sparked my curiosity," she said. "How much revenue was behind this day?"
She quit her executive position at Clear Channel Media and Entertainment and, along with her partner at the time, Alyson Richards, they invested their savings to create the LA Haunted Hayride, which now operates in Griffith Park.
Guests climb into trailers, pulled by tractors through darkened roads in the park. The tractors roll past scenes of gore, horror and mayhem while costumed characters jump out from the dark, wielding knives and bats. After the hayride, guests can explore other adjacent attractions, including a haunted maze.
The business has been so successful that Carbone expanded her production company, Ten Thirty One Productions, to launch a hayride attraction in Randall's Island Park in New York last year and plans to open a hayride in Dallas next year.
Carbone's company also opened a haunted boat attraction in Orange County, a series of horror movie screening parties in Los Angeles and a scary camping adventure in Portland, Sacramento, San Francisco, Seattle, Los Angeles and San Diego.
Her business got a boost in 2013 when she appeared on the ABC TV show "Shark Tank" and persuaded NBA owner Mark Cuban to invest $2 million in her company.
Carbone believes the business of scaring will continue to surge. She is already planning on expanding her business into producing horror films.
"There is something about being scared in a safe environment that people are addicted to," she said.
To read more about the travel and tourism industries, follow @hugomartin on Twitter.
ALSO
3 reasons to fear self-driving cars (even if they're perfectly safe)
Samsung will end production of Galaxy Note 7 after halting global sales
With Model 3 orders looming, Tesla seeks approval to double size of Fremont factory