With Harry Potter land, Universal banks on merchandising magic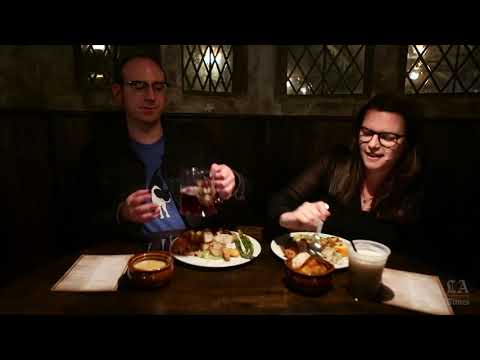 In anticipation of the opening of the Wizarding World of Harry Potter at Universal Studios Hollywood, we take a culinary excursion and sample British fare at the Three Broomsticks restaurant.
Visiting from Missouri, Alexander Godbey concentrated on the shop window before him, trying again and again to make something happen.
After a fifth circular wave, the electronic wizardry in the 9-year-old's wand triggered a small chest of drawers in the window to open, rearrange its contents and close.
"Excellent technique," intoned a Universal Studios Hollywood employee as another wand-waving visitor stepped up to try the incantation.
On the way to an April 7 opening, the Los Angeles-area version of the Wizarding World of Harry Potter is going through dress rehearsals using random groups of park visitors. Already, the merchandising magic is grabbing center stage.
Displays in 11 shop windows throughout the Potter land are embedded with motors, lights and sensors so that guests who wave their wands in a prescribed motion can make the items in the displays to come to life. But the enchantment works only with the more expensive "interactive" wands ($47.95), not with the less expensive replica wands ($39.95).
"As you see people doing this, you will say 'I've got to get one of those wands,'" said Robert Niles, editor of Theme Park Insider.
When a similar Harry Potter land opened in Universal's Islands of Adventure in Orlando, Fla., in 2010, attendance shot up 20% and revenue jumped 41% for the year, as visitors cleaned out the shelves of magic wands, Gryffindor robes, chocolate frogs and other Potter-themed souvenirs.
The Universal Studios Hollywood version of the boy wizard's stomping grounds will be less than a third the size of Orlando's offerings, and will arrive six years later. Still, industry experts say Pottermania remains strong, and the theme park should conjure up big attendance numbers and a surge in food and merchandise sales.
SIGN UP for the free In the Loop theme parks newsletter >>
"If the company's Harry Potter debut in Orlando is any indication, the Hollywood opening of the Wizarding World attraction should be massive," said Nick Petrillo, an analyst for Santa Monica-based research group IBISWorld.
Much is at stake for the theme park's parent company, Comcast Corp., which invested an estimated $500 million to build the Wizarding World of Harry Potter on the site of the Gibson Amphitheatre.
The Potter attraction is the latest in a $1.6-billion, 25-year makeover of the park and adjacent studio facilities. The overhaul includes the 2014 opening of the Despicable Me Minion Mayhem attraction, the 2015 opening of the ride Fast and Furious: Supercharged and the "Simpsons"-themed Springfield land, which also opened in 2015.
More is in the works. Osaka, Japan-based Nintendo Co., the world's largest video game company, announced a partnership last year with Universal Studios Parks & Resorts to develop attractions based on the company's popular video games and characters, such as Super Mario Bros., Donkey Kong and Pokemon.
Combined, the new attractions are sure to boost the theme park's sales.
On average, U.S. theme parks generate about 30% of their revenue from food, beverages and merchandise, but that percentage surges with the opening of a new attraction. That was true when Disneyland opened a 12-acre expansion based on the popular movie "Cars" in 2012. For that fiscal year, Walt Disney Co. reported a 9% increase in park revenue, partly thanks to sales of Cars merchandise.
"If you look at any theme park attraction, retail sales is a core element," said Martin Palicki, editor in chief of InPark Magazine, a trade publication based in Milwaukee.
The Harry Potter brand has a big advantage over other brands, he added, because the movies and books by J.K. Rowling have been popular with both boys and girls.
"It has a cross-gender appeal," Palicki said. "That means double the number of wands you can sell."
The 6-acre attraction is a much smaller version of the Wizarding World of Harry Potter that initially opened at Universal's Islands of Adventure in 2010 and expanded to adjacent Universal Studios Orlando in 2014. Together, the two parks' themed areas, connected by a Hogwarts Express train, take up about 20 acres.
Despite its compact size, Universal Studios Hollywood has packed the new land with eight retail shops, two street carts, a restaurant and a pub.
The layout of the new Wizarding World is designed to promote retail sales by funneling visitors past the shops and eatery before they can get to the two featured rides. Guests also exit the rides into stores.
Inside the shops, the park workers will be peddling more than 600 Harry Potter-themed items — toys, hats and collectibles — ranging in price from $10.95 for a box of "Bertie Bott's Every Flavour" jelly beans (watch out for booger, earwax and vomit varieties) to $300 for a replica of the Nimbus 2001 broom.
Kat Miller, a Harry Potter devotee who lives in Venice, said she has flown cross-country to visit the Orlando attraction but is looking forward to the Southern California Potter world, where she plans to guzzle a glass of butterbeer, a nonalcoholic drink inspired by the books and movies. A regular butterbeer (cream soda with a butterscotch top) sells for $5.50, and a frozen version for $6.50.
"They could sell it for $20 and I would still have to get some," she said.
The park has added a money-making feature not found in Orlando: a replica of the train car in which Harry Potter rode when he traveled to the Hogwarts school. Guest can pose for a photo in the car, with a green-screen image imposed outside the train window, for $24.95.
The restaurant, dubbed the Three Broomsticks, features a menu of British-style foods such as bangers and mash, fish and chips and Guinness stew. The Hog's Head Pub inside the eatery will serve beer, wine and liquor.
"They are going to move millions of dollars in merchandise and they are going to make tons of money," said Niles of Theme Park Insider, who has attended sneak previews of the attraction.
Twitter: @hugomartin
ALSO
Universal Studios adopts 'demand pricing' before its Harry Potter world opens
Where to grab grub and grog at Universal's Wizarding World of Harry Potter
Hey, Harry Potter fans, here's an exclusive sneak peek at Universal's Wizarding World