Universal Studios adopts 'demand pricing' before its Harry Potter world opens
Universal Studios Hollywood is putting a price tag on the demand for fun.
The theme park is anticipating huge crowds for the April 7 opening of the Wizarding World of Harry Potter. If you want to be one of the first to experience it, be prepared to pay more than if you want to go, say, on a slow Tuesday in September.
So-called demand, or variable, pricing is nothing new to airlines and hotels. They have long charged higher prices on holidays and during popular seasons. Uber and Lyft charge higher rates during hours when the car-hailing services are in most demand. (Remember New Year's Eve?)
SIGN UP for the free In the Loop theme parks newsletter >>
Universal is the first major U.S. theme park to embrace demand pricing, though experts say consumers should expect more to follow.
Walt Disney Resorts put out feelers to annual pass holders last year, asking their opinion of a three-tiered pricing system aimed at charging more during Christmas, spring break and summer.
"It's sort of a no-brainer," said Martin Lewison, a theme park expert and business management professor at Farmingdale State College in New York. "As the parks see the bigger companies doing it more and more, it will become more accepted."
Under the pricing policy launched Tuesday by Universal Studios, tickets bought at the gate remain $95. But visitors who book tickets online for low-demand days — such as a weekday in February before Harry Potter opens — can save up to $20.
During weekends and peak demand days during spring break or summer, parkgoers save only $5 by booking online.
Universal wants people to plan ahead, which will help it manage its operations. Parkgoers can lock in prices by buying tickets online for dates through the end of September. People who procrastinate might see online prices fluctuate depending on last-minute demand.
Buying online comes with another incentive — entry into the new Harry Potter area an hour before the rest of the park opens.
The new Harry Potter world will feature two new rides, one restaurant, a food cart and eight shops based on the wildly popular books and films about the boy wizard.
Harry Potter has already been wildly successful at Universal's other parks. After a Harry Potter ride made its U.S. theme park debut at Universal's Islands of Adventure in Orlando, Fla., attendance jumped nearly 30% in 2011, according to estimates by Aecom, a Los Angeles engineering firm.
Additional Harry Potter attractions were added later at nearby Universal Studios Florida in 2014, boosting revenue by double digits for Universal Studios' parent company, Comcast Corp.
Experts say variable pricing can help spread out attendance spikes and ease frustration that is sure to rise when a new attraction opens, producing long lines and shoulder-to-shoulder crowds.
"Demand-based pricing not only helps maximize ticket revenues, but also provides a tool to shift price-conscious consumers to less-busy days," said Michael Erstad, senior consumer analyst at New York-based ITG Investment Research. "Spreading visitations throughout the week may help improve the overall customer experience at the park."
So far, Universal isn't increasing its maximum price, although park officials didn't rule out such a move in the future.
Disneyland Paris already employs a form of variable pricing that raises rates on weekends and high-demand weekdays. For example, a single daily adult ticket to Disneyland Park and Walt Disney Studios Park valid throughout the year costs $101, while a ticket for lower-demand dates costs $85.
Discovery Cove, an Orlando boutique park where people must make reservations to swim and interact with dolphins, has for several years offered lower prices for low-demand days. Discovery Cove, owned by SeaWorld Entertainment, is an all-inclusive resort-type park with a limit of about 1,300 visitors a day.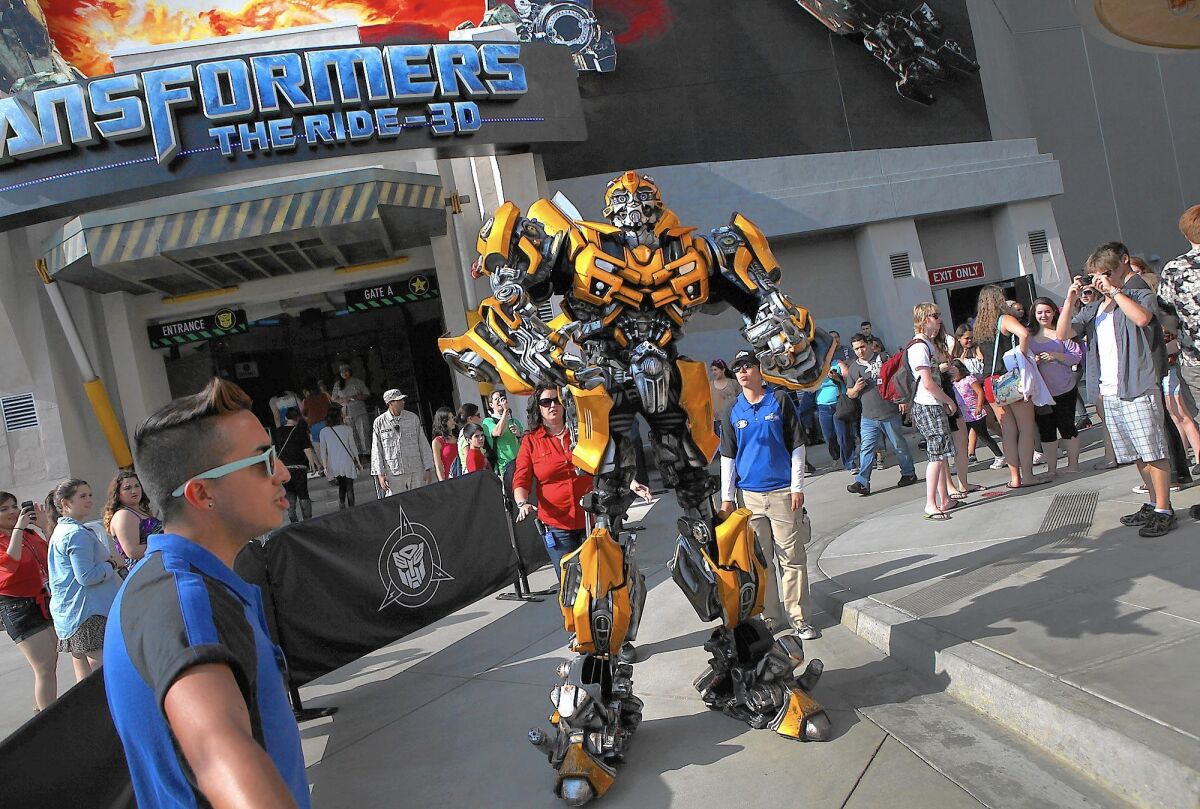 Other parks have offered lower prices on off-demand days on a limited basis for special events such as Halloween Horror Nights at Universal Studios Hollywood and Mickey's Very Merry Christmas Party at Walt Disney World. SeaWorld San Diego offered discounts for weekday tickets in summer 2014.
But demand pricing has yet to catch on a permanent basis throughout the theme park industry partly because visitors get frustrated when too many variables are added to the ticket-buying process, Lewison said.
"It's a conservative industry, overall," he said.
MORE: Get our best stories in your Facebook feed >>
Walt Disney Co. may be considering demand pricing to spread out the crowds that are certain to arrive when Disneyland in Anaheim opens its highly anticipated "Star Wars" land, industry experts say. Construction of the 14-acre area began last month but a completion date has yet to be announced.
A Florida version of the Star Wars area also will be built at Disney's Hollywood Studios, which is part of Walt Disney World Resort in Orlando.
Disneyland is already wrestling with a crowding problem and growing frustration among guests. The park has closed its gates temporarily over the last few years on days when attendance exceeded the park's capacity, such as Christmas Day.
Attendance has been on the rise at Universal Studios Hollywood following the opening of several new attractions, including Transformers: The Ride 3D in 2012, Despicable Me Minion Mayhem in 2014 and Fast and Furious-Supercharged in 2015.
But the park has yet to close its gates because of overcrowding. The Harry Potter area could test those limits, experts said.
Twitter: @hugomartin
ALSO
Alphabet is poised to be world's most valuable company
Mattel reports bigger profit and sales in fourth quarter, helped by Barbie
With $58.5 million so far, 'Kung Fu Panda 3' performs better in China than U.S.
Sign up for the California Politics newsletter to get exclusive analysis from our reporters.
You may occasionally receive promotional content from the Los Angeles Times.