Hurricane Harvey ravaged cars and trucks — bad for drivers, good for automakers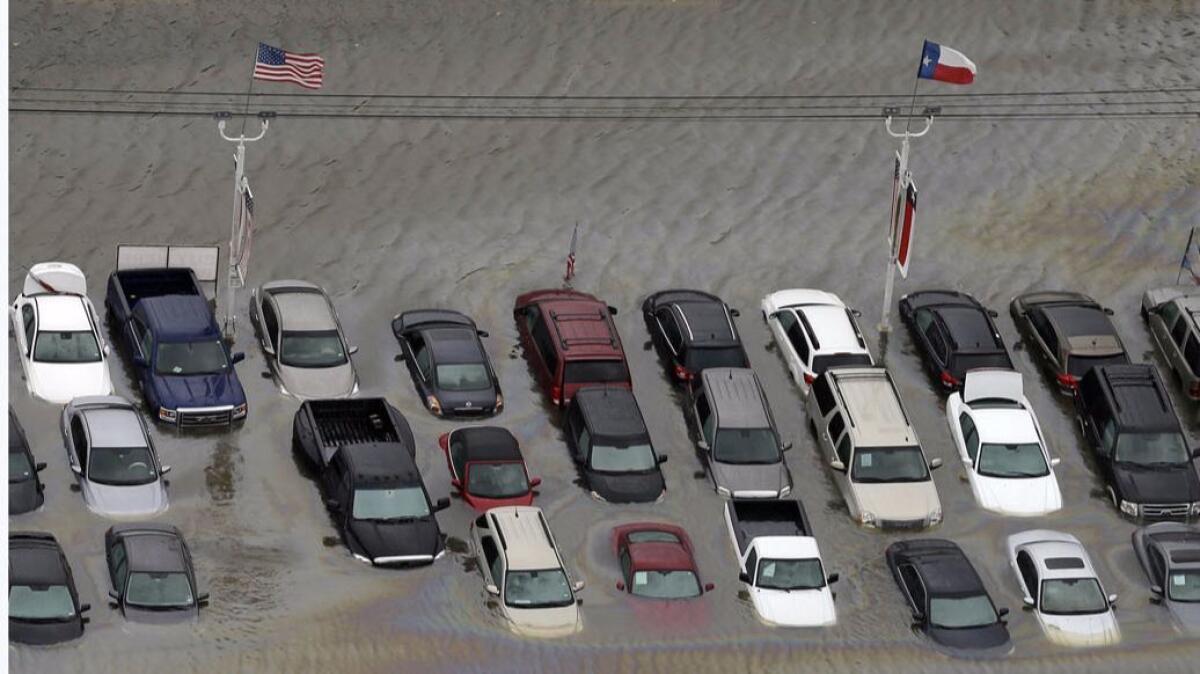 Reporting from Houston —
Perry Smith tried to race Hurricane Harvey.
He lost.
Now his white Toyota Corolla sits with a broken axle in the parking lot of a Strips convenience store in Rockport, Texas. It is, he admits, probably the end of the road for his trusty car with almost 190,000 miles on it.
"The hurricane was right on my tail," Smith said. "It caught me. It lifted the back of the car up and I was looking down at the road through my windshield. Then — bam — it slammed back down and that was it."
Smith, 56, hasn't filed a claim with his insurance carrier yet; he's been busy helping his parents clean out their wind-damaged house along the coast. He said he doubts he'll get much anyway and is instead hoping for some assistance from the Federal Emergency Management Agency.
Still, Texans already have filed more than 100,000 storm-related claims on their car- and truck-insurance policies, said Mark Hanna, a spokesman for the Insurance Council of Texas trade group, and some analysts estimate that figure will climb as high as 500,000.
With hurricane season in full swing and the tally from Irma just beginning, Harvey has been projected to be one of the costliest disasters in U.S. history, with experts estimating damage could exceed $100 billion. Texas Gov. Greg Abbott has even suggested that damage could reach $150 billion to $180 billion.
About 15% of Texas motorists don't have vehicle insurance, even though liability insurance is mandatory in the state.
Of the remaining 85% of motorists, three-quarters of them carry comprehensive coverage, which would include protection against flooding, on their policies, Hanna said.
"That's very good news," he said, for getting Texans back on the road.
There are just slightly less than 14 million total passenger vehicles and 6 million trucks in Texas, according to the Texas Department of Motor Vehicles.
Of that total, 3.5 million vehicles were registered last year in Harris County, which includes Houston, according to the DMV.
"We'll see people wanting to replace their cars in a pretty quick fashion" because Houston, much like Los Angeles, is a sprawling city heavily dependent on the car for transportation, said Jessica Caldwell, director of industry analysis at Edmunds.com.
"You will see auto sales higher in the affected areas, probably for the rest of the year, with people needing to replace their vehicles," she said. "It's hard to go without a car in a place like Houston."
The typical surge in vehicle sales after a natural disaster provides some economic boost to the affected area. A month after Superstorm Sandy slammed New Jersey and New York, New York City-area vehicle sales jumped 49%.
Our entire inventory is no longer available for sale.
— McRee Ford, Dickinson, Texas
Edmunds estimated that 366,000 new vehicles on dealer lots in Texas were damaged by Harvey, including 150,000 to 200,000 new vehicles in the hardest-hit areas such as Houston and Corpus Christi.
Many of those new vehicles are trucks; Texas is the top market for new-truck sales in the United States.
One dealership, McRee Ford in Dickinson, southeast of Houston, had temporarily closed because all of its 500 new and used vehicles were damaged by the storm.
But the Houston Automobile Dealers Assn., which represents about 175 franchise dealers selling new cars and trucks, said 85% of its dealers in Houston were fully operational with zero or minimal damage.
"All but a handful of dealers I spoke to this morning are all open today at full service and regular hours," association spokeswoman RoShelle Salinas said Aug. 31, only the second day of sunshine for Houston after Harvey's deluge. "This is a great position to be in to help Houstonians get back into transportation and on to moving about the city."
She said some dealers "have multi-story parking garages, and a lot of them put their vehicles into those garages" before the storm hit "so they wouldn't suffer damage if the water was to rise."
For those dealers who lost cars, replenishing their lots with new vehicles "is not an issue" because "there's an overabundance of new cars" in the U.S. market, Michelle Krebs, executive analyst for Autotrader, said in an email.
"All of this inventory can be shuttled around the country," Krebs said. "In fact, AutoNation, which has numerous dealerships in the Houston area that were hit by Harvey, said it would do exactly that."
But it could be a tougher situation for Texans who can afford only a modestly priced used car that's a few years old, Krebs said.
"Shortages exist in the very affordable [market for] 4- to 8-year-old cars," she said. "That could spell trouble for consumers with few resources or with resources stretched."
It's also unclear how rapidly flood-weary Texans will jump into the market for another car. "The hard thing to figure out are the insurance claims, and how fast that process will work," Caldwell said. "Most people can't buy a new car while waiting for an insurance check for the old one."
Dealers also carry insurance to cover losses for the vehicles on their lots — notably for hail storms that are common in Texas — so the insurers would suffer the biggest financial hit from the storm, Hanna said.
Dean Crutchfield, chief information officer at CDK Global, a provider of software and services to auto dealerships, said many Houston-area dealers removed or relocated their computers ahead of the storm "and now they're coming back into their stores and trying to reestablish normal operations."
"One of the key themes we've seen is the dealers' interest in maintaining their payroll operations" so that their employees don't miss a paycheck even though car sales were disrupted by Harvey, Crutchfield said.
And what of the flood-damaged cars?
"Most of the vehicles are sold to parts companies who dismantle them and resell usable parts that were not damaged by the flooding," the National Insurance Crime Bureau, an insurance trade group, said in an advisory.
But the bureau advised buyers to "be particularly careful in the coming weeks and months as thousands of Harvey-damaged vehicles may reappear for sale in their areas" across the nation, a problem that also occurred in the aftermath of Hurricane Katrina in 2005.
That disaster led the bureau to create the free VINCheck database, which lets vehicle shoppers check a vehicle identification number to see if the car or truck was deemed "salvage" by an insurance company because of flood or accident or if it was reported stolen. Uninsured vehicles, however, would escape the insurance industry's scrutiny.
"Unfortunately, some of the flooded vehicles may be purchased at bargain prices, cleaned up and then taken out of state where the VIN [vehicle identification number] is switched and the car is re-titled with no indication it has been damaged," the bureau said.
"Buyers should have a vehicle checked by a reputable mechanic or repair facility before handing over any cash," the bureau said.
Mark Holstein decided he would bypass insurance and dealerships altogether.
The Port Aransas resident left his white 1980 Camaro in the garage during the hurricane as he high-tailed it out of there and headed for drier land in San Antonio in his truck.
The low-to-the-ground sports car had been a labor of love for him over the years as he had refurbished the black leather interior and was working on replacing the transmission to give it better performance.
After Harvey, the car took in 3 feet of water. Mold was growing. The engine had drowned in the salty Gulf of Mexico water. The flared exhaust pipes along the running boards were already caked in rust.
Holstein, 59, said he wouldn't bother with insurance. Instead, he said he'd just consider it another project.
"I guess I'll start over," he said. "Something to keep me busy."
Peltz reported from Los Angeles, Montero from Houston.
Twitter: @PeltzLATimes @DaveMontero
ALSO
Tesla is adding charging stations in city centers
Apple's new iPhone will probably cost more than a MacBook Air