Hasbro has a disappointingly weak quarter after Toys R Us' demise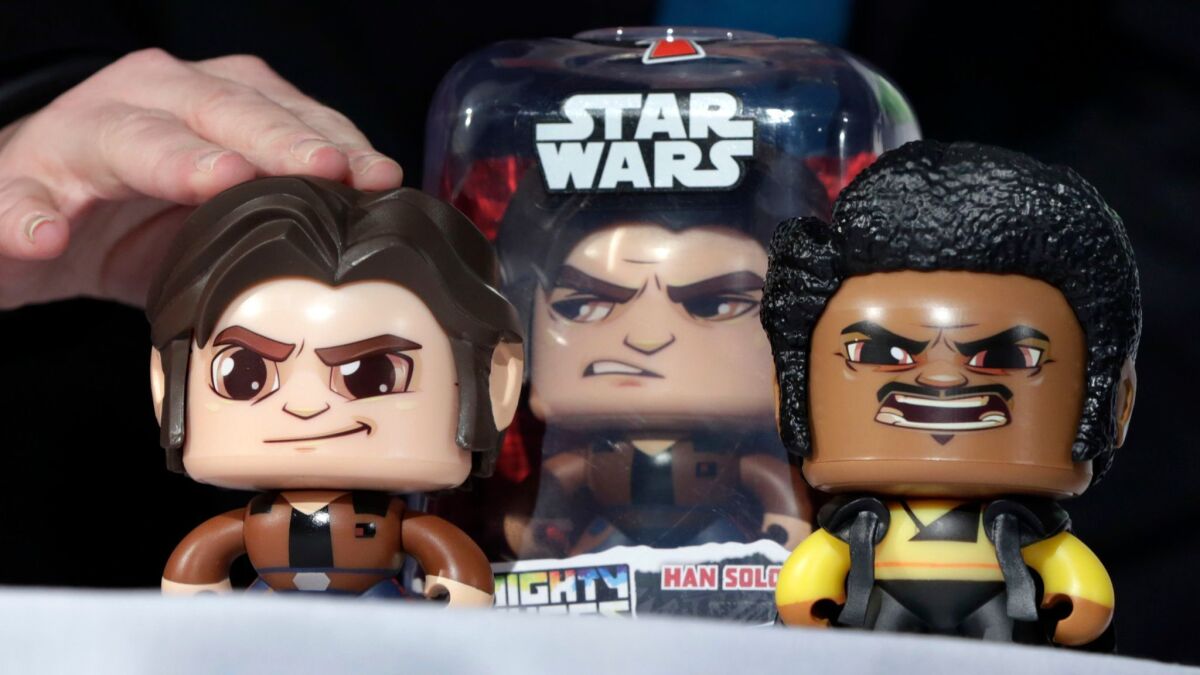 Hasbro Inc., wrestling with the demise of Toys R Us and elusive shoppers spending a lot more on high-tech gadgets, posted third-quarter results Monday that fell well short of expectations.
The Pawtucket, R.I., toy maker will absorb charges of as much as $60 million next quarter as it cuts jobs.
The job cuts are part of a restructuring of sorts for Hasbro as the company adjusts to new challenges, such as changes in the supply chain and toy distribution patterns, said Susan Anderson, senior research analyst at B. Riley FBR.
One of those changes is the amount of toys its trucks carry to retailers. Now that Hasbro is working with "a great variety" of retailers, trucks carry smaller quantities of toys to a number of locations, meaning some have less than full shipments, the company said during a Monday morning earnings call with analysts.
"While they had to make some tough decisions, it's more about realigning it for the future," Anderson said.
Mattel Inc., Hasbro's rival, said in July that it would cut more than 2,200 jobs. Both toy makers have acknowledged they've been hurt this year by the closure of Toys R Us, which was the largest independent toy seller in the world.
Hasbro shares closed at $95.01, down 3.1%, after recovering some of their losses from earlier in the day. Shares of El Segundo-based Mattel, which is slated to report earnings Thursday, closed at $14.10, down 0.8%.
Hasbro's quarterly earnings don't necessarily foreshadow similar results for Mattel, analysts said. Mattel is coming off of smaller margins than Hasbro and already has been trying to turn itself around, said Linda Bolton Weiser, senior research analyst at D.A. Davidson & Co.
"Mattel has already done so much restructuring," Anderson said. "They were kind of further along there."
It was the first full quarter that Hasbro lacked Toys R Us as a customer.
"We continue to believe this is a near-term retail disruption that will last for the next few quarters," Chairman and Chief Executive Brian Goldner said during the conference call.
Brett Andress, equity research analyst at KeyBanc Capital Markets, said in a Monday note to clients that the Toys R Us "disruption" in Hasbro's earnings was "worse than feared."
Sales of games and toys at brick-and-mortar stores fell in the quarter, but Goldner said that online sales climbed by the high single digits at the same time.
The lost Toys R Us revenue hurt Hasbro most notably in the United States, Europe, Australia and Asia, with Goldner adding that the company has recaptured about one third of the U.S. and Canada Toys R Us revenue heading into the holiday shopping season.
"We are successfully managing retail inventory, and it is down significantly in the U.S. and in Europe, where we are aggressively working to clear excess inventory by year end," Goldner said.
He told analysts on a Monday earnings call that although Hasbro's revenue from online retailers was growing, it had not yet offset the decline from Toys R Us and other retailers. But the goal for this holiday sales season is not necessarily to sell as much as it did when Toys R Us was active, he said.
"What we're working on with our retailers is to ensure we get to a new, higher level of commitment and capability," Goldner said. "We are very committed to 2019 being a year of growth."
Hasbro expects its full-year operating profit margin to decline compared with last year, said Deborah Thomas, the company's chief financial officer. However, she said, Hasbro believes it will return to "profitable growth" in 2019.
"This is a very proactive company," Weiser said. "They're always looking for opportunities to become more streamlined and efficient."
In the most recent quarter, revenue dropped 12%, partly because of lost sales of its products at Toys R Us stores in the United States, Europe and the Asia Pacific region.
Hasbro's third-quarter earnings slipped to $263.9 million, or $2.06 per share. Adjusted for pretax gains, per-share earnings were $1.93, far below Wall Street projections of $2.24, according to a survey by Zacks Investment Research.
Revenue of $1.57 billion also missed analyst expectations for $1.71 billion. Hasbro experienced a 24% drop in international revenue, with Europe sinking 29%, Latin America sliding 16% and the Asia Pacific region declining 14%.
Tablets and smartphones have become the most desired toys in many households, and that is taking a toll on the sale of more traditional playthings.
Sales fell for Nerf, My Little Pony and Transformers products in the quarter, but Hasbro did put up some very strong numbers in the same period last year thanks to new My Little Pony and Transformers movies.
Times staff writer Samantha Masunaga contributed to this report.
---
UPDATES:
2:25 p.m.: This article was updated with an analyst comment and closing stock prices.
10:05 a.m.: This article was updated with more details from Hasbro's earnings call, analyst comments and stock movements.
This article was originally published at 7:25 a.m.
---
Sign up for the California Politics newsletter to get exclusive analysis from our reporters.
You may occasionally receive promotional content from the Los Angeles Times.