Deal to save struggling hospital collapsed over funding for uninsured patients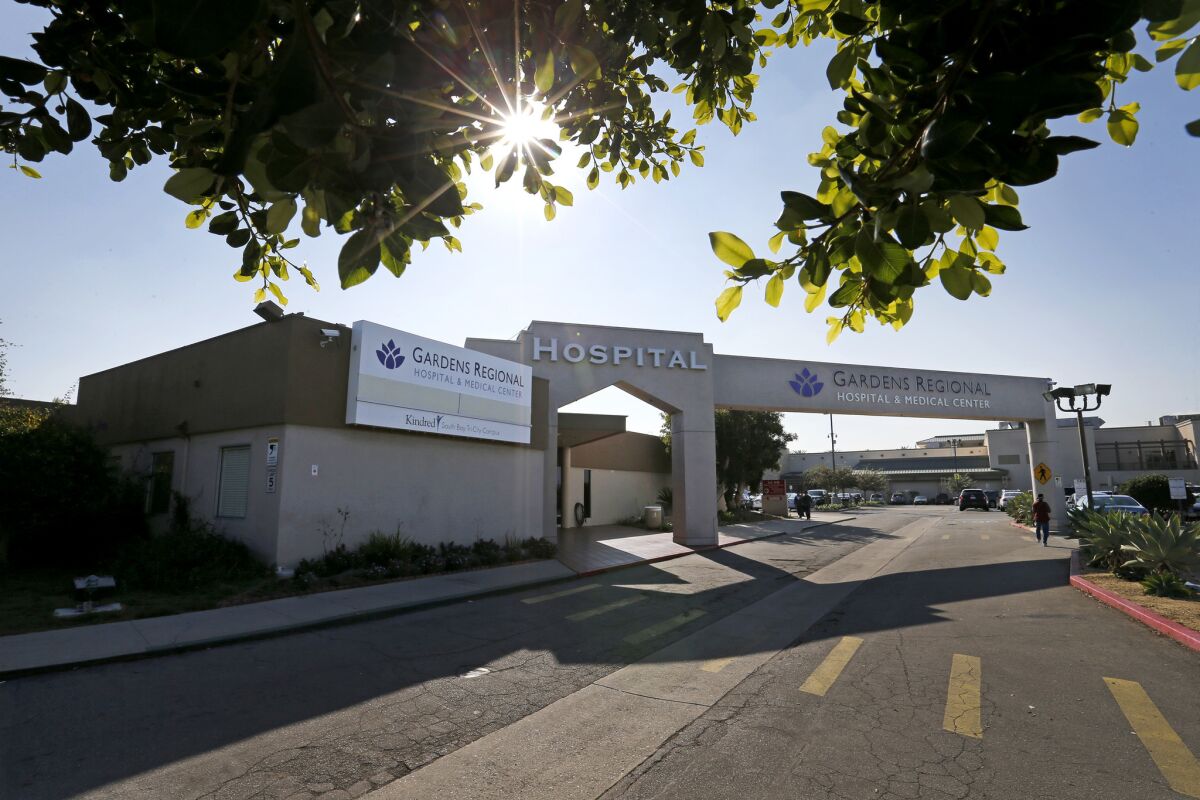 A struggling Hawaiian Gardens hospital will close because it could not find a buyer willing to set aside a state-mandated level of funding for uninsured patients who can't afford treatment.
Gardens Regional Hospital & Medical Center found an interested buyer in a bankruptcy auction in July, according to court documents, but the state attorney general's office said in November that it would approve the $19.5-million sale to Strategic Global Management Inc. only if, among other things, the new operator agreed to provide $2.25 million a year in charity care for six years.
Last week, the attorney general's office denied a request to lower the amount of required charity care. As a result, the deal fell apart and lawyers representing the hospital filed a motion in U.S. Bankruptcy Court in Los Angeles on Tuesday to close the facility.
"With its remaining cash on hand dwindling and no other buyer willing to acquire Gardens' assets as a going concern, the debtor has determined in its best business judgment that it must close the hospital," the motion reads.
The process of shutting down the hospital began Wednesday with the closure of the emergency room at 7 a.m. Other units will close in the coming days.
Patients who need to be transferred to different hospitals will be moved in consultation with doctors and family, a representative for the hospital said. Gardens Regional Chief Executive Stan Otake said the hospital will close when the last patient is discharged.
More than 200 medical professionals work at the 137-bed nonprofit hospital, which serves mostly low-income patients. It admitted more than 2,850 patients in 2015, according to court documents.
As of June, the facility faced $30 million in debt and needed to generate about $119,474 a day to cover its costs. However, it has been able to generate only about $91,830 a day in cash collections, court documents filed in June show.
Several factors led to the hospital's financial struggles, including revenue shortfalls, ongoing litigation, mismanagement of operations, increasing operating costs and a reduction in federal funds that helped the hospital pay for Medi-Cal and uninsured patients, according to a report commissioned by the state attorney general's office.
Before the passage of the Affordable Care Act in 2010, hospitals that treated a disproportionate share of patients who could not pay for care received federal funds to help fill the gap, said Jen Flory, a policy advocate for the Western Center on Law and Poverty.
Gardens Regional board member David Herskovitz said in court papers that the gradual loss of such funding after the passage of the federal healthcare law has placed additional strain on the hospital because patients continue to have difficulty paying for care because of high insurance deductibles.
"This results in insufficient health insurance benefits payments to the debtors as well as to other healthcare providers," Herskovitz said.
Legal settlements also played a factor in the facility's fiscal woes, the report commissioned by the state attorney general's office said. In one high-profile case late last year, Gardens Regional agreed to pay $450,000 to settle a suit filed by the city of Los Angeles accusing the hospital of dumping a homeless patient, clad only in paper pajamas, on skid row with no identification.
Gardens Regional filed for bankruptcy in June and selected Strategic Global Management as the winning bidder the following month. The sale was contingent on approval by the attorney general's office, which imposed two conditions, one being the amount of charity care.
In exchange for not paying taxes, nonprofit hospitals must provide community benefit programs and charity care for those who are uninsured and unable to pay — discounting and sometimes completely covering treatment costs.
The passage of the federal healthcare law greatly increased the number of insured Californians. Because the uninsured rate in the state has fallen by 54% since the law took affect, according to data from the U.S. Department of Health and Human Services, hospitals have seen a drop in the number of patients in need of charity care.
Gardens Regional, for instance, estimates it spent only about $500,000 on charity care in 2015, and projects that the amount in 2016 could be less than $100,000.
The attorney general's office, however, used a five-year average at Gardens Regional to determine the amount of charity care, and as a result requested the would-be buyer to allocate more than $2.25 million for six fiscal years, according to documents. Strategic Global Management — an arm of Southern California hospital operator KPC Global — unsuccessfully sought to reduce the sum to $500,000 a year, documents indicate. (The firm did not immediately respond to requests for comment.)
The attorney general's office "demanded an unnecessarily high amount of charity care. They knew that the buyer could not meet that quantity of charity care," Brian Walton, chairman of the hospital's board of directors, said in a statement.
The hospital's closure "is tragic, sad and mystifying," he said.
A spokeswoman from the attorney general's office said consistently imposing a charity care requirement helps "ensure that the community served by the hospital continues to have access to vital healthcare services."
In July, the state rejected a similar request from St. Agnes Medical Center in Fresno to shrink its charity care reserves.
Because of the possible repeal of the federal healthcare law, experts predict more hospitals will be at risk of closure if Americans lose health insurance and federal funding for uninsured patients doesn't make up the difference.
"Hospitals will have a large amount of uncompensated care and will have a very hard time balancing the books," Flory said.
For those who depend on Gardens Regional, the closure will have immediate consequences.
Deborah Hope, 64, has had three major surgeries at the facility in the last two years. Each time, the Norwalk resident said, she was treated kindly and with care.
"People are going to be at a loss if this place goes," she said.
Follow me on Twitter @melissaetehad
---
UPDATES:
1:45 p.m., Jan. 18: This article was updated to include information from Gardens Regional Chief Executive Stan Otake.
11:30 a.m., Jan. 18: This article was updated to include comment from Brian Walton, chairman of the hospital's board of directors.
This article was originally published at 10:55 p.m. on Jan. 17.
---
Sign up for the California Politics newsletter to get exclusive analysis from our reporters.
You may occasionally receive promotional content from the Los Angeles Times.