Heinz buys Kraft Foods in deal backed by Warren Buffett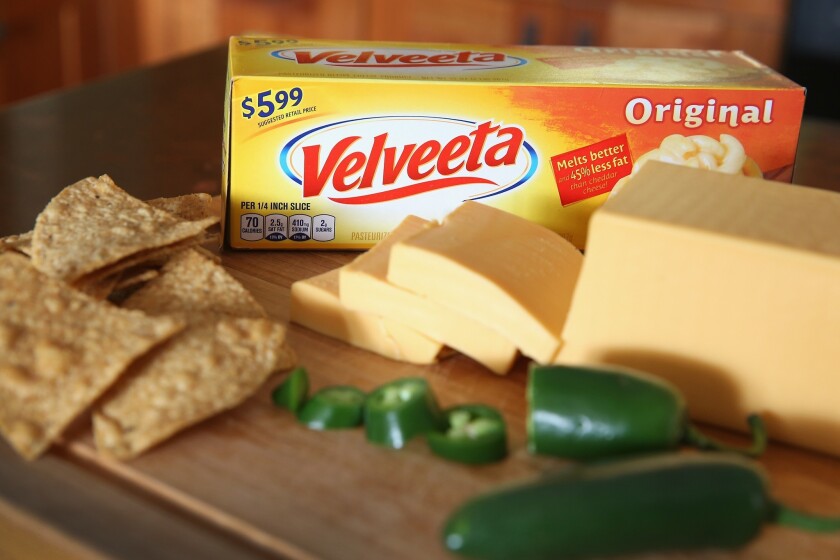 H.J. Heinz Co. is buying Kraft Foods Group Inc., creating a food and beverage giant in an effort to better compete amid changing consumer tastes. The move sent Kraft's stock soaring.
The deal was engineered by Heinz's owner, the Brazilian investment firm 3G Capital, and billionaire investor Warren Buffett's Berkshire Hathaway.
"The entire industry has faced headwinds," Kraft Chief Executive John Cahill, who will become vice chairman of the new Kraft Heinz Co., said on a conference call Wednesday. "This is a transformative transaction for our industry. It allows us to move and grow faster than we could on our own."
Kraft, the maker of Oscar Mayer meats, Kraft macaroni and cheese, Jell-O and a host of other well-known but older brands, lately has struggled to keep up with competitors as shoppers demand fresher, less-processed food.
Since being spun off in 2012 from its parent Mondelez International, the global distributor of Kraft snacks, Kraft Foods Group has lost ground to larger rivals like PepsiCo and lagged in Standard & Poor's 500 index.
The company has struggled to generate growth from its iconic products and even stumbled in an attempt to prop up its Jell-O brand.
Kraft has been particularly faulted for being slow to crack the fast-growing organics market, where nimbler competitors like Hain Celestial Group Inc. have seen rapid growth and won a rabid following on Wall Street.
Based in Lake Success, N.Y., Hain has expanded beyond tea into other popular beverages like Soy Dream soy milk and snacks and health-oriented personal care products, and investors have responded by pushing up its shares more than 600% over the last five years.
The deal would allow the two companies to rethink their products' image, said Kevin Paul Scott, co-founder of ADDO Worldwide, a brand consulting firm.
"I don't see these companies moving away from the foods they sell," he said. "I see them telling a better story about those foods, explaining to people how it can be healthier, connecting the food to a better product or even where it's packaged.
"That's something that smaller, more boutique companies are doing," he said. "They emphasize where it's made, who it's made by and how the product is made."
The new company will be based in the Chicago area, home to Northfield, Ill.-based Kraft, and Pittsburgh, where Heinz is based.
Bernardo Hees, chief executive of Heinz, will be chief executive of Kraft Heinz Co. Alex Behring, chairman of Heinz and managing partner at 3G Capital, will become chairman.
Kraft shareholders will receive stock in the combined company and a special cash dividend of approximately $10 billion, or $16.50 per share.
Current Heinz shareholders will own 51% of the combined company, with Kraft shareholders owning a 49% stake.
Both companies' boards have unanimously approved the deal, which is targeted to close in the second half of the year. It still needs approval from Kraft shareholders.
Shares of Kraft soared $21.85, or more than 35%, to close at $83.17 on Wednesday.
Not all analysts are convinced the deal offers such value.
"The tie-up is also one of convenience," Neil Saunders, managing director of retail analyst Conlumino, said in a statement. "Both brands have suffered from a slowdown in sales and are now looking to provide investors with a new growth story. This merger provides just that and comes with the usual narrative that a larger company with a significant portfolio of brands will be able to compete more efficiently and effectively."
The deal would be the latest and most major shake-up at Kraft.
After splitting from Mondelez International in 2012, the food maker replaced CEO Tony Vernon with Cahill in December.
In a conference call with analysts last month, Cahill, a former chairman and chief executive of the Pepsi Bottling Group, acknowledged that changes were needed.
"We've done fine. This is not a broken company by any stretch. But we do need to adapt a turnaround mindset in many ways," Cahill said.
3G, a private equity firm, is best known in the U.S. food industry for linking up with Buffett's Berkshire Hathaway in 2013 to buy iconic ketchup maker Heinz.
3G, with offices in Rio de Janeiro and New York, acquired Burger King in 2010. It went on to combine that company with Canada's Tim Hortons, forming Restaurant Brands International in 2014.
Times staff writer Samantha Masunaga and the Associated Press contributed to this report.
---
Must-read stories from the L.A. Times
Get the day's top news with our Today's Headlines newsletter, sent every weekday morning.
You may occasionally receive promotional content from the Los Angeles Times.