How I Made It: He's a good fit at Lucky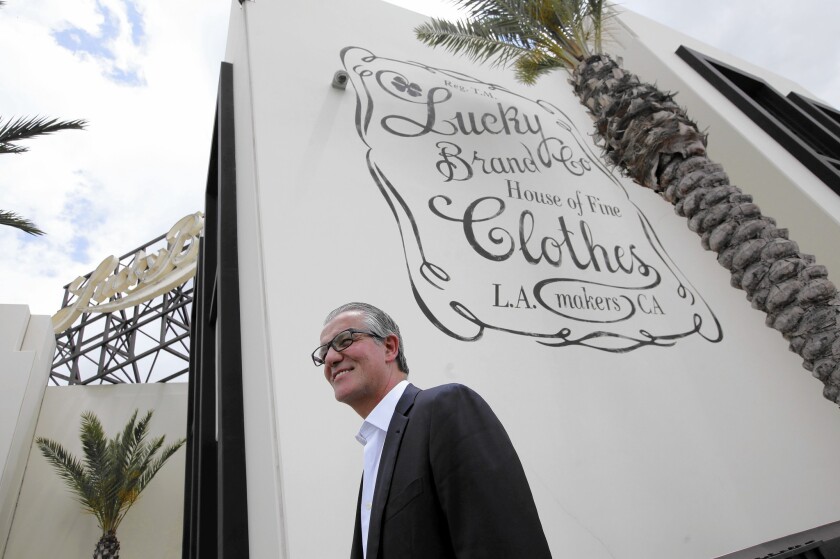 The gig: Carlos Alberini, 59, is chairman and chief executive of Lucky Brand, which has positioned itself as "accessible premium" in the hot-today-gone-tomorrow world of premium denim jeans. Its prices ($99 to $149) undercut rivals such as True Religion, Frame and Diesel. Lucky Brand also competes with larger companies such as Gap, Guess and Banana Republic with a broad lifestyle clothing line.
------------
FOR THE RECORD:
Lucky Brand: An article in the May 31 Business section about Lucky Brand Chief Executive Carlos Alberini said that the clothing company has annual sales of about $500,000. The sales number should have been about $500 million.
------------
Lead with subtlety: Growing up in Argentina, the son of Italian immigrants, Alberini thought his father, Victor, ran the household. Years later, he realized that it was his mother, Libia Ines de Alberini, who would make the choices but let his father think he was making them. "She was the one who was in control. She managed it with a lot of grace and class. She was all about celebrating life, and the positive attitude you brought to it was what mattered most."
Father's mottoes: Victor Alberini worked as a general manager for several companies and "believed in hard work. When you made a commitment, you kept it. Responsibility, accountability. Servant leadership, meaning you work for your team — he was all about that."
The best classroom: After graduating from the University of Buenos Aires in 1978, Alberini went to work for Price Waterhouse, now known as PwC, as an auditor in the retail and public accounting segment. "I was going into different businesses, many of which were subsidiaries of international companies.... I learned a lot about how to run a business."
Itching for more: By 1987, Alberini was working in Price Waterhouse's Philadelphia office. But he wanted to stretch his own leadership skills. Thus followed a succession of jobs that took him up the ladder at retailers and clothing manufacturers: vice president and controller at Bon Ton department stores (1987-1995); senior vice president and chief financial officer at Melville/Footstar (1995-2000); president and chief operating officer at Guess Inc. (2000-2010); co-chief executive at Restoration Hardware Inc. (2010-2013). "But it still wasn't enough. I really wanted to run a business," he said.
Lucky move: In 2014, he got his wish. Los Angeles private equity firm Leonard Green & Partners bought Lucky Brand from Fifth & Pacific Cos. for about $225 million and recruited Alberini to be chairman and chief executive of the company, which does about $500 million a year in sales. "I have my dream job, running a company I love with people that are amazing in an industry I'm obsessed with," he said. "To be in control and make key decisions gives me the chance to create a culture that fully represents my values and beliefs."
------------
FOR THE RECORD
May 31, 9:08 a.m.: An earlier version of this story said Lucky Brand has annual sales of about $500,000. The sales number is about $500 million.
------------
Conscious capitalism: "At Lucky Brand we expect everyone in our organization to do what they love with people they love. This is the first and most important principle in our culture. We believe that happiness and performance are completely interdependent." Alberini is serious about getting employees to live the company's vision statement of "look good, feel good, do good." Health is a big component, so "we give our employees money for joining a gym, for example," Alberini said. On the "do good" front, Alberini points to the Lucky Brand Foundation, which company founders Gene Montesano and Barry Perlman started. "The main purpose was to help kids in need."
Leadership style: "Vision is always key. Set lofty goals and build the best team," he said. "Bring people who will challenge you to grow, not people who duplicate you and will always tell you what you want to hear."
Motto: "The day you stop learning, you start dying."
Personal: Alberini has been married for 31 years. He and his wife, Andrea, have five sons and daughters. "My hobbies are my family and my work," Alberini said. "We live on the beach, and I love getting on my bike and riding."
Twitter: @RonWLATimes
---
Your guide to our clean energy future
Get our Boiling Point newsletter for the latest on the power sector, water wars and more — and what they mean for California.
You may occasionally receive promotional content from the Los Angeles Times.