How I Made It: Bonnie Eskenazi finds her passion in entertainment law and playing a role in MeToo movement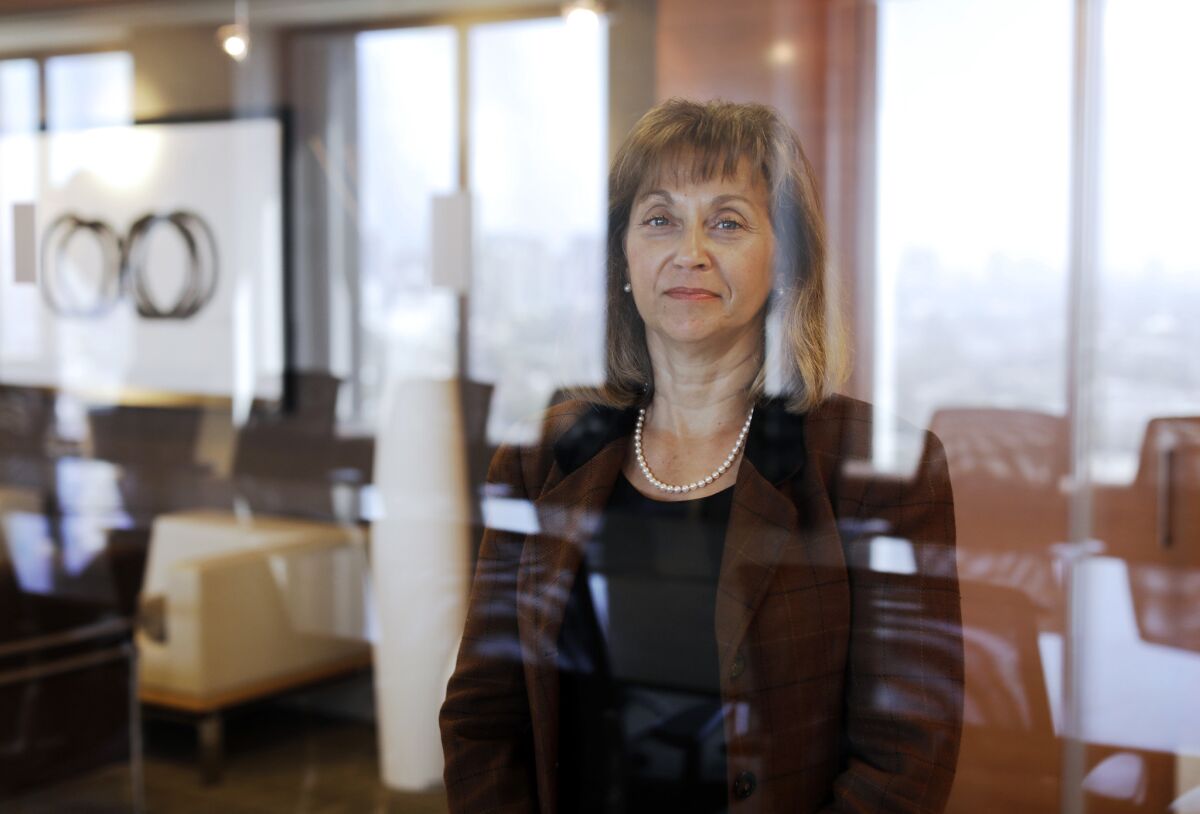 Bonnie Eskenazi, 58, is a partner at the Century City law firm Greenberg Glusker, where she has represented some of the biggest names in the entertainment industry. She represented Jeffrey Katzenberg in his bitter dispute with the Walt Disney Co., and has litigated matters for Marvel Entertainment as well as the estate of J.R.R. Tolkien.
In recent months, she also has become a prominent behind-the-scenes figure of the MeToo movement as a board member of Women in Film, where she helped to create and launch its sexual harassment help line and a pro-bono legal aid service.
Trial by fire
Eskenazi grew up on Long Island and attended the University of Virginia, where she studied American government and history. As a member of a sorority, she found herself at the center of a dispute that would catapult her into a law career. The sorority didn't want to admit a black student, and Eskenazi fought back by taking her sorority sisters to court. "It cost me all my friends at the time," she said. But she won the case and acquired a taste for litigation.
Legal theater
As a law student at Stanford University, she found herself gravitating toward entertainment law. The profession allowed her to combine her knowledge of tort, contract and criminal law as well as her skills as a litigator. "It sits at the crossroads of many different areas of law," she said.
It helped that Eskenazi has been passionate about the arts since her youth. She studied voice and performed in high school productions. Her passion for performance continues today as a board member of Los Angeles' Reprise, the recently resurrected series that revives classic and rarely staged musicals.
"We go to the theater all the time," she said. That enthusiasm runs in the family. Her daughter, Rachel, is a New York actress who has appeared in the long-running Broadway production of "Phantom of the Opera."
Memorable battles
In a long legal career, Eskenazi has worked on more cases than she can count. But she cites the Katzenberg case as among her most memorable wins.
Katzenberg sued Disney in 1994 after he stepped down as chief executive officer, claiming he was owed $250 million in profits. The acrimonious dispute was mid-trial before a settlement was reached. "That was a great case," said Eskenazi.
More recently, she worked on the 2008 lawsuit brought by the Tolkien estate against Warner Bros. over "The Lord of the Rings" movies. The dispute focused on an estimated $150 million in profits from the cinematic trilogy, which was released by New Line. The suit was settled a year later. Eskenazi continues to represent the estate on other screen-related disputes, including a merchandising suit that was settled last year.
Giving back
Eskenazi is a guest lecturer at Stanford and Harvard Law schools, where she often gives advice to students who want to become entertainment attorneys.
"I tell them to get as much experience as you can in any area," she said. "All of those experiences help you become a better entertainment lawyer."
She added: "Litigation is a great background."
Leading the charge
As a board member of Women in Film, Eskenazi helps to oversee a professional support network that is intended to give women a confidential way to disclose allegations of sexual misconduct in the industry.
She declined to provide details about the kinds of calls the help line receives, citing confidentiality.
"One thing that has become clear is that there is safety in numbers," she said. "It allows them to safely help themselves. This gives the power back to the women in the industry."
The organization maintains a database that tracks complaints against alleged perpetrators. It also provides callers with free legal advice.
"It is difficult for women to come forward to say anything," said Eskenazi. "They fear being blackballed in the industry."
The recent allegations about Les Moonves, who recently stepped down as chief executive of CBS, are a subject that she feels passionately about. The network boss has been accused by several women of harassment and assault over a period of three decades. Moonves has maintained his innocence.
"The entertainment industry has to continue its vigilance in protecting the women in their environment," said Eskenazi.
"CBS appears to be doing exactly that."
Sign up for the California Politics newsletter to get exclusive analysis from our reporters.
You may occasionally receive promotional content from the Los Angeles Times.