How I Made It: Razor President Carlton Calvin can't stop scheming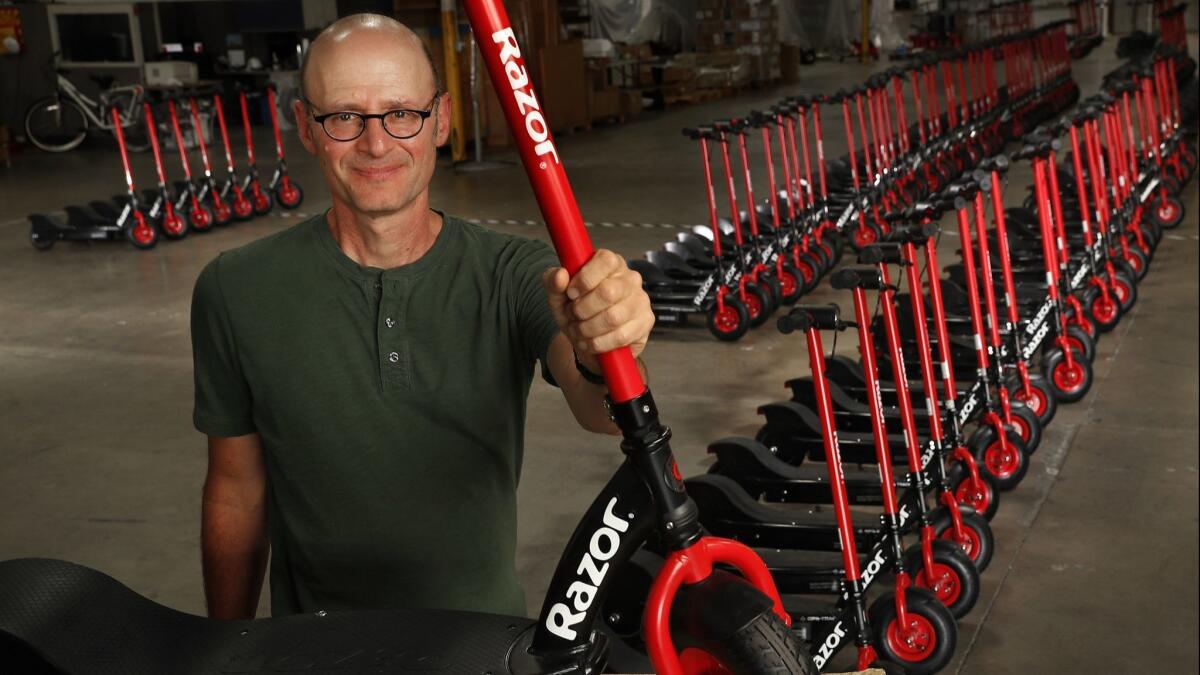 Carlton Calvin is president and co-founder of Razor, a scooter and personal transporter company with 150 employees headquartered in Cerritos.
The toy industry is dominated by fads that seldom last longer than a few months, and it's Calvin's job to keep the company relevant. From the foldable Razor scooter that made the brand famous to a new dockless scooter initiative, he relies on his unrelenting penchant for schemes to ensure Razor remains a player in the toy game.
Teenage rebellion
During Calvin's early years in Minnesota, his father was an entrepreneur, a line of work that proved very unstable for the family's finances after a few ventures went bankrupt. "I had no affinity toward that lifestyle," he said. "But deep down, I couldn't help being entrepreneurial."
Whether he liked it or not, business ideas kept popping into his head. As a Domino's pizza delivery boy, he called the headquarters with an idea to computerize the delivery system. At 15, he landed a job at the Minnesota State Fair working in a booth that sold Rubik's Cubes, and as a side hustle, he started peddling books on how to solve them.
Buckling down
Calvin was listless after graduating from Cornell University in 1984, so he did "what everybody does when they don't know what they want to do: go to law school."
He worked at L.A.-based law firm Irell & Manella for nearly a year, but took a leave of absence to help care for his best friend, who had been diagnosed with AIDS. After the friend's death, Calvin decided not to return, choosing instead to start his own business.
Stay scheming
His first brainchild was Small Minds Press, a publishing company built around illustrating fairy tales in the style of famous artists. "Puss in Boots with Toulouse-Lautrec," he said. The New York publishers didn't bite.
Next, he pivoted to toys. The rage at the time was a game called Pogs and Slammers, in which players threw a large metal disc at smaller cardboard discs to try to flip them over.
On a drive through the Arizona desert, Calvin saw a scorpion embedded in a paperweight at a gift shop and decided to try to embed the clawed creature into a slammer. Six months of mad science in his garage got the job done, and after presenting six of them in a corner booth at a Pomona toy show, he got an order for 200,000.
He filled the request through a Chinese scorpion farm. Soon after, the game quickly went out of style — but Calvin caught the itch to create.
Trendy toys
Small toys — yo-yos and finger skateboards — were popular at the time, and Calvin read a Los Angeles Times article proclaiming Razor scooters the hot new thing in Tokyo. In 1999, he called up the Taiwan-based company with an idea to produce miniature versions: a finger scooter, of sorts. "It quickly became apparent to me that the bigger ones were a much bigger deal," Calvin said.
A year later, he teamed with Robert Chen and Gino Tsai, the man who invented the scooter. Together, the trio started Razor USA and started marketing the brand worldwide.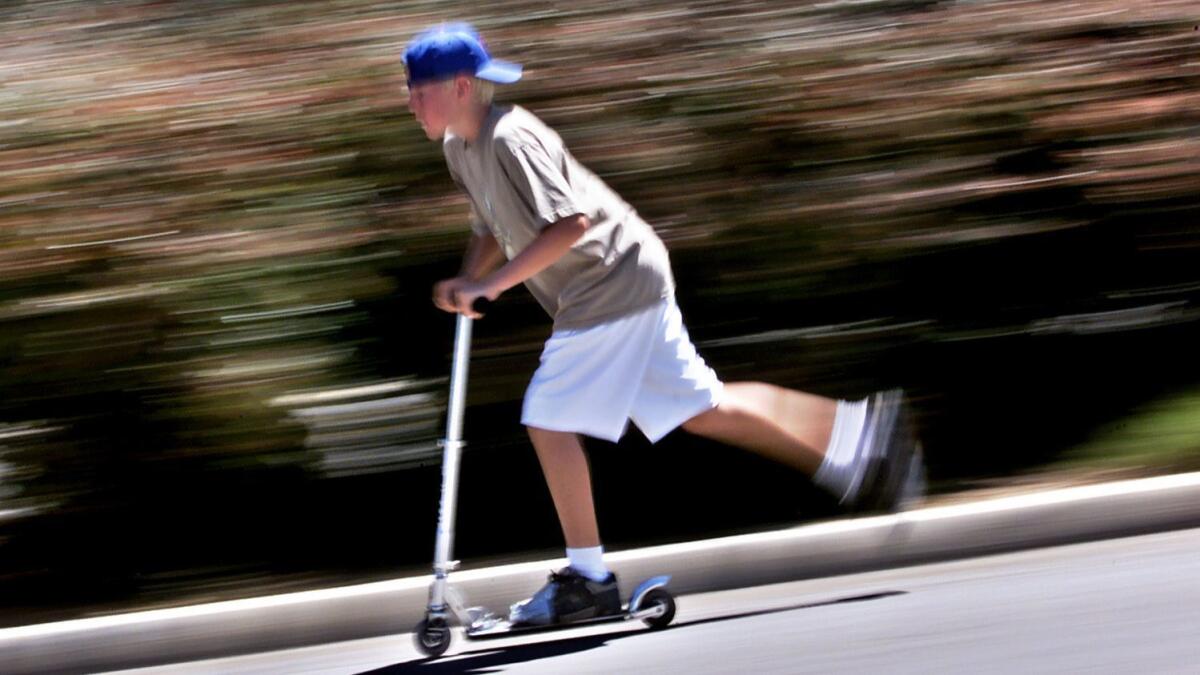 Instant hit
Sales exploded immediately. From a tiny warehouse in Cerritos, with the help of 30 to 40 employees, Razor was pushing out nearly a million scooters a month.
"I was working seven days a week, 16 hours a day," Calvin said. "Razor won Toy of the Year in 2001. It was the No. 1 thing in the world at that time."
Reflecting on that stretch, he paints a picture of organized chaos, toiling constantly to fill the demand. A crucial lesson emerged from the disarray, one that he could've used before when his scorpion venture cooled and he found himself with hundreds of thousands of arachnids on hand and no one to buy them.
"People think they need to build all this infrastructure because someday demand will increase, and they want to be ready for it," Calvin said. Instead, he recommends waiting on the market. When demand does increase, find a way to meet it: put in extra hours, staff up, or get creative.
Follow the culture
Calvin believes young, nimble entrepreneurs have an advantage over industry giants if they can do one thing. "Move with the momentum of the culture," he said. If yo-yos are hot, Mattel Inc. can't turn on a dime and make yo-yos, he added.
"People make such a mistake trying to fight the trends. If you can be on the right side of what's happening in the culture, you're doing really well," Calvin said.
Shifting strategies
In the latter half of 2000, Razor sold more than half a million scooters. But in January 2001, Calvin said, he couldn't sell a single one.
Once the craze died down, every retailer besides the now-defunct Toys R Us dropped Razor from its shelves, and Calvin focused on cornering the shrinking market. Razor held the patents for scooter technology and began suing copycat competitors.
Twenty lawsuits. Twenty victories.
The court decisions served two purposes: They ensured the Razor brand became synonymous with scooters, and they provided a cash infusion that allowed the company to release a new batch of products.
Staying relevant
To date, the company has sold 34 million scooters — including 13 million e-scooters — as well as released a steady stream of new products. Those include dirt bikes, RipStiks, go-karts, wheels that strap onto shoes, hoverboards, and now, a new line of dockless scooters similar to Bird.
"Being in Southern California is really important if you've got an entrepreneurial spirit because all the trends in the country start here," Calvin said. "As soon as I saw that Bird was super-popular in Santa Monica, I knew it was a big opportunity."
This month, Razor is rolling out its dockless e-scooters in Long Beach, with plans to expand to other cities later this year. The new line, called Razor Share, allows users to grab and go as they please. Once they're done riding, they can drop the scooters off in a safe spot and be on their way.
To avoid the ire of local governments, Razor is working with cities to introduce models that fit the environmental terrain, as well as employing a group of local workers to monitor parking and service the scooters each night.
Management style
Calvin's work schedule has calmed down since the 16-hour days during the company's genesis. He's a delegator and gives a lot of leeway to his team.
"There's some hard, tough bosses, but that's not me," Calvin said. "I've never fired anybody in my entire career."
"If you give people space, they can do great work," he said. "It's the lamest, oldest thing, and people think it's being falsely modest, but you don't do it alone."
Personal
Carlton lives in Seattle with his wife, Mary Blodgett. Together, they have two sons, Isaac and Seth.