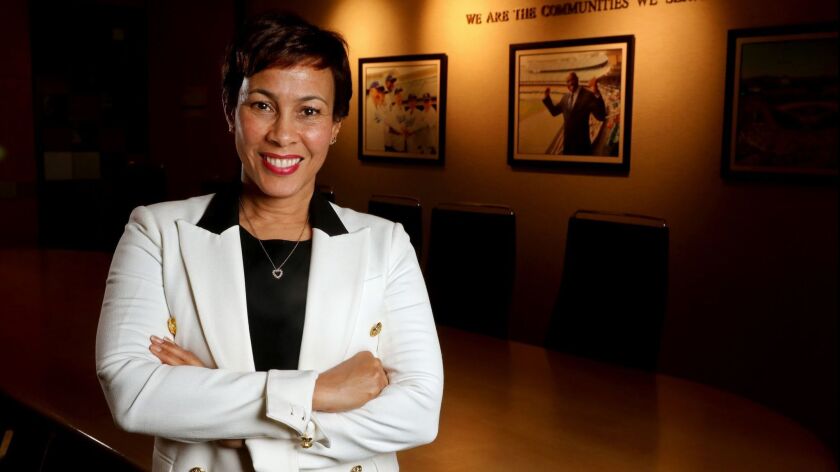 Sports marketing executive Christina M. Francis, 50, in January became president of Magic Johnson Enterprises, the investment conglomerate founded in 1987 by NBA Hall of Famer Earvin "Magic" Johnson before he retired from the Lakers. MJE's businesses include entertainment, education, real estate, life insurance, retail stores, sports memorabilia, food and facilities management and a private equity growth fund that focuses on companies working in underserved minority markets. Johnson, who is CEO, also is a part-owner of the Los Angeles Dodgers and the WNBA team the Sparks and serves as the Lakers' president of basketball operations, making Francis' role even more important.
Work study
Francis graduated as a valedictorian from Xavier University in New Orleans with degrees in Spanish and political science in just three years. When she was studying for her MBA at the University of Texas at Austin, something clicked.
"I realized I really wanted work experience," Francis said. "I think it's different for everyone, but for me I was sitting with older people who already had jobs. So they had a different understanding of those classes versus what I was getting from textbooks."
Marketing 101
Francis left Texas before finishing her MBA — later completed at her hometown University of New Orleans — to work as an IBM marketing rep. Then she headed to Los Angeles for a kind of management trainee position at Nissan Motor Corp. in 1994, working in several departments.
"The VP of marketing there was Jerry Florence," Francis recalled. "Somehow, I stood out and he said, 'Hey, you know, you should be in the marketing group.' " Florence, a veteran marketing executive, became "truly an advocate for me," she said. "It's great to have mentors for advice and guidance. But having someone who is opening up opportunities for you and saying, 'Let's put Christina on that project' is even more important."
Reaching out
At Nissan, Francis helped boost interest in minority buyers. "The research was that African Americans just weren't buying Infiniti luxury cars," Francis said, but that was "because they had never been invited to buy them. I did a lot of conferences, I did the Congressional Black Caucus, we did the Hispanic Chamber of Commerce, bringing the cars out and putting them in front of people to touch and feel and to show that we were there, that we cared."
Sporting chance
When Florence, a onetime baseball player, left Nissan for Sempra Energy in San Diego, Francis went with him. "That's where the sports marketing piece came along," she said. "He knew I understood it. I worked very closely with the San Diego Padres, I worked closely with Tony Gwynn when he got his 3,000th hit."
Job hop
After taking a year off to study Spanish in Latin America, Francis spent two years as a brand marketing manager for Walt Disney Co. For the next two years, Francis was an account manager for UniWorld Group Inc., a pioneering multicultural advertising and marketing agency founded by Byron Lewis. Then she became a marketing leader for Burger King Corp. for 19 months. These were delicate moves, she said.
"You really have to think strategically when you accept a job, think about what you're committing to, and then if an opportunity comes up, it has to really make sense for you to leave. Like, I just don't think you should just jump in and then six months later say, 'Oh, I found something else,' because that's really not how you treat a company or an individual that's hired you because you wouldn't want to be treated that way. You want to leave on great terms."
Oranges and pigskins
Francis was recruited to be chief marketing officer for the Orange Bowl Committee, the 360-member, primarily volunteer nonprofit organization that promotes, among other things, one of the biggest postseason college football bowl games. Next, she was tapped, in September, 2010, to be vice president of marketing and events for the NFL Players Assn.
"Every one of these jobs has been, for me, a growth in learning to get to that place where I wanted to go. And when you say marketing, if you ask me any area of the business, I can tell you how it works."
Magic man
Francis met Magic Johnson when she was working for UniWorld. He was sufficiently impressed to offer her a job, repeatedly. Francis finally came onboard in January 2014, as senior vice president of marketing.
Francis gets to work at 6 a.m. and can be fielding calls from Johnson as late as 8 p.m. "There are no typical days," she said. "We work across all of our companies and support their business initiatives, work with what needs to happen with the Dodgers and the Sparks and others. We're there to support them. Other than that, I'm vetting new business opportunities."
Believe
Francis said it's important to remember everything you have done successfully, as a confidence builder. When Johnson hired her, for example, "I really looked at it like, I'm ready, I can do anything he throws at me. I have the qualifications and experiences to do it. That's how I felt when I walked in here. He saw it, he knows it, and that's where we are today."
Advice
Francis said it's important to not lock yourself in to a career choice while you're still in college. "Do as many internships as you can," she said "and get as many jobs or part-time jobs as you can, just to learn and understand what's out there. That will help guide you on where your interests are."
Know your boss
Johnson is "very hardworking, very disciplined. He's very focused. So I write everything down, and I try to get to that place where I'm ahead of him and reminding him, saying, 'Did you think about this?' You have to be truly engaged. You have to live and breathe it in order to either stay with him or get ahead of him because he lives and breathes business and he lives and breathes his company."
Pay it forward
MJE has a broad reach, but the Beverly Hills headquarters has just seven employees. Francis describes her management style as empowering.
"I know how important it was that Jerry Florence, that Byron Lewis, that Earvin Johnson saw something in me and said, 'You need to take that position,' and pushed me into these roles to truly grow and use the skill sets that I had learned over the years. I try to do that with the people that work for me."
Personal
Family is extremely important to Francis. She said she tries to visit her native New Orleans as often as possible. "I spend time with my dad and my siblings and all my nieces and nephews." To maintain her edge, she also exercises, a lot. "Different circuit work, cardio. Sometimes I bike. I roller blade. I used to play flag football when I was in Florida so I'm considering joining a flag football team, just for fun."
---