How I Made It: This Los Angeles banker knows about starting over — both in his personal and professional life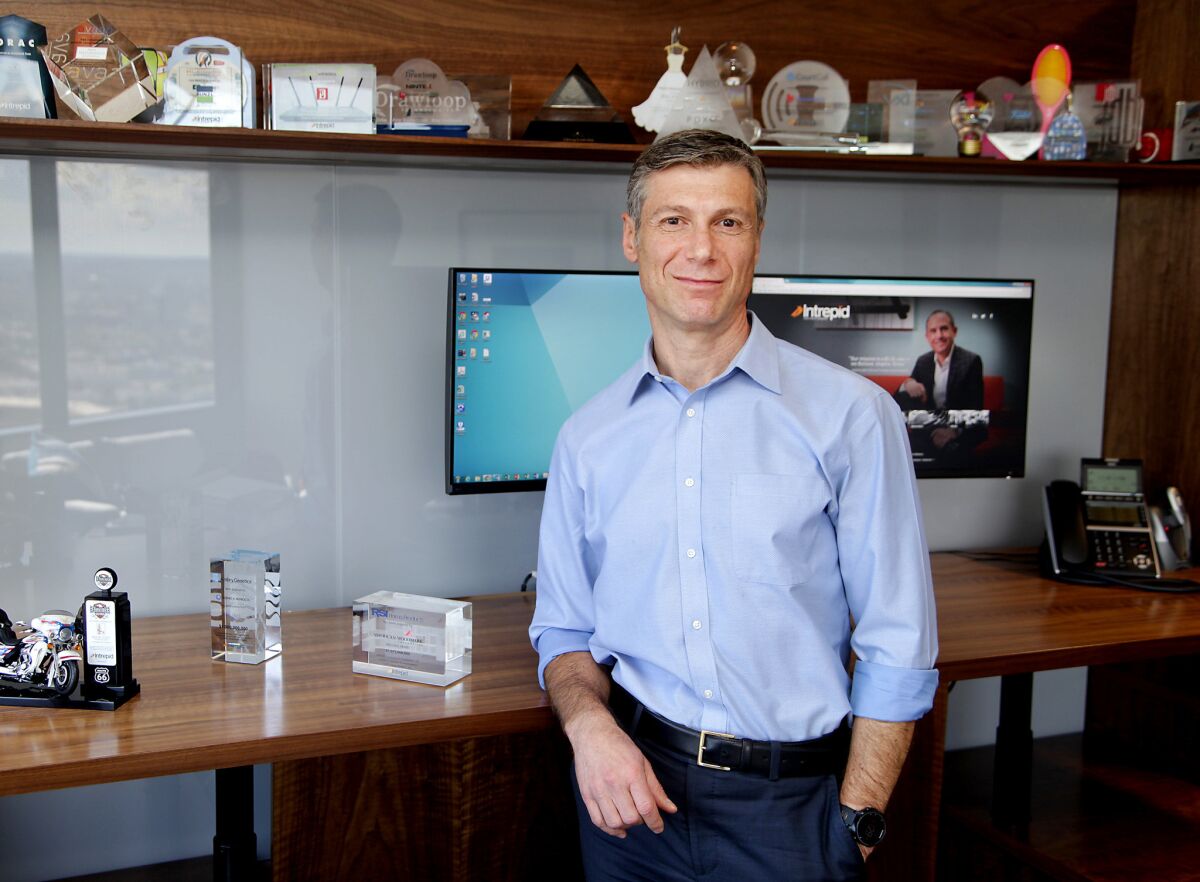 Ed Bagdasarian is chief executive of Intrepid Investment Bankers, a Brentwood firm that specializes in helping sell or find financing for mid-sized companies. Bagdasarian and his partners founded the company in 2010, opting to start their own investment bank again after their last one — Barrington Associates — was acquired by Wells Fargo.
The firm has continued to grow and recently closed two of its biggest deals to date, each valued at $1 billion or more. Bagdasarian, a wiry, energetic 53-year-old, said starting over and staying independent was the natural choice.
"I come from a long line of scrappy survivors," he said.
---
Armenian roots
Bagdasarian is Armenian but was born and raised in Romania. His grandparents fled the Armenian genocide and settled in Romania during World War I. His family started over again after World War II, when the Soviet Union occupied Romania and seized private property — and again when he and his parents immigrated to the United States.
"We arrived here on Feb. 1, 1979. My dad turned 50 the day we landed in L.A. He had no savings, he didn't know the language — he jumped without a parachute because he felt the U.S. would be a better place for us."
'He was a giant'
Bagdasarian's father, Nazaret, was a jeweler and goldsmith. He worked for a friend's jewelry business for a month before quitting to start his own shop — a risky move that his sons advised against.
"I was 14, my brother was 20, and we said, 'Dad, you don't know the language, you have no money, you have no customers. It's a bad business plan.'"
But his father pushed ahead and started making jewelry for local retailers, a business that proved good enough to support a family.
Nazaret Bagdasarian died last month, a few days shy of his 89th birthday. "He was a giant in my mind. I don't think there's anybody who said less to me, or who taught me more by saying less. He did it all by example."
Into business
Bagdasarian graduated from Fairfax High School, then studied business and economics at UCLA. When he was a sophomore, he read a Forbes story about First Wilshire Securities Management, a local wealth management firm, and approached one of the firm's partners, Noble Trenham, to ask for a job. After a polite refusal, Bagdasarian made him an offer.
"I said, 'I'd like to work for you for free for six months, and if after six months you don't think I'm productive, I'll leave.'" It turned into a paying gig two months later, and Bagdasarian stayed on through college as research analyst.
After graduating in 1987, he joined a spin-off firm and worked on a contentious corporate takeover — his first taste of the mergers-and-acquisitions business. He was hooked and, in 1989, joined Barrington Associates, a local firm focused exclusively on M&A. Run by partners Jim Freedman and Mike Rosenberg, it helped find buyers for local middle-market companies — ones with tens or even hundreds of millions of dollars in revenue but that are privately held and often run by their founders.
For company founders, the vast majority of their net worth may be tied up in their business. Bagdasarian said his first deal at Barrington hammered that point home. "The owner burst into tears and explained that his life savings were tied into this company."
Starting over, again
Barrington became a powerhouse firm, which drew the attention of Wells Fargo. The giant San Francisco bank bought Barrington in 2006 in a deal that preserved the L.A. outfit's autonomy. But when Wells Fargo acquired Wachovia, a Charlotte, N.C., bank that had a big investment banking operation of its own, things changed.
Bagdasarian said Barrington became more of a regional hub for Wachovia. "If you're not charged up every morning, it's time to do something else. It started becoming like that."
So in 2010, Bagdasarian, Freedman, Rosenberg and four other Barrington partners left to start Intrepid, which focuses on a handful of industries and works with firms across the country and in Canada.
Its specialties include beauty and personal care — it recently advised San Francisco deodorant company Native on its acquisition by conglomerate Procter & Gamble — as well as consumer technology, retail, apparel and healthcare. Last year, it advised Aliso Viejo genetic testing firm Ambry Genetics on a $1-billion acquisition by Japanese manufacturer Konica Minolta.
Changing market
Specialization, Bagdasarian said, was driven by necessity. Years ago, Barrington got most of its business through referrals from local lawyers and accountants. Now, business owners are more likely to look for an investment bank on their own and want bankers who have represented similar companies.
"If you're a genetic sequencing lab in Connecticut, and you see we represented Ambry, you're probably going to call us," he said.
One constant through the years has been the partnership between Bagdasarian, Rosenberg and Freedman, Intrepid's CEO, president and chairman, respectively.
"When we started Intrepid, one thing people asked me was, 'Why would you be partners again after all this time?'" Bagdasarian said. "I said, 'Obviously you must not have had great partners.'"
Household merger
Bagdasarian and his wife, Iman, live in Beverly Hills. She's a UCLA professor who specializes in corporate law, including mergers and acquisitions. Their daughter, Lara, is studying at Stanford. Their son, Tammer, is in high school.
Bagdasarian is an avid runner. Starting at 4:30 a.m., he covers 4½ miles several days a week, usually wearing Vibram FiveFingers, a minimalist shoe meant to mimic running barefoot.
"Jim, Mike and I used to run in the old days at Barrington. We'd go running, then on the way back buy a bunch of chocolate doughnuts."
Twitter: @jrkoren