How I Made It: Developer Kacy Keys converts old Sears into new experiences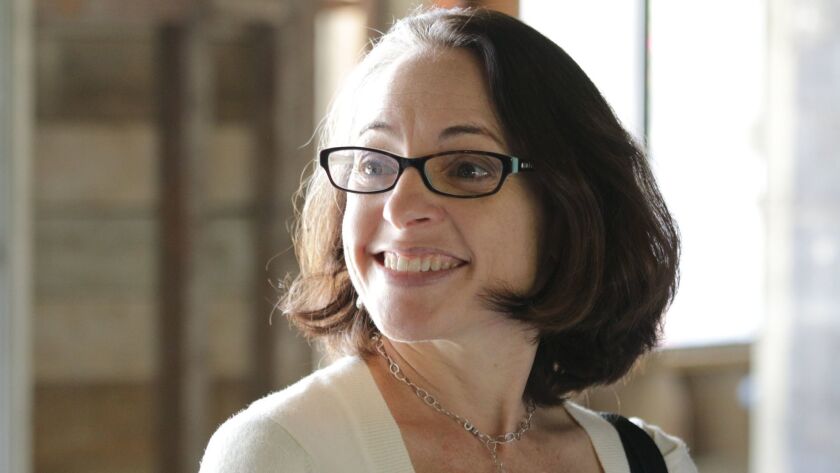 Kacy Keys, 47, is head of development in the West for Seritage Growth Properties, which is converting many former department stores to new uses.
Among them is the landmark Sears in downtown Santa Monica. Keys is supervising a $60-million makeover that will turn the vacant Art Deco-style building into luxurious offices for rent with a rooftop garden and a market hall where vendors sell food, drinks and other wares.
For Seritage, she oversees real estate valued at roughly $800 million and is supervising about $500 million worth of new development.
---
Formative years
Keys' grandmother was born in 1910 in Los Angeles, and Keys grew up there hearing from her family about the role of real estate in the evolution of the city.
"My grandparents built their home in West L.A. in 1946, but they were so far west that nobody would come see them."
Finding her path
Keys majored in economics at UC Berkeley and worked on community reinvestment issues at the Brookings Institution think tank in Washington before returning to school to earn a master's in urban planning at UCLA and a law degree at Cal's Boalt Hall.
"I worked for a law firm briefly," she said. "I wasn't particularly enamored with it."
Public service
A family friend suggested she check out then-Mayor Richard Riordan's L.A. Business Team, which was founded in 1995 to attract, retain and aid the expansion of companies in the city. She quickly decided that a leap to the public sector was the right move for her.
"I took a 50% pay cut to take the job, and it was the best decision I ever made," she said.
More success stories from How I Made It »
I took a 50% pay cut to take the job, and it was the best decision I ever made

Kacy Keys
Nuturing city growth
Keys helped draft the landmark Adaptive Reuse Ordinance of 1999 that made it easier to renovate historic buildings and boosted downtown's economic revival.
Representing the city, she worked on such major projects as Staples Center, Cathedral of Our Lady of the Angels and Walt Disney Concert Hall.
"If I didn't have the [real estate] bug before," she said, "I had it then."
Real estate attorney
Keys left the city to work for law firm Allen Matkins before hanging out her own shingle during the real estate boom of the mid-2000s. When the market soured in the Great Recession, she went to work as in-house counsel at Los Angeles real estate developer J.H. Snyder Co., where she learned fine points about the business of putting up big buildings such as the $210-million Vermont apartment tower in Koreatown.
"My role evolved over time to take over more responsibilities and become a more broad-based kind of Jane-of-all-trades," she said.
Tall opportunity
Seritage is a New York real estate investment trust formed in 2015 that owns 253 Sears and Kmart stores that could be redeveloped amid the downturn in traditional retail.
Among the company projects Keys is working on in addition to the former Santa Monica Sears is a $97-million conversion of a Sears in San Diego into a two-building upscale shopping center.
In Redmond, Wash., she will redevelop a former Sears into a mixed-use complex with housing, offices stores and a hotel.
Gender factor
The commercial real estate development industry has been predominantly male throughout her career, which Keys said has posed a challenge for her and other women in the business, who feel like they constantly need to prove they belong there.
"I was just in a meeting where there were 18 people in the room and I was the only woman," she said.
Succeeding as a female in the business, she recently told one young newcomer, "requires tenacity, perseverance, confidence and frankly, oftentimes, it requires being better than your male counterparts."
Down time
Keys lives in the West Adams district of Los Angeles, where she is raising three high school-age children. She doesn't have any particular advice for other single parents trying to juggle career and family demands.
"You just do it." she said.
Keys has been an avid dancer since age 6, when she started studying classical ballet before moving on to jazz and modern styles.
By high school, she was dancing 20 hours a week and traveling the country as an apprentice performer. It was a key part of her education.
"I credit the discipline and the kind of structure that I learned dancing as part of the reason I am able to be successful in the things that I do now," she said.
Already a subscriber? Thank you for your support. If you are not, please consider subscribing today. Get full access to our signature journalism for just 99 cents for the first four weeks.
---
Be your money's boss! Learn how to make a budget and take control of your finances with this eight-week newsletter course.
You may occasionally receive promotional content from the Los Angeles Times.