How I Made It: CEO of Quixote Studios keeps Hollywood rolling along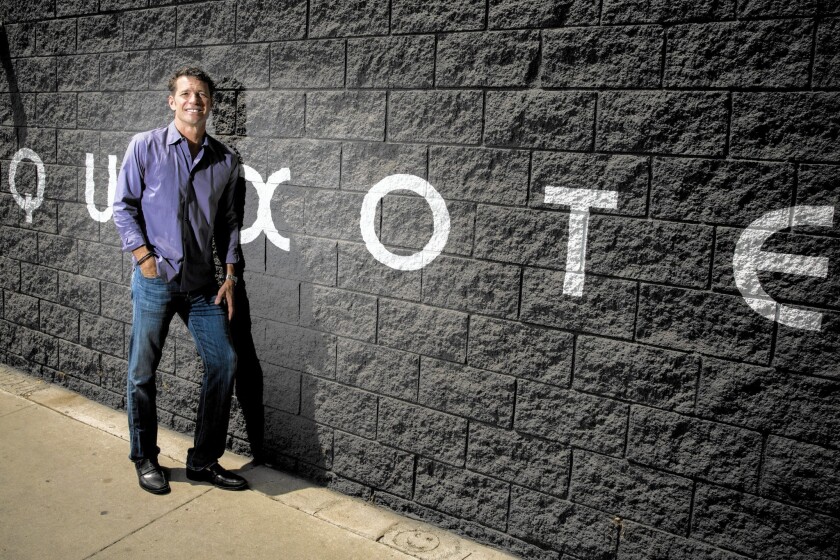 The gig: Mikel Elliott is co-founder and chief executive of Quixote Studios, the entertainment industry's premier studio and equipment rental company, presiding over a fleet of Hollywood's most elegant talent trailers and motor homes as well as more than 1 million square feet of movie, TV and music soundstages, production offices and parking lots.
Casual: Dressed in bluejeans, black loafers without socks and an untucked dress shirt, Elliott exudes a little Paul Newman and a pinch of laid-back surfer vibe — the result of a few years catching waves. Philosophically too, he isn't your average Teamster. The company's 220 employees are encouraged to be "fearless, collaborative and strategic, well-formed, encouraging and passionate, structured, inspiring and entrepreneurial," say signs posted around Quixote offices.
Windmills: Quixote is successful, Elliott says, because it thinks of itself as a service company, while his competitors think of themselves as truck drivers. "No one focuses on the below-the-line guys like we do," he says. "We get first call for the celebrities. But we also make the caterers and the grips and the production assistants feel like rock stars too. That's just good business. They make 85% of the decisions about renting studios and equipment. If we don't make them feel good, we don't get their business."
Business philosophy: "You try to create a sense of community around a sense of values," says Elliott, a youthful 53, who lives in Santa Monica with his wife, Darrin, and their three children. "You can't micromanage, but you can create a culture around exceptional service and exceptional performance. Our job is to help the producer get his job done and look good while he's doing it — whether we're renting a truck or a trailer or a studio. We want to help them have the best day they can possibly have."
Footprint: Quixote, now in its 20th year, makes its home base in a 50,000-square-foot facility in West Hollywood, where offices, photo studios and play areas with an espresso bar, big-screen TVs and pingpong tables are built around soundstages where over the decades such disparate films as "Tarzan," "The Fugitive" and "Mars Attacks" were shot. In central Hollywood are 50,000 square feet more. Over the hill, by the Los Angeles River, "Criminal Minds" has been filming for a decade on Quixote's 5.3-acre property. Vehicles occupy a 6.5-acre storage facility in Sun Valley.
Empire: Quixote also maintains huge facilities in New York, Georgia and Louisiana — where "runaway production" in search of favorable tax breaks has increasingly fled. Quixote has hosted "Jurassic Park," "Fantastic Four" and countless TV shows and commercials in a 15,000-square-foot facility in Brooklyn, on 4.5 acres in Atlanta and a 3.5-acre facility in New Orleans that includes three soundstages and 32,000 square feet of production offices and warehouse space.
Ritzy rentals: Production companies spend big to keep their stars comfy. The industry standard for a top trailer is Quixote's Verde line. They start as $100,000 luxury motor homes, then get a $150,000 interior redesign to ready them for their production duties. Quixote has 45 of them, and each one gets personalized before it goes to work, Elliott says. "Certain celebrities need this kind of snack, that kind of drink, this brand of champagne or that kind of flower. Sometimes there's a specific brand of air freshener, or a special scented candle, or a special light bulb. There's a specific temperature. Or a specific kind of espresso. All our drivers have been trained to make a great cup of joe." The motor homes rent for up to $1,200 a day, and the trailers go as high as $3,500 a day — plus the cost of the barista/driver.
Accidental mogul: Elliott did not set out to become a rental mogul. Raised in Burbank by a Hollywood production worker father and homemaker mother, he went on to study literature at UCLA but didn't imagine a career in academia. "I have always been ambitious. I couldn't see myself being a teacher." But he fell into the business almost by default. "My dad had a motor home he was renting out to the studios. I bought one too. I wasn't planning to be a trailer king, but it took off. I bought another truck and a third." Having graduated in 1985, Elliott and fellow Bruin and current company President Jordan Kitaen formed Quixote.
What's in a name: Elliott and Kitaen were both literature majors and felt their new company should have a name that inspired confidence — "one synonymous with crystal-clear thinking and efficiency." Instead, they chose Quixote, from Miguel de Cervantes' 17th century classic "Don Quixote." The two men adored the book and had responded to the adventures of the delusional don, his sidekick Sancho Panza, and his love for Dulcinea. "We liked the aspirational aspect to the story, the idea that if you can dream it, you can accomplish it," Elliott says.
---
Your guide to our new economic reality.
Get our free business newsletter for insights and tips for getting by.
You may occasionally receive promotional content from the Los Angeles Times.