She brings Latin music's top acts to the stage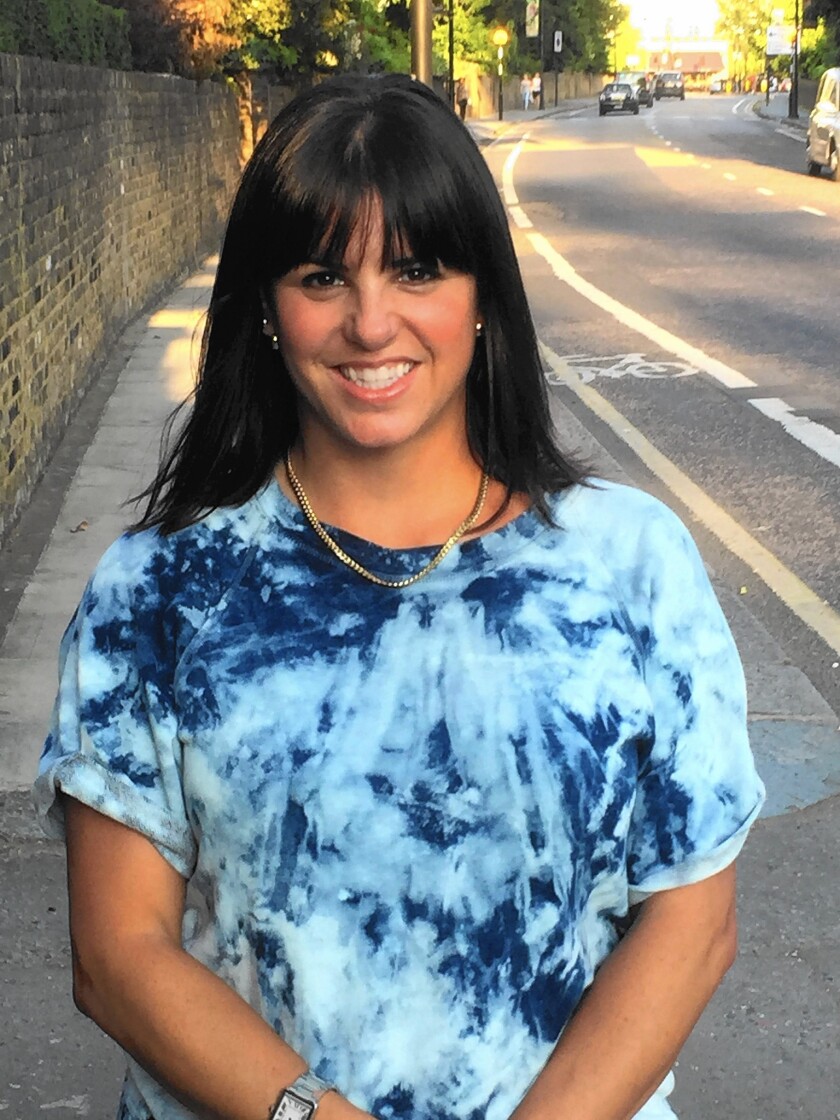 The gig: Rebeca Leon, 40, books some of the world's top Latino musicians at venues around the country for AEG Live's concert promotion arm, Goldenvoice, as its senior vice president of Latin talent. That title didn't exist before Leon joined AEG more than eight years ago. Leon convinced her bosses that there was a huge market for Latin music and that she had the industry know-how to land big names at major venues. She has since set up national tours for artists including Spanish crooner Enrique Iglesias, Mexican pop band Maná and Colombian rock star Juanes, for whom she also is manager. One of Juanes' gigs this fall is to sing for Pope Francis.
Diving in: When AEG hired Leon, her task was to book shows at the Nokia Theatre, now called the Microsoft Theater, at the new L.A. Live complex in Downtown L.A. There was just one problem: The concert venue was still a hole in the ground, overshadowed by Staples Center next door. Leon's job, as her bosses put it, was not only to bring artists to a new, unproven venue but also to draw them away from the Gibson Amphitheatre, a longtime home for Latino acts from old-school banda to trendy reggaeton.
Aiming high: "I had no idea what I was signing up for," recalled Leon, who had worked at record labels but had never booked a single concert. She jumped in anyway and was soon pressing her bosses to aim for bigger opportunities, telling them "I know you hired me to do Nokia, but why can't I do New York and Miami and everything in between?"
Latin music takes off: Leon ended up booking shows in cities that her company hadn't previously considered Latino hubs, such as Detroit, Kansas City, Cleveland, Seattle and Montreal, eventually building the Latin talent division for Goldenvoice. Los Angeles had its moment when Maná, which fills arenas in Mexico, sold out 11 consecutive concerts at Staples Center in 2012, a record matched only by Taylor Swift.
Making bets: Every show is a gamble, "like going to Vegas," Leon said. "You believe in the artist, you take your chances." Leon makes her bets using metrics such as previous show ticket sales, radio airplay, YouTube views, Spotify ratings and word on the street. Still, there have been times when she has struck out by not filling concert halls or losing a bid on an artist. Ultimately, Leon said, she has learned to trust her gut.
Foot in the door: Leon began honing her instincts after graduating from Florida State University. She had studied studio art and art history with plans to pursue interior design but realized she felt drawn to the burgeoning music scene of her Miami hometown. After landing a marketing job at Sony, she turned the label into her school. "I would go into everybody's office and ask a thousand questions," she said.
Job jumps: Leon soon learned enough to join Sony's A&R division, which led to a job with label EMI in L.A. Then Leon decided to go solo, returning to Miami to manage a budding teenage star, Latin Grammy-nominated JD Natasha. Just as she was unpacking her last box, AEG beckoned with the L.A. offer. Making the quick switch felt risky, but Leon knew she fit in with the company as soon as she met the team. "It was a really refreshing moment of being in the room with a bunch of complete bad-asses who left their egos at the door," she recalled.
Family of five: Leon's then-boyfriend, Ariel Verdejo, followed Leon from Miami to L.A. The two are now married and share a Studio City home with three dogs, Jupi Hendrix, Sookie and Olivia Pup. Verdejo, 40, runs a "street marketing" company called Arc Entertainment, creating promotions for sports teams and entertainment venues such as the Lakers and the Hollywood Bowl.
Getting ahead: Working hard is one of Leon's pieces of tough-love advice for young people in the music business. "If you're getting out at 5 o'clock and you're not thinking about your job and how to be better at it …I don't think you're somebody that's passionate," Leon said. Also, don't just send texts and emails, but pick up the phone and establish personal relationships, she said.
The next frontier: Leon had little exposure to Latin music or culture as a kid. Although her parents were Cuban, they had fled the island as children in the early 1960s. "As a Cuban American, I was culturally stunted," Leon said. "I really missed that ability to connect on a personal, patriotic way." Now that the country has resumed diplomatic relations with the United States, she hopes to reconnect with her heritage by bringing shows to Cuba, saying: "I don't know how … but yeah, definitely, 100%."
Twitter: @dainabethcita
---
Your guide to our clean energy future
Get our Boiling Point newsletter for the latest on the power sector, water wars and more — and what they mean for California.
You may occasionally receive promotional content from the Los Angeles Times.