Southern California home sales decline, hitting lowest level in seven years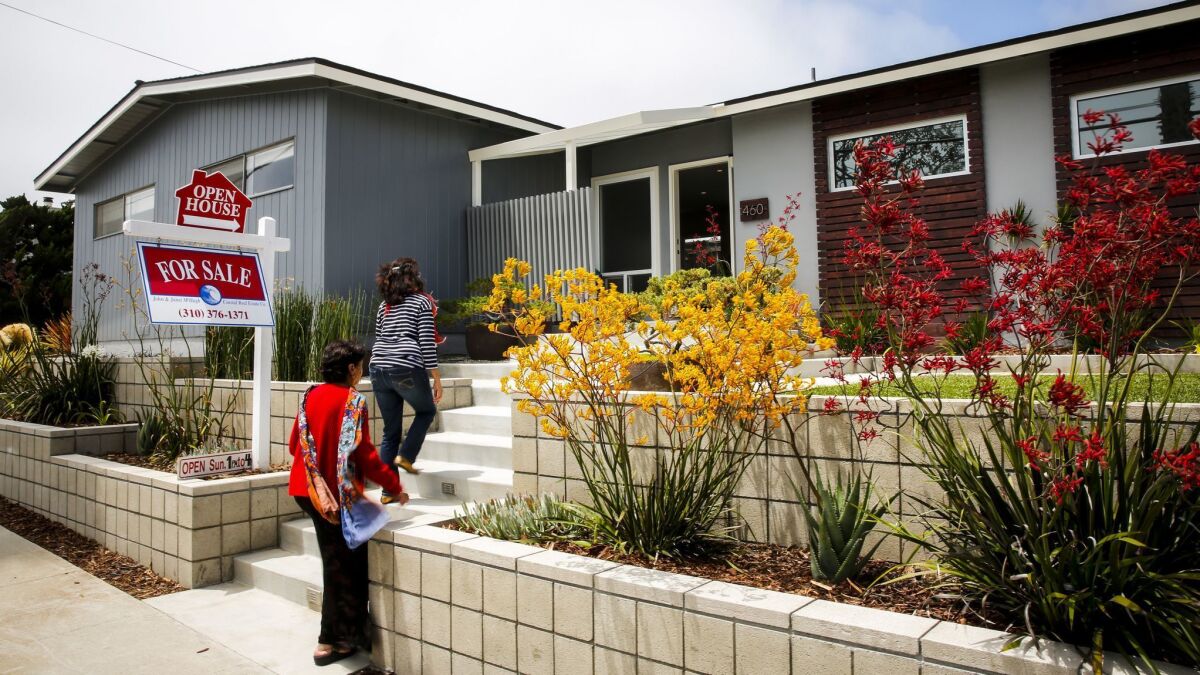 Southern California home sales tumbled 7.5% in October from a year earlier, extending a broad slowdown in the housing market, according to a report released Thursday by CoreLogic.
Last month was the third straight month of declines, and the 19,193 homes that sold were the lowest number for an October since 2011, before the housing market took off on its multi-year upswing.

For the record:
1:35 p.m. Nov. 29, 2018A previous version of this article said 20,752 homes sold in October. It was 19,193.
Real estate agents trace the sale declines to buyers' being increasingly tapped out by a combination of rising mortgage rates and years of steady price hikes. Buyers who can afford to pay more fear investing money at what might be the top of the market.
As a result, homes are sitting longer and more sellers are scaling back ambitions.
Seventeen percent of L.A. County listings on Zillow had at least one price cut in October, the greatest percentage in at least eight years. The number of listings was up 30.5%.
"It's really been kind of slow," said Suzie Titus, a real estate agent who specializes in Lakewood. "There is not a lot of activity."
So far, the cooling is just that: a pullback from a red-hot housing market, not a full drop-off.
Aaron Terrazas, an economist with Zillow, noted in a recent statement that, though price cuts are increasingly common, they so far aren't very steep. Inventory is also rising, but from rock-bottom levels.
The median home price in the six-county Southern California region jumped 6.1% from a year earlier to $525,000, CoreLogic said. In Los Angeles County, the median — the point at which half the homes sold for more and half for less — increased 5.3% to $595,000. In Orange County, it rose 3.9% to $720,000; Riverside County, 6.1% to $380,000; San Bernardino County, 3.4% to $330,909; Ventura County, 9.1% to $595,250; and San Diego County, 5.4% to $558,000.
"While the pendulum is slowly swinging back in favor of buyers, make no mistake that sellers and current homeowners still have an advantage in this game of tug-of-war," Terrazas said.
The Zillow economist does see things swinging more quickly toward buyers in the L.A. area than elsewhere in the nation. And price gains are slowing as the vise grip sellers have had loosens.
The S&P CoreLogic Case-Shiller index is a better gauge of price trajectory because it accounts for differences in the types of homes selling in a given month. In September, the latest month available, the index revealed prices in L.A. and Orange counties rose 5.5% from a year earlier. That rate has declined each month since reaching a recent peak of 8.2% in April. In San Diego County, price gains eased from 7.7% to 4% during the same period.
Many economists doubt prices will decline on a year-over-year basis, absent a recession. Others disagree, arguing prices are simply out of whack with incomes.
The slowdown doesn't just apply to California. Buyers nationally are adjusting to mortgage rates that are nearly one percentage point higher than a year earlier as the Federal Reserve raises interest rates to head off inflation.
On Thursday, the National Assn. of Realtors said that, on a seasonally adjusted basis, buyers entered contracts to buy nearly 3% fewer homes in October than in September. Compared with a year earlier, contract signings fell 6.7% — the tenth straight decline.
In response to that report, Mike Fratantoni, chief economist for the Mortgage Bankers Assn., called the current slowdown a "healthy deceleration in the market."
"Home prices had galloped ahead of wage growth for too long, particularly in the coastal markets," he said in a statement.
Follow me @khouriandrew on Twitter
---
UPDATES:
2:35 p.m.: This article was updated with additional comments from real estate agent Suzie Titus and economist Aaron Terrazas.
This article was originally published at 10:30 a.m.