Giant hotel chains to give workers 'panic buttons' to help prevent sexual assaults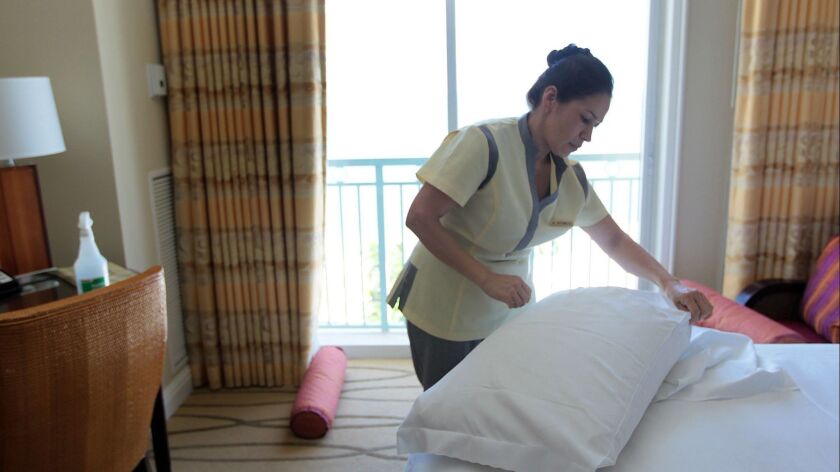 Hotel employees who work alone or in isolated locations, making them vulnerable to harassment and sexual assault, will be equipped with so-called panic buttons — electronic devices to call for help — the world's largest hotel companies announced Thursday.
The top executives of Marriott, Hyatt, IHG, Wyndham and Hilton hotels, alongside the head of the nation's largest hospitality trade group, said they would give the buttons to workers at thousands of hotels throughout the United States by 2020.
The devices will be required, along with anti-harassment training and policies for "tens of thousands of workers," said Katherine Lugar, chief executive of the American Hotel and Lodging Assn., who called the agreement among rival companies unprecedented.
"This is an ongoing challenge," said Lugar, who spoke at a Washington D.C. news conference attended by the industry executives. "No industry is immune from dealing with issues of sexual harassment."
Hotel housekeepers have been complaining through union leaders that they have no protection against harassment or assault when they are in hotel rooms with guests or other workers. That has prompted unions representing hotel workers in Southern California to mount initiative campaigns to require panic buttons.
Panic buttons are already required at hotels in Seattle, Washington, D.C., Chicago and New York.
Organizers for hotel employees in Los Angeles who learned of the initiative later said the announcement comes as a surprise because they say hotel industry groups have until recently been working to kill local measures in California to require panic buttons for hotel workers.
"They need to join forces with us and stop spending money to stop local initiatives," said Lorena Lopez, director of Unite Here, Local 11, the Los Angeles area chapter of a national union that represents hotel and food service workers, among others.
The call for improved safety for hotel workers was praised by Tina Tchen, co-founder of the Time's Up Legal Defense Fund, which provides legal support for victims of sexual harassment and assault in the workplace.
"This is the first industry that I have seen come together across competitors," said Tchen, who attended the news conference and advised the hotel industry leaders on their initiative.
The calls for panic buttons at hotels have been especially prominent in Southern California.
In Long Beach and Rancho Palos Verdes, hospitality workers have collected enough signatures to put measures on ballots that would require hotels in those cities to provide panic buttons to their employees.
Voters will decide on the measure in Long Beach on Nov. 6. Voters in Rancho Palos Verdes will have to wait until Nov. 5, 2019, to vote on a similar measure.
The Long Beach City Council is considering adopting its own measure — to take effect regardless of whether the ballot measure is approved by voters — that would require hotels in the city to provide panic buttons for hotel staff.
A 2016 survey by Unite Here found that 58% of about 500 Chicago hotel workers who were questioned said they had been sexually harassed by a guest. Nearly half of the total said guests had exposed themselves, flashed them or answered the door naked.
The problem gained attention last year when Sandra Pezqueda, a former worker at the ritzy Terranea Resort in Rancho Palos Verdes, filed a lawsuit claiming she was fired after complaining that her supervisor had made sexual advances.
Pezqueda was among several women named "Persons of the Year" by Time magazine last year for launching the #MeToo movement.
She has since settled the lawsuit against the outside staffing agency that employed the supervisors she blames for the advances. Terranea was released from the lawsuit before it was settled.
In January, state Assembly members Al Muratsuchi (D-Torrance) and Bill Quirk (D-Hayward) introduced a bill that would require hotels in California to provide panic buttons for employees who work in empty rooms. The bill was shelved last month.
At the news conference, Lugar was asked if the industry was trying to set its own terms for how to address the problem ahead of union efforts.
"This is an evolution of our position to take care of our people," she responded.
But hotel industry experts say the growing public outrage spurred by the #metoo movement and allegations of sexual harassment in the workplace have forced the hotel industry to act.
"It's become a bigger and bigger issue and it's getting a lot of publicity," said Bruce Baltin, a managing director at CBRE Hotels. "I think they are trying to get out in front of it."
The initiative announced Thursday originated in a study conducted by a task force of industry experts convened in 2017 by the American Hotel & Lodgings Assn., according to Lugar.
The participating hotel chains will distribute panic buttons suitable for their properties, which range from urban high-rises to suburban motels to rural roadside inns. Options include loud noise-emitting devices and those equipped with GPS tracking at the push of a button.
Other hotel companies that were also a part of the industry effort — including AccorHotels, Best Western Hotels & Resorts, the Radisson Hotel Group, Outrigger Hotels and Resorts, Loews Hotels, Four Seasons Hotels and Resorts, Caesars Entertainment and G6 Hospitality — released statements Thursday saying they either plan to equip staff with panic buttons or have already begun to distribute the devices to workers.
The executives for Marriott and Hilton said the training and devices will be required not only in hotels owned and managed by the large hospitality companies but also in franchise hotels that are independently owned.
"It's no small change at Hilton to effect a change," said Chris Nassetta, chief executive of Hilton. "But we need to meet it head on."
To read more about the travel and tourism industries, follow @hugomartin on Twitter.
---
UPDATES:
3:45 p.m.: This article was updated with comments from Katherine Lugar, chief executive of the American Hotel and Lodging Assn., Lorena Lopez, director of United Here, Local 11 and Chris Nassetta, chief executive of Hilton and industry consultant Bruce Baltin.
12:15 p.m.: This article was updated with more details about the hotels' anti-sexual harassment and assault initiative.
1:45 p.m.: This article was updated to include comments from president and chief executives of several hotel companies as well as labor leaders.
This article was published at 11:55 a.m.
---
Must-read stories from the L.A. Times
Get the day's top news with our Today's Headlines newsletter, sent every weekday morning.
You may occasionally receive promotional content from the Los Angeles Times.