Sky-high rents and home prices are making it hard for Southern California businesses to attract workers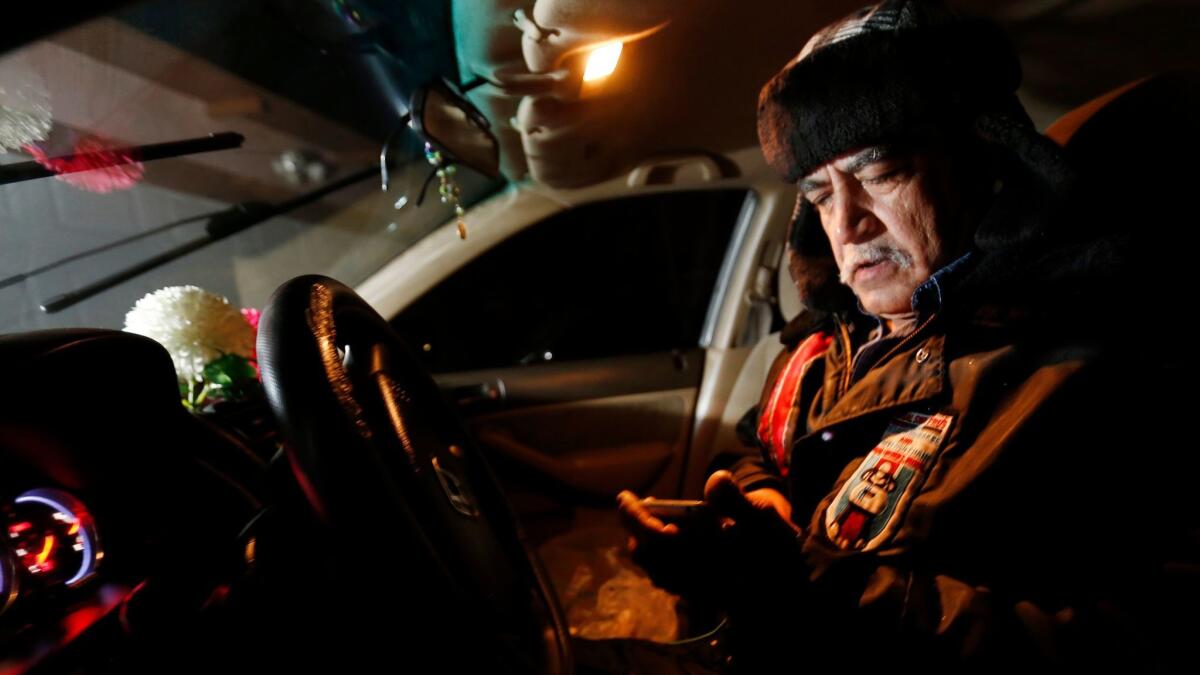 Ace Clearwater Enterprises needs to hire four welders.
The South Bay aerospace company could also use three more machinists, as well as four specialists who use 7-ton drop hammers to form metal parts for fighter jets.
But filling those positions is tough. Many young Californians are going to college, not into manufacturing. Other potential hires have backed out because they live in the more affordable outskirts of the Southland and have no appetite for a grueling commute.
And after many misses over the years, Ace has largely stopped flying in workers from out of state for an interview. The company is running up against what economists say is an ever-greater drag on the California economy: sky-high rents and home prices.
"People come here and are like, 'Holy crap, the housing is just out of control,'" said Gary Johnson, vice president of Ace Clearwater Enterprises in Torrance, where the median home price is more than $812,000. "It's a huge issue."
Since the housing market took off in 2012, the California median home price has risen to $529,900, a compounded annual growth rate of nearly 10%, according to real estate website Zillow. The median rent for a vacant apartment jumped an annual rate of nearly 5.5% to $2,426.
As a result, businesses are increasingly struggling to recruit from out of state; a larger share of people are enduring one-way commutes of more than 90 minutes; and more people are leaving California than moving here from elsewhere in the U.S.
The head winds aren't enough to derail a healthy state economy that added more than 340,000 jobs last year and is home to large corporations such as Apple, Disney and Aecom. Those companies employ many well-paid white collar workers who can stomach high prices.
But some economists say housing costs are slowing growth by making businesses and employees less productive, by pushing firms to expand in cheaper states and by leaving California residents with less money to spend on iPhones, amusement parks and sporting events.
"It's not that the economy is going to tip into recession, it's that the potential for growth is much higher," said Robert Kleinhenz, an economist with Beacon Economics, noting that faster growth isn't just a theoretical concept. "When the economic pie is larger, there is more to spread around."
For those who already work here, sky-high home prices and rents can force excruciating lifestyle choices.
One metal worker, Jorge Alcala, lives in the high desert city of Lancaster and commutes 86 miles and upward of an hour and a half to his job at Ace, depending on how jammed the multiple Southern California freeways are that he has to navigate.
Jordan Levine, an economist with the California Assn. of Realtors, said the economic hit is likely to worsen the longer affordability problems persist. More California companies will choose to expand in regions of the country where a three-bedroom, $200,000 house near employment isn't a rarity.
"California is not the only place to have a job," Levine said.
High housing costs, of course, are partly a reflection of a strong economy, but businesses other than Ace say those costs are now becoming a problem.
A USC/Los Angeles Business Council survey of major L.A.-area companies last year found 10 of the 14 that responded said the cost of housing is a challenge for retaining employees, with most reporting they lost workers because of high housing prices.
A report released with the survey cited Toyota's move of its North American headquarters from Torrance to Texas as likely to have been driven in part by high home prices.
"I hear it everywhere I go now," said Rob Lapsley, president of the California Business Roundtable. Businesses are "losing the ability to attract mid-level and top talent, because people are very concerned they cannot afford a home in California."
The median-priced home here is now 2½ times as expensive as in the nation as a whole. Though California has long been pricier, the gap started to widen in the 1970s, according to the state's nonpartisan Legislative Analyst's Office, largely because of a lack of home building in coastal counties with a plethora of jobs, mild weather and views of the Pacific.
In 1970, the difference between the California and national median price was $30,929, adjusted for inflation. As of January, it was $322,300.
If housing was more affordable, Johnson said, Ace Clearwater would have a better shot at filling its 11 open positions, which works out to a 6% expansion of the current staff of about 190.
For now, employees are working overtime to keep up, adding dollars to their pockets and stress to their bodies.
"They get burned out," Johnson said. "Running a drop hammer 60 hours a week — it's a tough job."
Housing costs are a significant reason it's tough to fill positions, Johnson said, but competition from nearby aerospace firms and the lack of skilled workers also harm recruiting. Ace could jack up wages to try to fill jobs. Human resources manager Gen Perez said workers make an average of $25 an hour, or $52,000 a year, without overtime. The company, she said, constantly reviews its pay to remain competitive.
She said Ace would be willing to raise wages for the right recruit, but there is only so much it can do, because its customers are constantly pushing for jobs to be done more cheaply.
If Ace filled its open positions, Johnson said, the company could take on additional contracts and pump additional aerospace parts out of its plants in Torrance, Paramount and Compton.
"We could right now hire another [several] welders, a couple machinists, metal forming experts," Johnson said. "We have the work. Our backlog is very healthy."
But Ace isn't expanding like it could. And when companies make that decision again and again, it ripples through the economy.
Economist Enrico Moretti of UC Berkeley estimates U.S. GDP is reduced by 7% because high costs and restrictive zoning in economic juggernauts like Silicon Valley mean many workers can't move there for a better life and many businesses there can't expand.
"Aggregate earnings would be much higher if the most productive cities in the U.S. were more welcoming in the form of they were more willing to add more housing," Moretti said.
Among the nation's largest metropolitan regions, workers who live in the Stockton area northeast of Silicon Valley have the worst commute, as defined by people who travel 90 minutes or more to work. Nearly 10% of commuters there fell into that category in 2016, up from about 7% a decade earlier, a Brookings Institution analysis of Census Bureau data found.
The nation's second-worst commute was borne by residents of the Inland Empire, east of job centers in Los Angeles and Orange counties. Nearly 7.5% of workers living in Riverside and San Bernardino counties had commutes of at least 90 minutes, up from 5.8% in 2006.
Such commutes exact a price, said Jonathan Woetzel, director of the McKinsey Global Institute. Someone who spends more than three hours a day behind the wheel has less time to invest in learning new skills that could lead to higher pay. They spend heavily on gas, which has less of an economic ripple effect than if they bought consumer goods. Furthermore, studies show long commutes worsen mental and physical health, while making workers less productive at the office.
Six days a week, Alcala, the Ace metalworker, wakes at 3:15 a.m. in the three-bedroom Lancaster house he purchased for $141,000 in 2015. On a recent morning, the 59-year-old kissed his wife, Belen, goodbye and walked out the door just before 3:30 a.m. If he leaves then, he's likely to make his 6 a.m. shift in Paramount even if there's an accident to dodge on the way.
Before driving off, Alcala — who said he moved to the U.S. from the Mexican state of Nayarit as a teenager to escape work in the fields — gripped the wheel with both hands. Then he bowed his head. "My Lord, my God, blessed Jesus Christ, I put my journey in your hands," he said in Spanish. "My Lord, my God, blessed Jesus Christ, cover me with your cloak and do not forsake me."
It wasn't always this way. Alcala — who makes around $50,000 a year — said he used to live in a one-bedroom apartment in Long Beach that he shared with his wife and three of his kids. But in 2011, they had enough and moved to the Antelope Valley for more space and a safer neighborhood.
Alcala said the 1,000-mile weekly drive doesn't affect his job, smoothing out bumps on metal jet parts. He acknowledged he sometimes puts in a Cumbia CD on his way home so he can dance in his seat to stay awake.
Once, when an accident closed a freeway, it took 6½ hours before he arrived back in Lancaster.
Alcala said he's never been in a crash, but there have been close calls. Earlier this month, a rock slammed into his windshield on the freeway, causing him to duck as it opened up large cracks on both the driver and passenger's side.
As he zipped through the Los Angeles neighborhood of Arleta northwest of Burbank at 4:15 a.m., Alcala recalled a big rig that nearly sideswiped him as it moved into his lane to avoid another massive truck.
"Those guys, that's my challenge," he said, pointing to three big rigs bunched together in the two right lanes. "They don't see you."
A half-hour later, at 4:46 a.m., he parked his 2005 Honda Civic — which has more than 213,500 miles on it — in front of Ace's manufacturing plant. It was a "quick" trip, he said: just over an hour and 15 minutes.
About 12 hours later, Alcala got off work. He hopped into his car at 4:40 p.m. and got lucky again. With no accidents and just normal end-of-the-day traffic, Alcala walked into his house just after 7:15 p.m., more than 2½ hours later.
He had to be up again in eight hours.
Alcala said he recently was offered a job with a metal spinning company in the Antelope Valley — close to his house. He could have used the freed-up hours to do some car repair work on the side and spend more time with his wife, who had a stroke last year and has diabetes.
But Alcala declined. If he took the job, his wife would have lost her health insurance.
"I know I am sacrificing my person, but I … do this more for my family," Alcala said.
Johnson, the Ace Clearwater vice president, said cheaper states such as Arizona and Nevada frequently "hit up" his company with offers to get him to move.
But he said Ace is staying put. Though pricey, California is a "great place to live," and too many at the family-owned company have deep roots here. That includes CEO Kellie Johnson, his wife, who runs the business her grandfather started in the back of his El Segundo home in 1949.
There's an economic reason as well: Despite cutbacks after the end of the Cold War, the Los Angeles area remains an aerospace hub. "If we moved to Arizona, we would be shipping stuff here every day to get it painted, to get it processed," said Lucky Perry, Ace Clearwater's sales manager.
Johnson said Ace is looking into launching a carpooling system to help workers with long commutes. In the meantime, it struggles to attract new workers.
"It seems more and more people are moving further and further away and that commute, they just cannot do," said Perez, the human resources manager.
Just last month, Perez said, a worker turned down a job in Ace's quality department. He didn't want to drive in from Ontario.
Follow me @khouriandrew on Twitter
---
UPDATES:
2:40 p.m.: This article was updated with the latest home and rent data available, as well as information on the difference between California and U.S. home prices.
This article was originally published at 9:00 a.m.