New home construction rebounds strongly, reaches best pace since 2007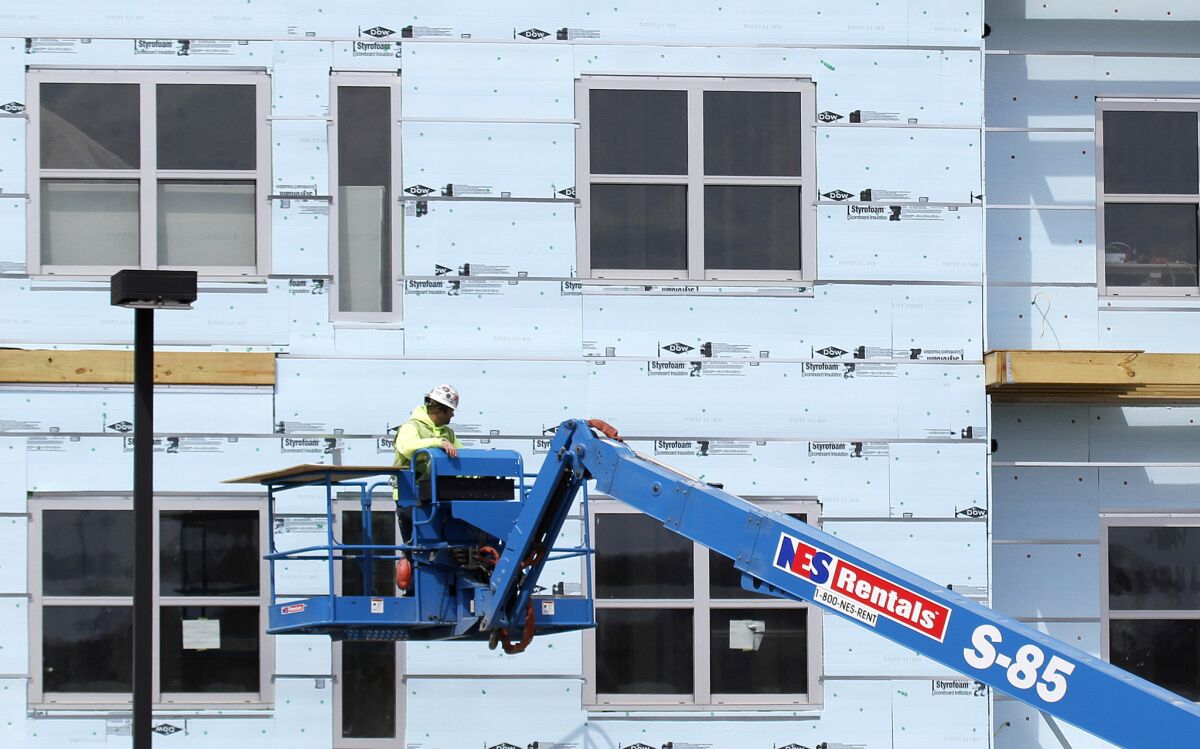 Reporting from Washington —
New home construction unexpectedly surged in April to its best level in more than seven years as the housing market rebounded strongly from two weak months largely caused by bad weather.
Privately owned housing starts increased 20.2% from March to an annualized level of more than 1.1 million, the Commerce Department said Tuesday.
The level was the highest since November 2007.
Building permits, an indicator of future construction, also jumped in April in another positive sign for economic growth in the second quarter of the year.
Permits increased 10.1% from March to a seasonally adjusted annualized level of more than 1.1 million as well. That level was the best since June 2008.
Economists had expected starts and permits to bounce back from disappointing figures in February and March.
But the figures were higher than forecast and indicated broader economic growth will improve this spring after a poor first quarter that many economists attributed mostly to severe weather.
The economy expanded at a 0.2% annual rate from January through March, but many analysts expect government officials to downgrade the figure to show the economy contracted slightly in the first quarter.
"At a stroke, this [housing] report demolishes the idea that the economy — outside the oil sector — suffered some sort of real seizure in the first quarter," Ian Shepherdson, chief economist at Pantheon Macroeconomics. "It didn't. It was just battered badly by a winter nearly as grim as last year."
Patrick Newport and Stephanie Karol, U.S. economists for IHS Global Insight, said conditions are improving for home construction.
"Builders are benefiting from lower wage pressures and cheaper materials," they said in a research note. "The price of lumber has been dropping like a stone since February."
The best housing start gains in April were in the Northeast, where weather had been unusually bad the previous two months. New construction rose 85.9% in the region, driven by big increases in multi-unit projects.
Starts increased 39% in the West and 27.8% in the Midwest, but dropped by 1.8% in the South.
In another sign of an improving housing market, Home Depot Tuesday raised its sales projections for its fiscal year, which began Feb. 2, as it reported better than expected earnings for the three months ended May 3.
Given the strong start to the year, the home improvement giant said it expected sales to increase 4.2% to 4.8% this fiscal year. In February, the company said it expected sales in 2015 to increase between 3.5% and 4.7%.
"We had a stronger than expected start to the year as we experienced a more normal spring across much of the country and continued recovery of the U.S. housing market," said Chief Executive Craig Menear.
Home Depot reported first-quarter sales of $20.9 billion, up 6.1% from a year earlier, and earnings of $1.6 billion, or $1.21 a share, a 14% increase over its year-earlier quarterly profit.
Follow @JimPuzzanghera on Twitter
---
Sign up for the California Politics newsletter to get exclusive analysis from our reporters.
You may occasionally receive promotional content from the Los Angeles Times.