Q&A: L.A. Auto Show: Porsche execs on Taycan and the electric future
Porsche introduced the eighth-generation version of its 911 Carrera sports car at the L.A. Auto Show Tuesday night. But green-technology enthusiasts are looking forward to the release of the company's first all-electric car, the Taycan (pronounced tie-kahn) in 2019.
Porsche Chief Executive Oliver Blume and Porsche North America Chief Executive Klaus Zellmer sat down with The Times to talk about the 600-horsepower Taycan, Porsche's electric future, and driverless cars. They even had a few kind words for Tesla.
Porsche is a quintessential driver's car, with beautiful-sounding engines. Why go electric?
Blume: Because of the CO2 targets worldwide. We have a big motivation: We have to do it.
We've had big success in electric motor sports. We've won three of the last four 24 Hours of Le Mans races with the 919 Hybrid. We carry over what we do in motor sports to the road. In Europe, more than 60% of Panamera sales are hybrid.
Zellmer: The demand for electric cars is still a bit sleepy. But once people start driving electric cars, they will realize there is a lot of potential. The acceleration is breathtaking. They're not producing any noise. You can feel good about not emitting anything.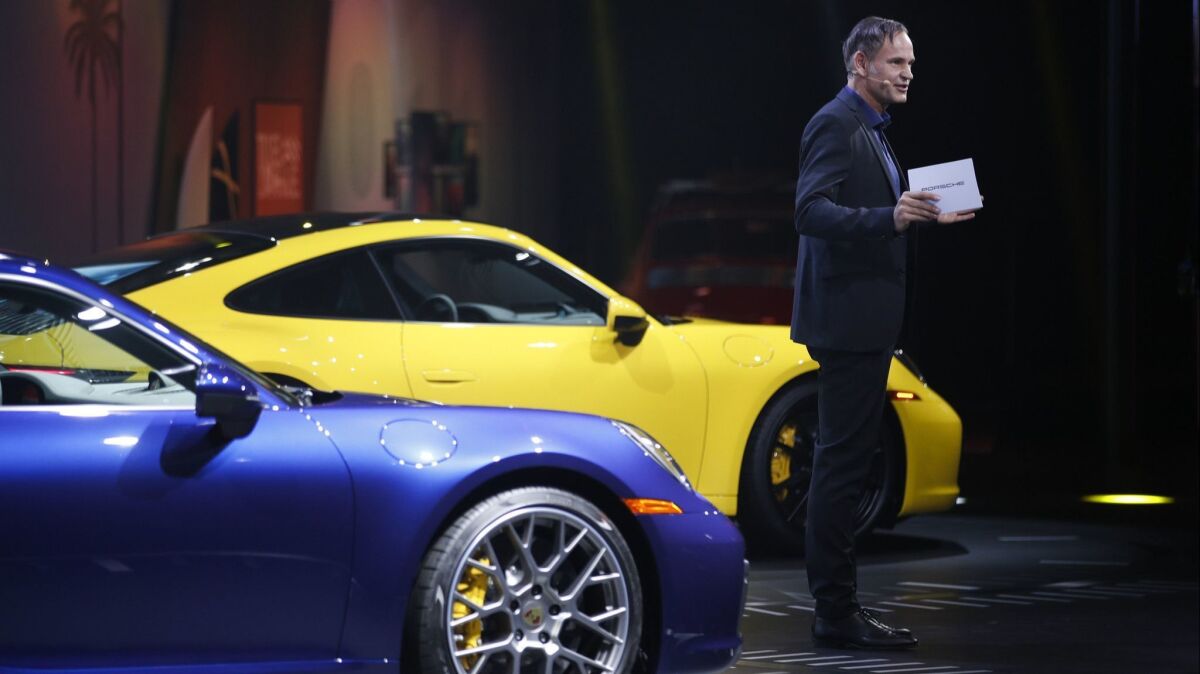 But when people sit in the car, it has to feel like a Porsche. It has to have a soul that originates in Porsche DNA. The way it reacts when you reach the limit or exceed the limit, giving you some feedback.
Blume: It has to be a Porsche, 100%.
What's a Taycan? You started out calling the car the Mission E, which a lot of people thought was a great name.
Blume: Mission E is the global project name. There will be other Mission E products as well. Taycan is an artificial name drawn from a Eurasian word meaning 'young wild horse.'
The Taycan is often described as a Tesla-fighter, but you seem to hold Tesla in high regard.
Zellmer: If you look at what Tesla has done, if you look at their volume and look at their price level, it's truly astonishing.
If you can do that with one brand and a sales network that is not comprised of dealers and a real sales organization, it's even more astonishing.
What about driverless cars? A driverless Porsche doesn't seem to make much sense.
Blume: There are interesting options for autonomous technology. An assistant for traffic jams, or parking assistance. But there's a lot to organize around fully autonomous driving. It will take some years. [But even] in the future, Porsche will be a car driven by a driver.
Sign up for the California Politics newsletter to get exclusive analysis from our reporters.
You may occasionally receive promotional content from the Los Angeles Times.