The 2020 Jeep Gladiator is a beastly pickup truck that's built to be battered
2020 Jeep Gladiator Rubicon
(FCA)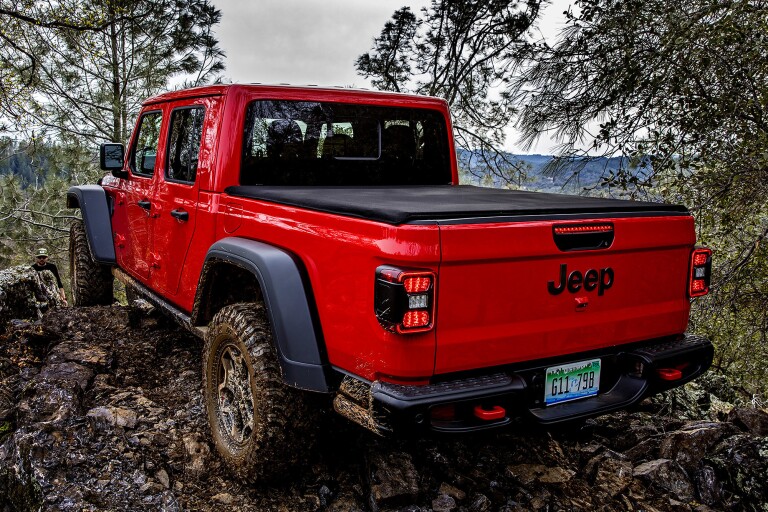 2020 Jeep Gladiator Rubicon
(FCA)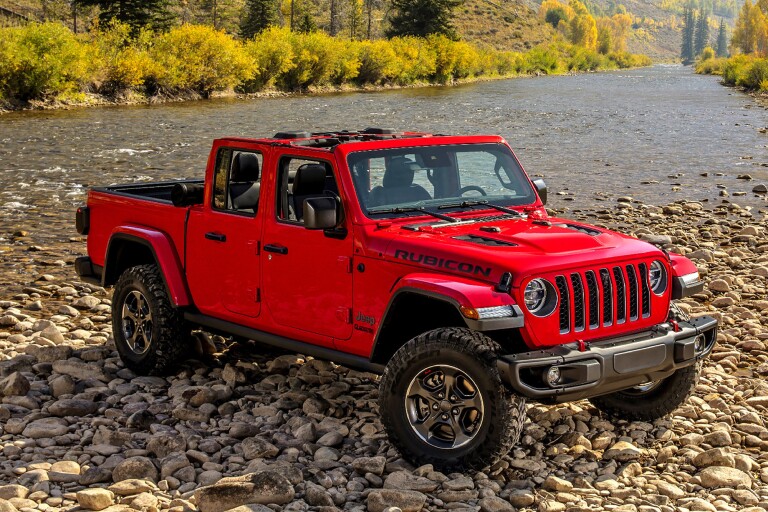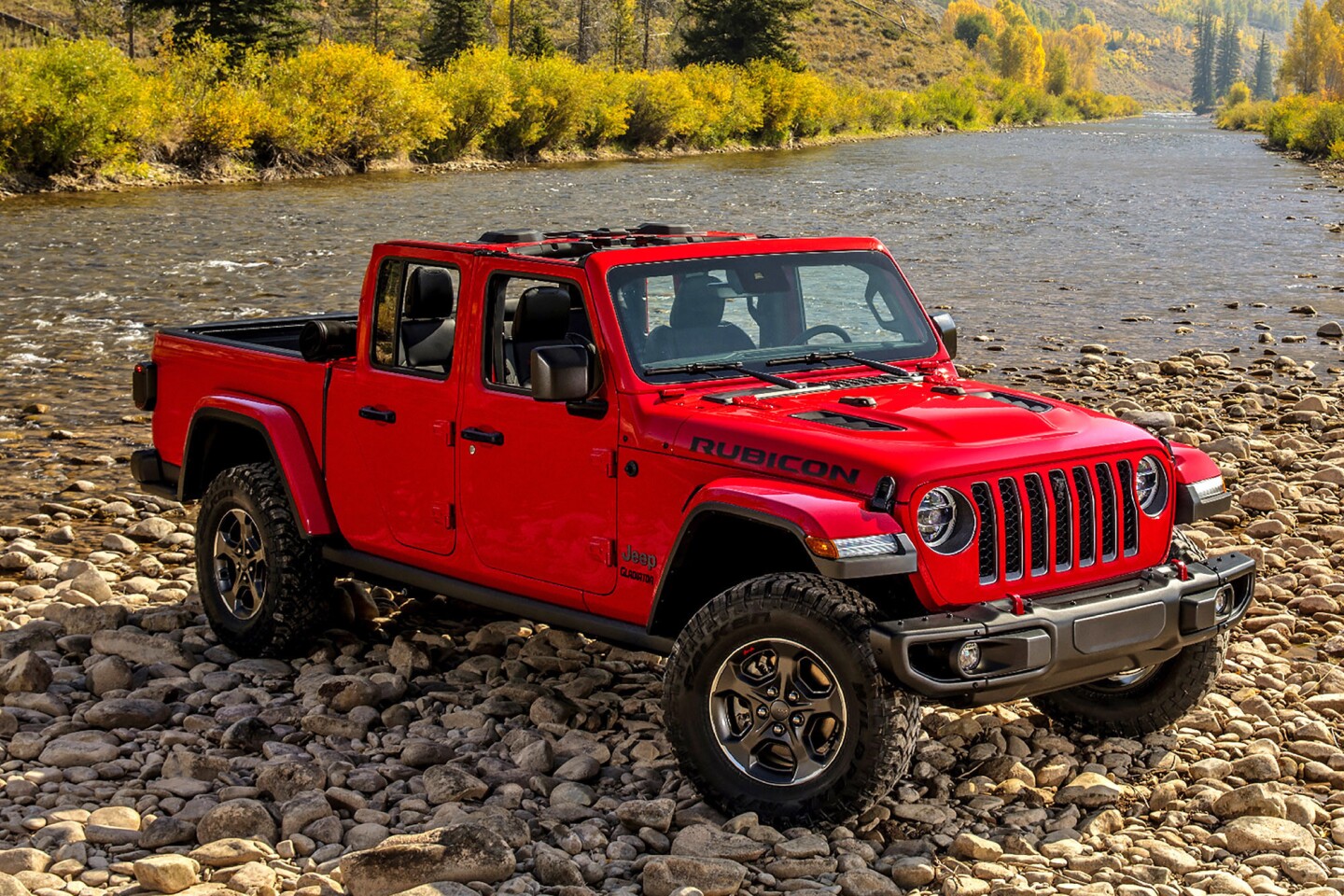 2020 Jeep Gladiator Rubicon
(FCA)
2020 Jeep Gladiator Rubicon
(FCA)
2020 Jeep Gladiator Rubicon
(FCA)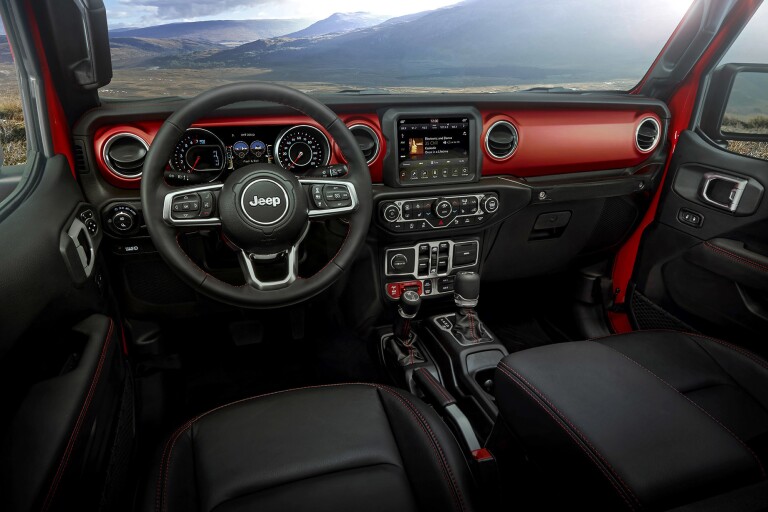 2020 Jeep Gladiator Rubicon
(FCA)
2020 Jeep Gladiator Rubicon
(FCA)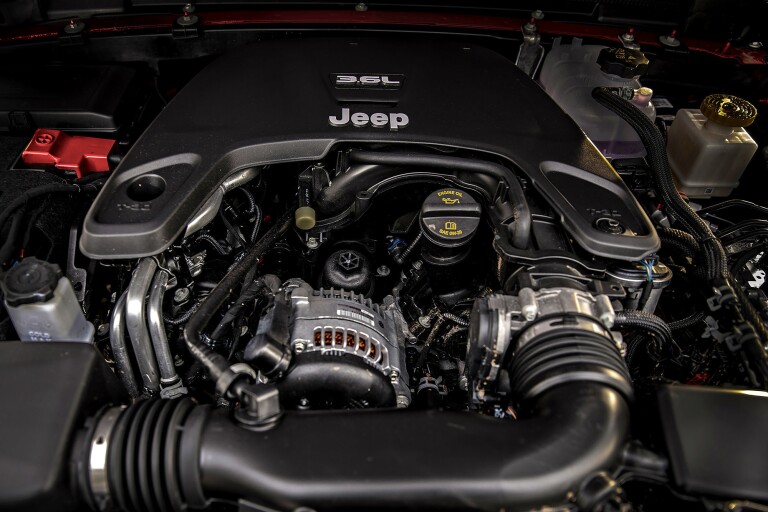 2020 Jeep Gladiator Rubicon
(FCA)
2020 Jeep Gladiator Rubicon
(FCA)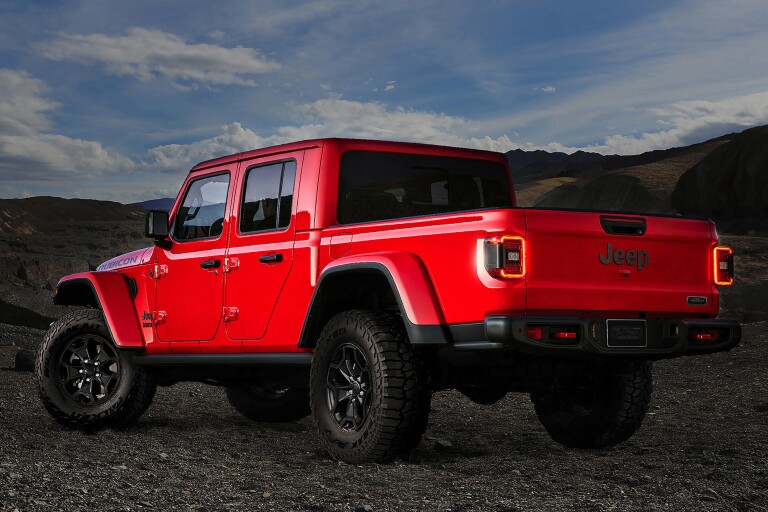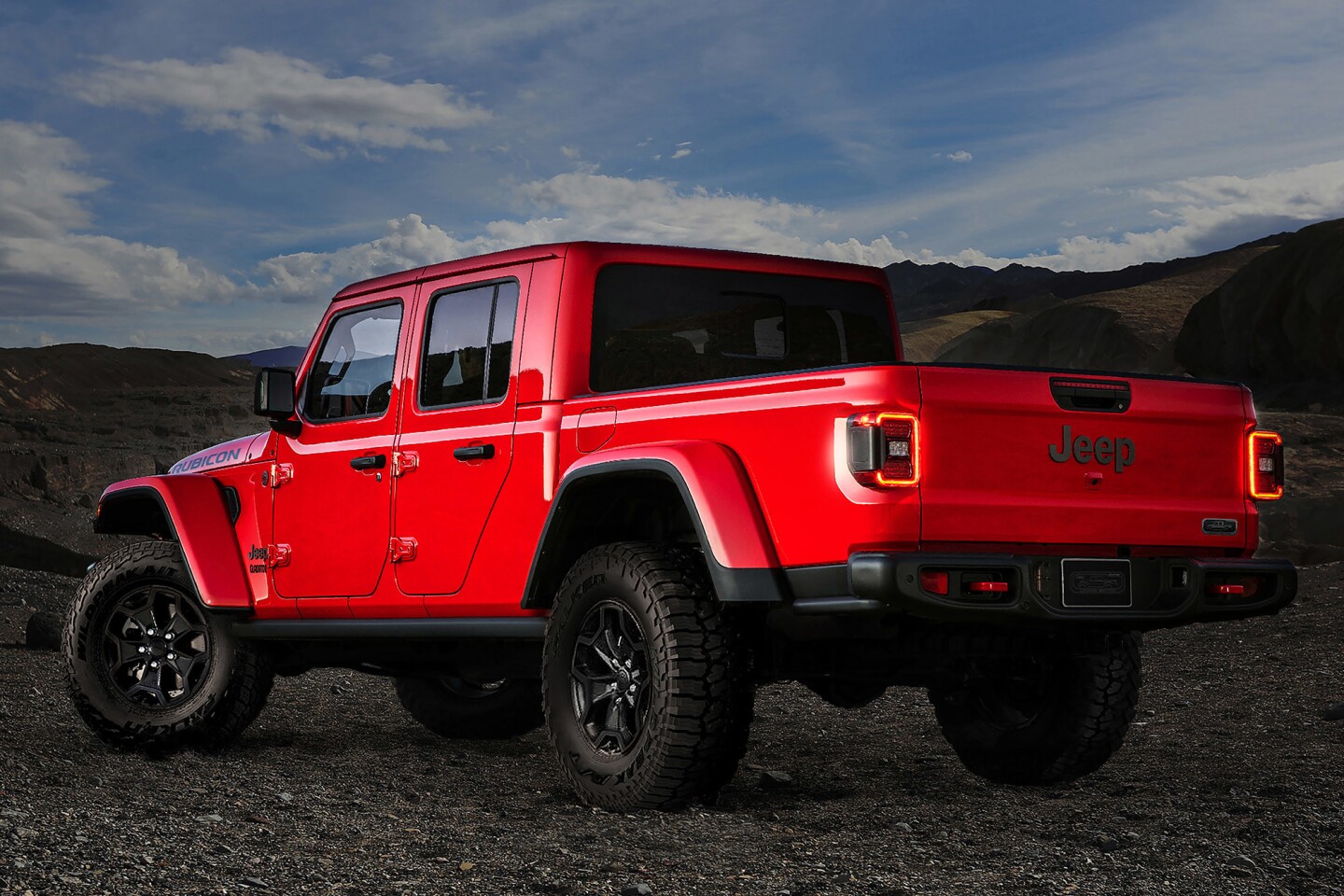 2020 Jeep Gladiator Rubicon
(FCA)
With its 2020 Jeep Gladiator, Fiat Chrysler has delivered what amounts to a four-door Jeep Wrangler with a pickup truck stuck on its hind end.
It's a sort of Jeep/truck hybrid, an off-road-ready puddle jumper that can carry a lot more cargo than the standard SUV.
The corporate thinking behind this mashup is clear: The Jeep division outsells all other FCA brands, and the Wrangler alone accounts for a quarter of all Jeep sales. America loves Jeeps and America loves trucks. So, why not a Wrangler for truck buyers — especially because, according to numbers compiled by Kelley Blue Book, FCA's Ram truck division is the only one showing improved year-to-date sales for 2019?
What's less clear is who will buy it.
This is not a luxury SUV. Distinctly mechanical and analog — even the high-end Rubicon version has manually adjusted seats — the Gladiator is built for rugged treatment. The top, the doors and even the windshield can all be removed for extra rugged off-roading. The interior is pure Wrangler — the dash looks identical to the one found in the Wrangler Rubicon or Sahara trims — and while comfortable is designed to get dirty and clean up easily.
Jeep has thrown a lot into this beast. Under the hood is FCA's 3.6-liter V6 engine, which pumps out 285 horsepower and 260 pound-feet of torque. The engine is mated to an eight-speed manual transmission — a six-speed manual is also available — and connected to a four-wheel-drive system that is among the best in the business.
Standard equipment on the Rubicon trim — the loaded version of four Gladiator models, all of which are four-wheel-drive trucks powered by the 3.6-liter V6 that's also found in the Wranglers — are off-road essentials such as multiple skid plates, massive Fox shock absorbers, heavy-duty front and rear axles with locking differentials, front and rear tow hooks, rock rails and huge all-terrain tires. (A full-size spare is tucked under the pickup bed.)
Added to the Gladiator I borrowed were extras such as front and rear "trail cams" for up-close views of the terrain, FCA's extra beefy Rock-Trac 4x4 system, a trailer hitch and tow package that gives the Gladiator a 7,650-pound towing capacity (compared with a mere 2,000 pounds on the Wrangler), upgraded lighting, heated leather seating and a batch of safety features such as adaptive cruise control with forward-collision warning and emergency brake assist.
Determined to put the beast through its paces, I set off for the Rowher Flat off-highway vehicle park near Santa Clarita — the closest place I know with enough really rugged off-road terrain to test the Gladiator's abilities.
I found out several things right away. The handsome black canvas Gladiator roof, which when removed makes this truck a convertible, soaks up and retains a lot of heat. In the four-hour voyage to Rowher and back, it never stopped radiating heat into the cab.
Second, I learned that driving at higher speeds with the soft top is noisy, rendering the truck's otherwise fine audio system moot. (A hard-top roof is available as an option.)
Third, I found that the vehicle's girth, and its oversized dirt tires, weren't much fun on the freeway.
But then I hit the dirt. Slipping the transmission into 4x4 mode, I ran the Gladiator at fairly high speeds over the nasty road from Sierra Highway into the off-highway vehicle park, going 30 miles per hour on sections that couldn't be done over 5 mph in a passenger car, and going 5 mph on sections that couldn't be done in a passenger car at all.
The big tires and the Fox 2.0 Performance shocks ate up the washboard and made mince of the ruts, spitting rocks and gravel and laughing at the sandy parts.
Like the Timex watch of old, Jeeps are designed to take a licking and keep on ticking. And while I didn't thrash the Gladiator entirely, I put it through its paces and found it completely unperturbed.
Sliding through some loose stuff on a wide sweeping turn, I actually laughed out loud.
But this was work, so I got serious, and soon had the Gladiator on a very steep "black diamond" hill climb pocked with potholes and sections of sand and rock. I put the transmission into the lowest gear, and let the truck do its job. The Gladiator crested without spinning the wheels a bit — and without requiring me to lower the air pressure in the tires to maximize traction.
Coming down was terrifying, but the exercise helped answer the second part of that question. This is what the Gladiator is for, serious off-roading while carrying cargo. I could easily imagine strapping a couple of dirt bikes into the bed and hitting the back country without any worry about road conditions.
That brings us back to the question: Who's it for?
A lot of people who don't need Wranglers, and don't use them as their makers intended, absolutely love their Wranglers. It's a lifestyle thing. For folks like that, the Gladiator might be impractical. Though the new vehicle is the same width and almost the same height as the non-pickup truck models, it's almost 3 feet longer than the longest Wrangler, and has 19 inches more wheelbase length. That means the Gladiator is somewhat unwieldy for parking and maneuvering in tight spaces.
Though it's comfortable enough for the front-seat passengers, full-size adults may have difficulty finding room for their legs in the back — though, in fairness, the rear-leg room is a bit greater in the Gladiator than in the Wrangler.
It's heavy, too, at just over 5,000 pounds, and gets terrible gas mileage, 22 mpg on the highway. Then there's the MSRP. The entry-level Gladiator starts at $35,040 — $7,000 more than the equivalent Wrangler. The model I drove retails for $57,230, before tax and license. That may feel like a lot for a Jeep, but it's not a lot for a pickup truck, especially not one this capable.
I'm not sure the market was clamoring for a convertible truck that can do what the Gladiator can do, but Jeep has produced a very good version of that vehicle.
2020 Jeep Gladiator 4x4
Times' take: A convertible pickup truck Jeep?
Highs: Big, burly and very capable
Lows: Big, burly and a bit clumsy
Vehicle type: Four-door, five-passenger pickup truck
Base price: $35,040
Price as tested: $57,230
Powertrain: 3.6-liter V6 gasoline engine
Transmission: Eight-speed automatic, four-wheel drive
Horsepower: 285
Torque: 260 pound-feet
Estimated fuel economy rating: 19 miles per gallon city / 22 highway / 17 combined
---
Must-read stories from the L.A. Times
Get the day's top news with our Today's Headlines newsletter, sent every weekday morning.
You may occasionally receive promotional content from the Los Angeles Times.