Tesla says Justice Department sought documents on Model 3 production guidance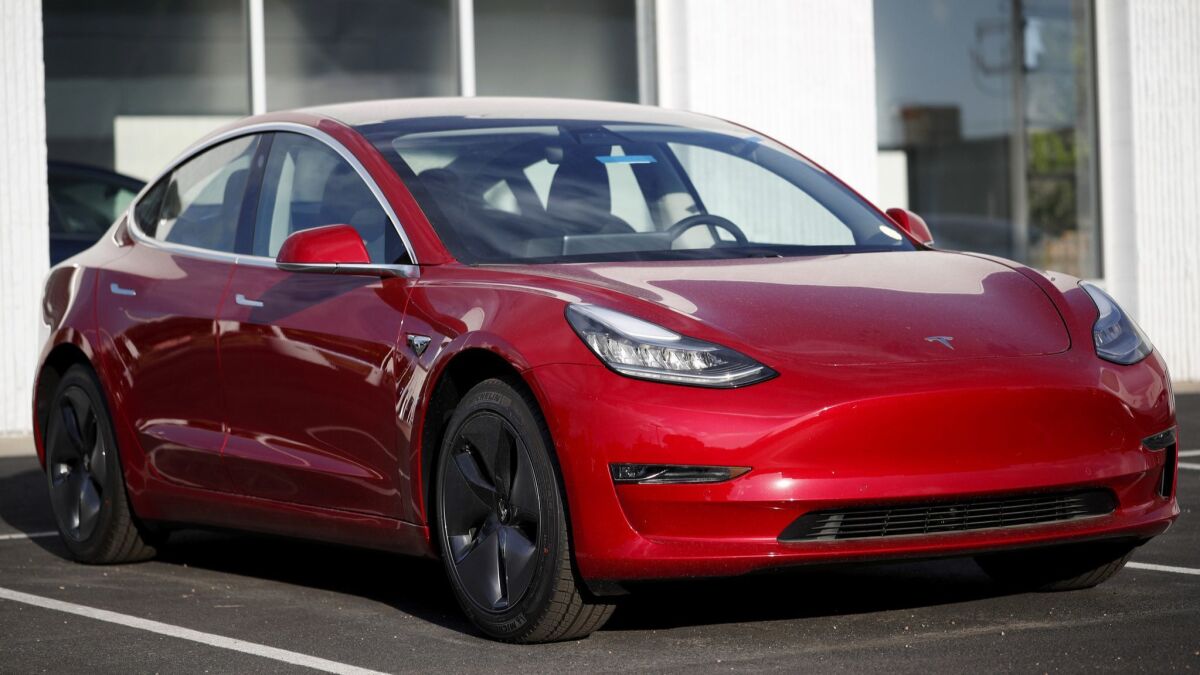 Tesla Inc. was asked this year by the U.S. Department of Justice for documents about its projections for the Model 3, the sedan that it struggled to manufacture last year.
The Palo Alto electric-car maker said Friday that it has cooperated and that it hasn't received a subpoena or request for testimony. It defended its statements about the Model 3 in response to a Wall Street Journal report that said a criminal investigation of the company had intensified.
"When we started the Model 3 production ramp, we were transparent about how difficult it would be, openly explaining that we would only be able to go as fast as our least lucky or least successful supplier, and that we were entering 'production hell,'" Tesla said in a statement.
Tesla shares briefly erased a roughly 7% gain Friday after the Journal's report, then resumed their advance. The stock finished with a gain of 5.1% for the day and 27% for the week, a surge powered by a blowout earnings report. It was the stock's biggest weekly jump since May 2013.
FBI agents have contacted former Tesla employees to ask for testimony, the Journal said, citing unnamed people familiar with the matter. The ex-employees received subpoenas earlier in the investigation, and agents have sought to interview several of them recently, according to the newspaper.
A representative for the U.S. attorney's office in San Francisco didn't respond to a request for comment.
Bloomberg News first reported in August that the U.S. Securities and Exchange Commission was scrutinizing Tesla's public pronouncements on manufacturing goals and sales targets. The Justice Department has also investigated statements that Chief Executive Elon Musk made about trying to take the Palo Alto automaker private.
Shareholder suit
This month, Tesla shareholders alleged in an amended class-action lawsuit that the company misled the public about Model 3 production. A federal judge dismissed the plaintiffs' original complaint based on finding that failure to meet projections is actionable in court only if the projections weren't accompanied by "meaningful qualifications."
In their revised complaint, the shareholders said they had spoken with multiple former employees at Tesla's California assembly plant and Nevada battery factory who disputed claims the company had made about being on track to meet Model 3 targets by the end of 2017.
In August of that year, Musk said he was confident Tesla would be able to produce 1,500 Model 3s in the third quarter and reach a run rate of 5,000 a week by year's end.
Two months later, Tesla announced that it had made only 260 Model 3s in the third quarter. The company manufactured fewer than 2,700 of the cars all of last year.
Musk, 47, made earlier predictions related to the Model 3 that were even more outlandish than the ones he gave last year. He said during a May 2016 earnings call that Tesla would aim to produce 100,000 to 200,000 Model 3 sedans during the second half of 2017.
---
UPDATES:
3:35 p.m.: This article was updated throughout with a statement from Tesla and additional details.
This article was originally published at 2:40 p.m.
Sign up for the California Politics newsletter to get exclusive analysis from our reporters.
You may occasionally receive promotional content from the Los Angeles Times.