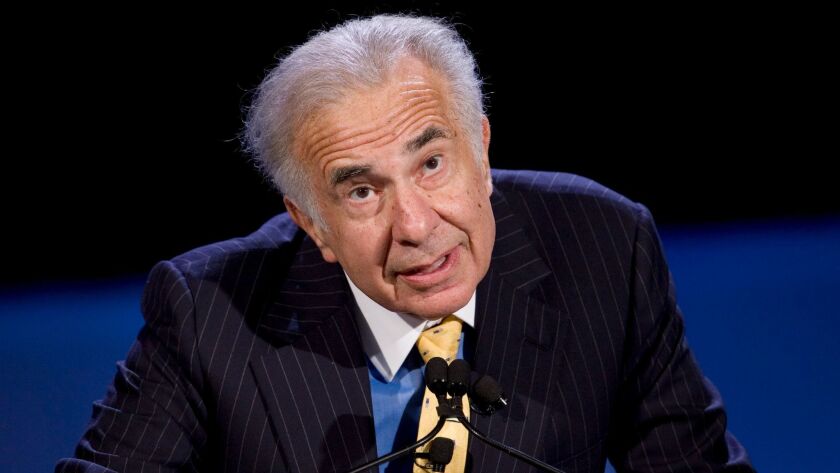 Eight U.S. senators have requested an investigation into whether Carl Icahn, a billionaire investor and advisor to President Trump, violated insider trading rules with bets made in the renewable fuel credit market.
In a Tuesday letter to three government agencies, the senators — all Democrats — note that then-President-elect Trump hired Icahn in December as an unpaid advisor on regulatory reform, despite Icahn's position as the majority owner of CVR Energy Inc. The Sugar Land, Texas, oil refining company is involved in the renewable fuel credit market.
The senators cited media reports saying that Icahn bet in 2016 that the price of renewable fuel credits would drop. They say he then made recommendations to Trump that caused the price of those credits to drop, netting CVR Energy a $50-million windfall.
A message seeking comment was left with Icahn's office. He previously has rejected accusations that his role in the Trump administration represents a conflict of interest.
In their letter, which frequently cites reporting by Reuters, the senators said Icahn's actions and the "massive profit … raise clear questions about whether he may have violated conflict-of-interest rules that apply to government officials."
The letter was sent to the heads of the Commodities Futures Trading Commission, the Securities and Exchange Commission and the Environmental Protection Agency.
It was signed by Sens. Elizabeth Warren of Massachusetts, Debbie Stabenow of Michigan, Thomas R. Carper of Delaware, Sherrod Brown of Ohio, Sheldon Whitehouse of Rhode Island, Tammy Baldwin of Wisconsin, Tammy Duckworth of Illinois and Amy Klobuchar of Minnesota.
Shares of CVR Energy fell 0.4% on Tuesday to $22.20.
---
UPDATES:
2 p.m.: This article was updated with additional details about the letter and about Icahn's role in the Trump administration, and with CVR Energy's stock price. It also clarifies that CVR Energy received the $50-million windfall, not Carl Icahn directly.
This article was originally published at 12:20 p.m.
---