Imaad Zuberi donated big to Trump's inauguration. Now prosecutors have questions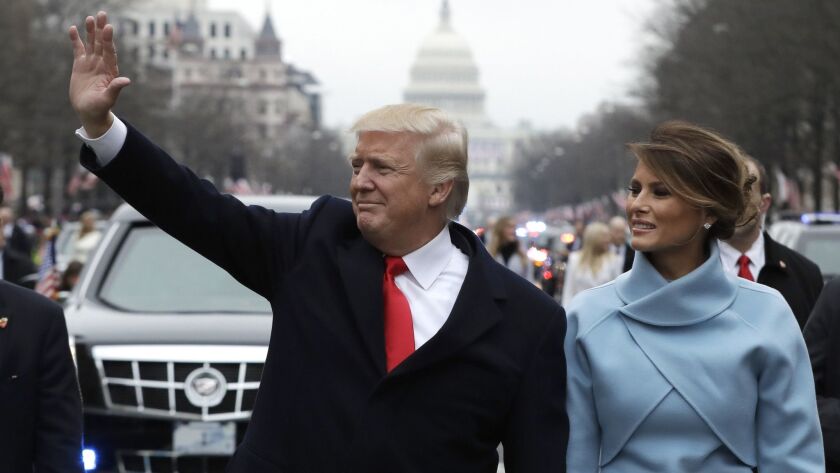 When federal prosecutors subpoenaed President Trump's inaugural committee Monday, they reportedly showed particular interest in its dealings with one donor: Imaad Zuberi.
Zuberi donated $900,000 to the committee through a company named Avenue Ventures, according to data from Open Secrets. The subpoena requests all communications the committee had with him and the company, multiple news reports said, citing unnamed sources.
Zuberi has been described as a Los Angeles venture capitalist, but he seems much more prominent in politics than in the local tech scene. So who is he? Here's what we know.
Big fundraiser
Zuberi was a top fundraiser for President Obama's 2012 reelection campaign and Hillary Clinton's 2016 presidential campaign, according to data from Open Secrets.
From 1990 to 2017, he was credited with making more than $2 million in political contributions. His recipients have included a slew of Democratic candidates and groups, but they are not exclusively Democrats. Zuberi has also donated to the campaigns of Republican candidates — including Sens. Lindsey Graham of South Carolina and Rand Paul of Kentucky and then-Rep. Dana Rohrabacher of Costa Mesa — as well as the Republican National Committee and National Republican Congressional Committee.
In 2017, the New York Times reported that after the $900,000 donation from Avenue Ventures to Trump's inaugural committee, Zuberi was granted attendance to the Chairman's Global Dinner, "a pre-inauguration, black-tie gathering intended to introduce the incoming president to the foreign diplomatic corps."
Business ventures
Zuberi's LinkedIn page identifies him as vice chairman of private equity and venture capital firm Avenue Ventures. He has "closed over $15 billion in transactions" at the firm, whose clients include start-ups, major corporations and sovereign wealth funds, the page says.
Avenue Ventures does not appear to have a working website and could not be reached for comment.
Zuberi is also chief executive of South El Monte companies named Avenue Capital Group Inc. and Avenue Investment Services Inc., described on state documents as investment firms. Listed at the same South El Monte address are several other companies where he also serves as CEO: an auto sales firm named Avenue Automotive Group and a handful of real estate investment firms.
Zuberi is also vice president of strategic development for Manhattan Street Capital, a San Diego start-up that provides a platform through which companies can raise funding. Manhattan Street Capital did not immediately respond to a request for comment.
Sri Lanka money
As Zuberi raised piles of cash for high-profile Democrats, Foreign Policy magazine reported, Sri Lanka paid $4.5 million to him directly and $2 million to a company he co-owned for consulting work that included influencing the U.S. government. And he didn't properly disclose to the United States the extent of his arrangement with Sri Lanka, the report said.
U.S. law requires paid representatives of foreign governments to disclose those relationships to the Justice Department within 10 days of acquiring such a client. The report said that New York-born Zuberi registered as a foreign agent months after receiving his first payment.
Zuberi did not admit wrongdoing in the report, and he told the magazine that the project wound down "when we realized we weren't going to make any major impact."
There is no evidence that Monday's subpoena is related to that episode.
"Imaad knows nothing about a subpoena, other than what's been written," Zuberi spokesman Steve Rabinowitz told The Times on Monday in a written statement. "It's well known that after supporting President Obama and Hillary Clinton, that Imaad gave generously and directly to the Trump inaugural. But many others gave substantially more. For what it's worth, Imaad, as always, gave only his own money from his own resources. If, in fact, he is named in this subpoena — never mind somehow named alone — he is bewildered why."
Michael Cohen
In a December article about the extent of attempts by President Trump's former lawyer Michael Cohen to monetize his access to Trump by advising major corporations after the 2016 election, the Daily Beast reported that Cohen spoke with Zuberi in 2016 and 2017. Among the topics the two men discussed, the report said, were business opportunities they could take part in together during the Trump presidency.
The Daily Beast also reported that Zuberi was in contact with Elliott Broidy, former Republican National Committee finance chairman, about potential business.
After the article was published, the Daily Beast added a statement from a Zuberi spokesperson who disputed some of the details and said, "Imaad had three brief conversations with Cohen, two of them very brief. … Zuberi also did not talk to Broidy about business until 2018 and nothing came of those conversations, either."
Other activities
American Abroad Media, a nonprofit that teams up with media outlets abroad to co-produce programming, has listed Zuberi as a member of its advisory board, although that page of its website was recently removed.
A bio of Zuberi on that page described him as an advisor to the Chinese government on economic affairs and said he also advised "multinational companies on international expansion and growth strategies" and gave counsel to "government entities and senior government officials on economic affairs, commerce and international trade."
The biography also listed extensive involvement in politics. Zuberi was co-chair of the National Finance Committee and Obama-Biden for America, a former member of board of directors at Obama — Organizing for Action and a former co-chair of Hillary for America National Finance Committee, it said. It also said he was on the board of Latino Victory Project, a trustee of the Democratic Senatorial Campaign Committee and co-chair of super PAC Free & Fair Trade USA.
Zuberi was honorably discharged from the U.S. Army, according to the biography.
A donation from Zuberi made possible the launch of the UCLA Initiative on Security and Religious Freedom to research "solutions to security challenges while preserving civil rights and civil liberties" at UC research universities, the school announced in 2017.
Zuberi's LinkedIn profile says he has a bachelor's degree in finance and business economics and an MBA, both from USC.
---
Your guide to our new economic reality.
Get our free business newsletter for insights and tips for getting by.
You may occasionally receive promotional content from the Los Angeles Times.