Michael Cohen turned his access to Trump into big money — and now big trouble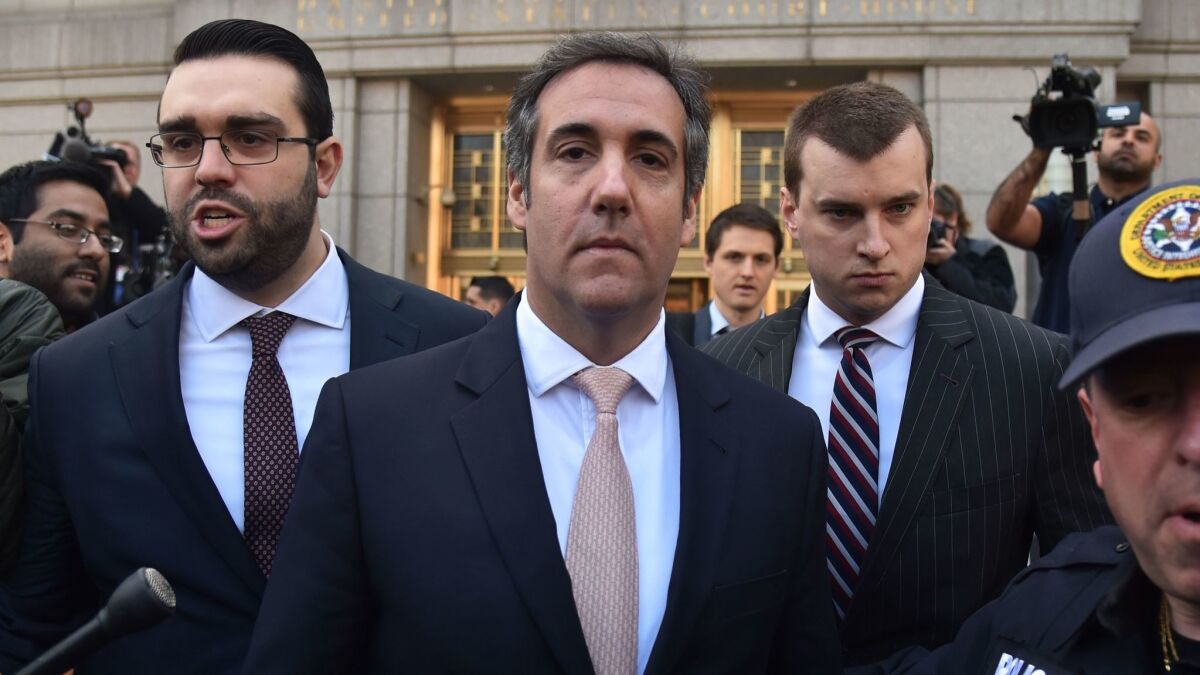 Reporting from Washington —
Three weeks before the 2016 election, New York lawyer Michael Cohen filed paperwork in Delaware, known as a welcoming host for shell companies, to create the blandly named entity Essential Consultants LLC.
At the time, Donald Trump was stumbling toward what the political world assumed would be a decisive defeat, but Cohen wanted to help his longtime client avoid even more embarrassment. He used the new company to send $130,000 to porn star Stormy Daniels to stay silent about her alleged sexual liaison with Trump.

For the record:
5:10 p.m. May 10, 2018The original version of this story attributed comments on Cohen's relationship with Trump to Press Secretary Sarah Huckabee Sanders. The comments were made by Deputy Press Secretary Raj Shah.
Then the unexpected happened — Trump won. And although Trump had pledged to "drain the swamp" in Washington, Cohen used his newly created company to sell his guidance — and his presumed access to the incoming president — to major corporations that had suddenly found their usual Washington lobbying and consulting firms out of the loop.
Novartis AG, one of the world's largest drug companies, paid Cohen $1.2 million for supposed healthcare counsel despite Cohen's lack of healthcare experience. Telecommunications giant AT&T paid him $600,000 for "insight" into the new administration as it pursued government approval for a takeover of Time Warner.
Korean Aerospace Industries dropped $150,000, purportedly for advice on U.S. accounting standards. And Columbus Nova, a New York investment firm that manages assets of an oligarch close to Russian President Vladimir Putin, paid Cohen $500,000, ostensibly for his help on real estate and other ventures.
"He desperately wanted to be a player — a person who was important, a person who wanted to throw his weight around,'' said an acquaintance who requested anonymity to speak candidly. After Trump was elected, Cohen "was trying to figure out what was going to be the best place to hang his hat, to make as much money as he could."
For watchdog groups, the payments signaled that little had changed in the nation's capital.
"That's the way the system works in Washington," said Fred Wertheimer, a Washington lawyer and activist who now heads Democracy 21, a nonpartisan group focused on campaign finance reform. "This is the swamp in its full glory."
It isn't clear whether Cohen provided any valuable advice or services. All the contracts eventually were canceled or expired, ending a brief but profitable chapter for Cohen, a scrappy businessman and lawyer from Long Island who began working for Trump more than a decade ago.
But Cohen remains in the crosshairs of a federal investigation in New York into what a court filing called "criminal conduct that largely centers on his personal business dealings." FBI agents hauled away 16 cellphones and 10 boxes of files when they raided Cohen's home, office, hotel and safety deposit box in April after getting a referral from special counsel Robert S. Mueller III.
Although Mueller was appointed to investigate Russian political interference in the election and possible complicity by Trump's inner circle, he also has examined the payments to Cohen. His team questioned AT&T and Novartis in November and December.
One of Cohen's clients, Columbus Nova, is an offshoot of the business empire of Viktor Vekselberg, a billionaire with Kremlin ties.
Vekselberg, who attended Trump's inauguration, was one of several oligarchs and Russian officials placed under U.S. economic sanctions last month in retaliation for Moscow's meddling in the 2016 election. Mueller's investigators questioned him this year after his private plane landed at a New York-area airport.
In a statement, Columbus Nova said it hired Cohen "as a business consultant regarding potential sources of capital and potential investments in real estate and other ventures." It also said suggestions "that Viktor Vekselberg used Columbus Nova as a conduit for payments to Michael Cohen are false."
Cohen doesn't have the polished pedigree that multinational corporations normally seek when hoping to curry favor in Washington. Until recently, he was a taxi cab proprietor, real estate investor and personal-injury lawyer.
But he also was Trump's self-appointed personal lawyer and fixer, helping him suppress negative stories in the media and scout out real estate and other business deals around the world. He lived in a Trump-branded building in Manhattan.
Many of the payments to Essential Consultants came to light in a document released Tuesday by Daniels' lawyer, Michael Avenatti. The Treasury Department's inspector general reportedly has opened an investigation into whether confidential bank records were improperly leaked.
Lawyers for Cohen filed a letter in court on Wednesday accusing Avenatti of spreading inaccurate information about Cohen, but they did not dispute the corporate payments to Essential Consultants.
"Mr. Avenatti is apparently in possession of and has published information from some of Mr. Cohen's actual bank records," they wrote.
Several of the companies named later confirmed their involvement with Cohen.
AT&T, which is fighting a Justice Department lawsuit to block its proposed $85-billion merger with Time Warner, hired Cohen "in early 2017 to provide insights into understanding the new administration," the company said in a statement.
When Mueller's office sought information about their contacts with Cohen, "we cooperated fully, providing all information requested" last November and December, the company added. "A few weeks later, our consulting contract with Cohen expired at the end of the year. Since then, we have received no additional questions from the special counsel's office and consider the matter closed."
Follow live coverage of the Trump administration on Essential Washington »
Swiss-based Novartis, which often seeks drug approvals from U.S. federal regulators, said it hired Cohen in February 2017 — for $100,000 a month for a year — to provide advice on Trump's healthcare policy.
"With the recent change in administration, Novartis believed that Michael Cohen could advise the company as to how the Trump administration might approach certain US healthcare policy matters, including the Affordable Care Act," the company said in a statement.
Novartis was quickly disappointed. After an initial meeting with Cohen, the company decided he "would be unable to provide the services that Novartis had anticipated related to US healthcare policy matters."
But "the contract unfortunately could only be terminated for cause," Novartis said. So the company continued paying $100,000 a month to Cohen until February 2018, three months after it was questioned by Mueller's office.
The interactions have embarrassed the corporations, which have been pulled into the Mueller inquiry. They also raise concerns about the purpose of the payments, according to Kathleen Clark, who practices government ethics law and is a law professor at Washington University in St. Louis.
"We don't know whether these companies were sowing favor with Trump by paying his friend, or whether his friend was defrauding these companies by purporting to sow influence on their behalf," she said.
Asked Thursday on Air Force One whether Trump felt Cohen was profiting off their relationship, White House Press Deputy Press Secretary Raj Shah directed "all those questions" to Cohen, his attorney and the president's private counsel.
But Shah pushed back when asked whether Trump is concerned about people selling access to him. "The president makes up his own mind about policy matters and everything else in between," he said. "He's not influenced by the kinds of things that you're referencing."
Cohen is far from the first person to cash in on proximity to a president. The Libyan government in 1980 loaned $220,000 to Billy Carter, a gas station owner in rural Georgia who was President Carter's younger brother. Billy Carter registered as a foreign agent in Washington to act on Libya's behalf.
A number of Californians followed President Reagan to Washington and worked their connections. President Clinton's era introduced a new entity to Washington's influence-peddling world — the Friend of Bill, or FOB.
In the end, the payments to Cohen "may be more revealing about Washington than … about Cohen," said Jan W. Baran, a partner at the law firm Wiley Rein LLP.
Times staff writers Megerian and Willman reported from Washington, and Finnegan from Los Angeles.
Twitter: @chrismegerian
---
Life is stressful. Our weekly mental wellness newsletter can help.
You may occasionally receive promotional content from the Los Angeles Times.