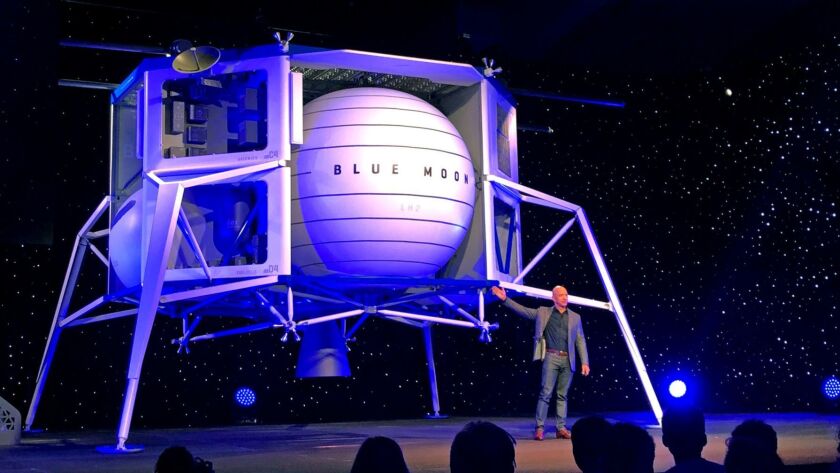 Reporting from Washington —
In a lofty speech Thursday, Amazon.com Inc. and Blue Origin founder Jeff Bezos unveiled a mock-up of a lunar lander that he said could help build out infrastructure on the moon and lead to humanity's expansion into space.
Bezos said the lander, known as Blue Moon, will be ready in time to meet Vice President Mike Pence's call to return U.S. astronauts to the moon within five years.
"We can help meet that timeline, but only because we started three years ago," he said during a glitzy event at the Walter E. Washington Convention Center in Washington, D.C. "It's time to go back to the moon, this time to stay."
Like another tech mogul with a plan for planetary expansion, Tesla and SpaceX Chief Executive Elon Musk, Bezos said he believes problems on Earth make it imperative to colonize other worlds.
Bezos said humanity's energy consumption will eventually outpace the Earth's resources. Remaining on Earth will lead to "stasis and rationing," he said, whereas moving into space would allow "dynamism and growth." He pushed the idea of cylindrical living habitats with artificial gravity known as O'Neill colonies, after the physicist Gerard K. O'Neill, who pioneered the idea.
"These are ideal climates," Bezos said during his presentation, which was held in a room decked out with twinkling stars, vertical blue lights and soft, blue lighting. "People are going to want to live here, and they're going to be close to Earth so you can return."
He downplayed the idea of going to Mars, saying round-trip travel times to the Red Planet were "on the order of years" and that infrequent launch opportunities presented a "very significant logistics problem."
The Mars mention could be seen as a jab to fellow billionaire and space rival Musk, who has been clear about his goal to colonize the Red Planet. Musk unveiled plans several years ago to carry crew to Mars aboard a spaceship called Starship as early as 2024.
Before he goes to the moon, Bezos has to accomplish a robust manifest of goals for the near-term future.
The company has performed 11 tests of its New Shepard capsule and rocket booster system, which is designed to carry paying tourists to suborbital space. The most recent test occurred last week and had 38 payloads — but no humans — aboard. Ariane Cornell, Blue Origin director of astronaut and orbital sales, said on the launch webcast that the firm will carry humans "later this year."
Bezos said the New Shepard rocket booster is powered by liquid hydrogen because the company wanted to practice working with the high-performance fuel for its next steps.
The company is also developing New Glenn, an orbital rocket, ahead of an expected first launch date in 2021. That rocket is intended to carry satellites for commercial, military and civil customers, but has also been designed from the beginning to ferry humans, Bezos said Thursday. A Blue Origin spokesman said Thursday that New Glenn could carry the lunar lander, but that the rocket wasn't designed to do so.
Bezos has also previously teased the possibility of another, more powerful rocket called New Armstrong that, if the firm's current naming conventions apply, could be aimed at moon missions.
As rocket development continues, Blue Origin is also building out its facilities. The company recently broke ground on an engine production factory in Huntsville, Ala., where it will build BE-4 engines to power New Glenn and United Launch Alliance's upcoming Vulcan rocket, as well as the BE-3U engines for the New Shepard system. The factory is expected to open in 2020.
Blue Origin is also building a new headquarters building at its hub in Kent, Wash., and is ramping up work at its facility in Van Horn, Texas.
Bezos' plans for the moon take a more step-by-step approach, in line with his company's motto, "Gradatim Ferociter" — a Latin phrase that translates to "step by step, ferociously." He said launch costs needed to decrease in order to build infrastructure in space, and that in-space resources must be used.
That's why his Blue Moon lunar lander would use liquid hydrogen and liquid oxygen as propellants — water ice has been found at the moon's poles, making it easier to refuel the lander on the surface, Bezos said. The lander's engine, known as the BE-7, will be hot-fired for the first time this summer, he said.
The lander would be able to carry up to 6.5 metric tons to the lunar surface with a "stretch tank variant." It will be powered by hydrogen fuel cells, rather than solar, to help it survive the lunar night, Bezos said.
Blue Moon's landing gear will allow it to land on an incline of up to 15 degrees, while its flash lidar sensors will help the spacecraft land within 75 feet of its target, he said. The lander will also be able to deploy up to four rovers, and the larger "stretch tank" version can also carry a pressurized human rover.
Pence called in March for the U.S. to send astronauts back to the moon within five years. NASA has been working on a massive rocket called the Space Launch System, but development is over budget and behind schedule. That rocket was intended to take crews to the moon and beyond.
Pence has voiced support for rockets developed by private industry, saying that if commercial rockets "are the only way to get American astronauts to the moon in the next five years, then commercial rockets it will be."
Bezos cheered Pence's call to return to the moon, saying Thursday, "I love this. It's the right thing to do."
Blue Origin also made its intentions more explicit in a tweet shortly after Bezos' presentation: "We're ready to support @NASA in getting there by 2024 with Blue Moon."
---