America has a record 7.1 million job openings. It might be time to ask for a raise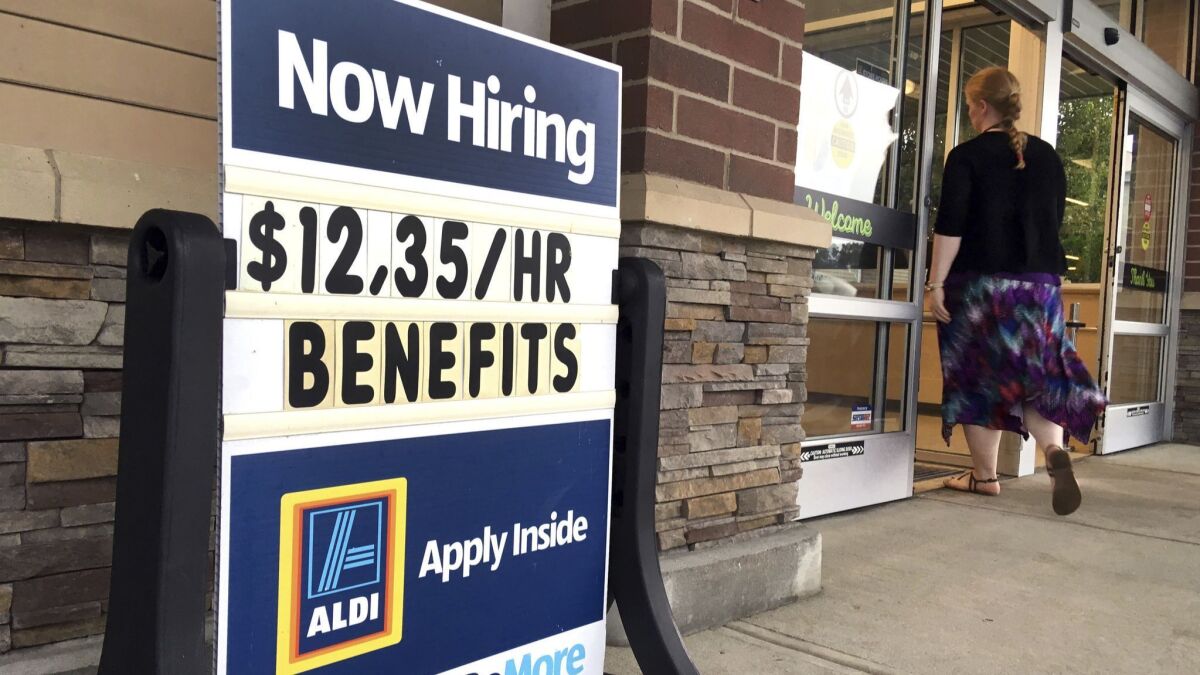 The Washington Post
The United States has a record number of job openings, another sign workers have greater opportunity to find better jobs, according to data the Labor Department released Tuesday.
The nation had 7.136 million job openings in August, the highest on record since the Labor Department began tracking such data with its survey of job openings and labor turnover, or JOLTS report, in late 2000.
There is now more than one job opening for every unemployed person, a dramatic turnaround from the Great Recession, when there were more than six unemployed people for every job on offer, the Labor Department said. Unemployment hit 3.7% in September, the lowest level since 1969.
Economists and employment experts say now is an ideal time for workers to look for a new job or ask their current employer for a raise or promotion, as so many businesses complain they can't find enough employees, especially ones with skills and industry knowledge.
"If you are thinking of quitting, go to your boss and I bet they give you big money to stay. Try it," wrote Chris Rupkey, chief financial economist at MUFG Union Bank in a morning note to clients. He called this "one of the biggest mismatches in history between help wanted and labor available."
The U.S. economy is strong by most measures — Federal Reserve chief Jerome Powell has even called it "extraordinary" — but wages are still growing slowly.
The last time unemployment was about this low, in the late 1990s, wages were routinely growing around 4% or more. This August, wage growth hit 2.9% — the highest in nine years, but still low by historical standards.
Economists keep predicting wages will rise because it's getting more and more difficult for companies to find workers, but many employers have opted to give one-time bonuses or extra perks such as working from home or free coffee in the office instead of upping hourly pay.
Some say the decline of unions and an erosion of workers' rights is making it harder for employees to ask for more pay or promotions. Business leaders often point out that the cost of healthcare has risen sharply, so the money that might have gone for a traditional raise has been going to pay for that. Still, there's a growing consensus that workers are likely to have more leverage in today's labor market to get what they want.
"If you're currently looking for a job, the strong August JOLTS report suggests you have more negotiating power than you might think," Indeed Hiring Lab economist Nick Bunker said.
Many employees also say they are "underemployed." The number of Americans stuck in part-time jobs who want full-time work still isn't back to a pre-recession low. Despite the record number of job openings, employers sometimes still hesitate to hire someone they have to train or who has gaps in their employment record.
For much of the economic recovery, people who switched jobs were more likely to get higher pay than those who stayed, according to ADP, which processes millions of Americans' paychecks. But that has changed lately.
Workers who stay and new entrants into the labor force are now getting about the same pay bumps as workers who job hop, according to the latest ADP Workforce Vitality Report. That is especially true for workers ages 25 to 34, who ADP says are receiving wage increases of more than 8%, on average, regardless of whether they change jobs or remain in their current roles.
Long writes for the Washington Post.
---
Sign up for the California Politics newsletter to get exclusive analysis from our reporters.
You may occasionally receive promotional content from the Los Angeles Times.