Private sector firms added solid 190,000 jobs in August, ADP reports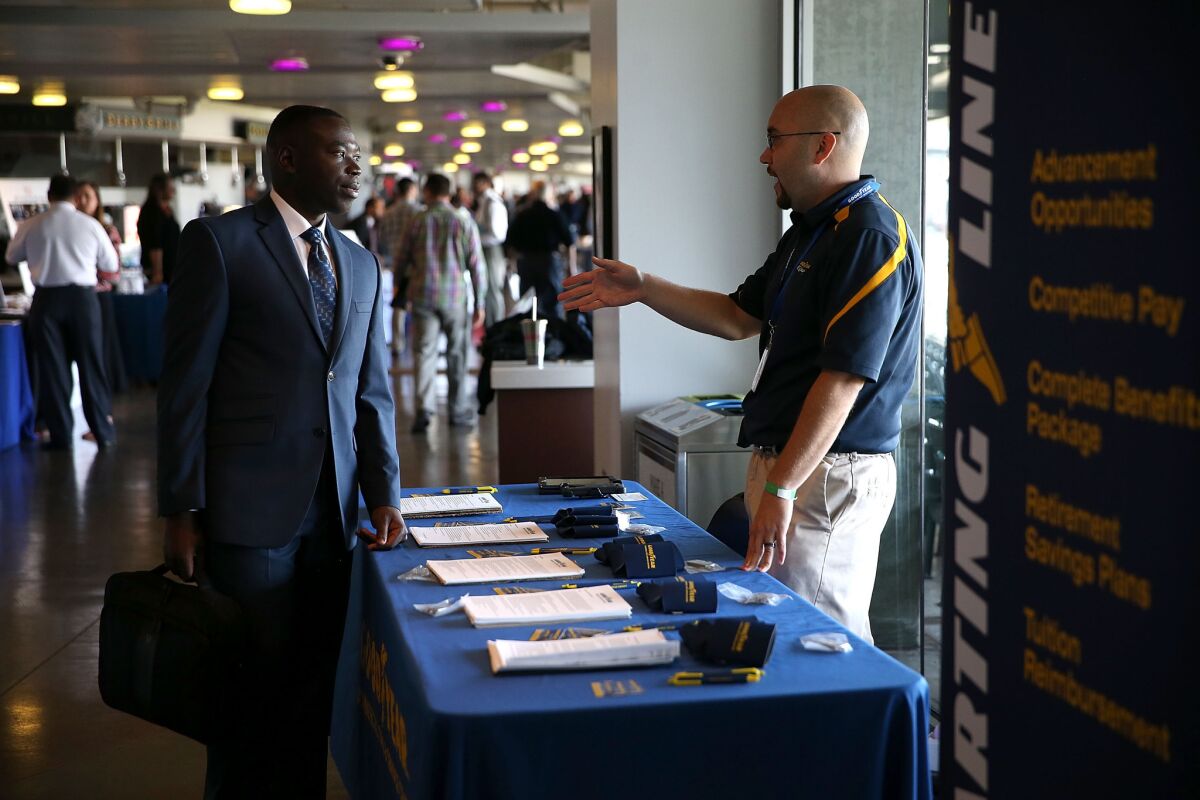 Reporting from Washington —
Hiring by U.S. firms picked up a bit last month as the private sector added 190,000 net new jobs, payroll firm Automatic Data Processing Inc. said Wednesday.
The August figure was below analyst expectations of about 210,000 net new private-sector jobs, but it was an improvement over July's 177,000 figure, which was revised down from the initial report of 185,000.
The latest monthly job-creation number for companies was solid, said Mark Zandi, chief economist at Moody's Analytics, which assists ADP in preparing the report.
"Recent global financial market turmoil has not slowed the U.S. job market, at least not yet," Zandi said. "Job growth remains strong and broad-based, except in the energy industry, which continues to shed jobs."
The construction industry added 17,000 net new jobs in August, up from 15,000 the previous month, ADP said. New hiring by manufacturers rebounded to 7,000 last month from just 1,000 in July.
The state of the labor market is a key factor that Federal Reserve officials will consider in deciding when to raise their benchmark short-term interest rate for the first time since 2006.
Though economists watch ADP's monthly report to help forecast overall job growth, the Labor Department's monthly details on new jobs, the unemployment rate, hourly wages and other data is the Fed's primary focus.
The government is expected to report Friday that the U.S. economy — private and public sectors — added about 223,000 net new jobs in August and that the unemployment rate ticked down to 5.2%.
That would be an improvement from 215,000 net new jobs added in July, and the unemployment rate would be a seven-year low.
Fed officials had appeared on track to raise the interest rate at their Sept. 16-17 meeting if job growth continued to be strong.
But the roiling financial markets in the U.S. and around the world have complicated the calculations of Fed policymakers, who could decide to delay a rate hike even if job growth is solid in August to avoid adding to the turmoil.
Follow @JimPuzzanghera on Twitter
---
Sign up for the California Politics newsletter to get exclusive analysis from our reporters.
You may occasionally receive promotional content from the Los Angeles Times.