Solid job growth in July paves the way for a Fed interest rate hike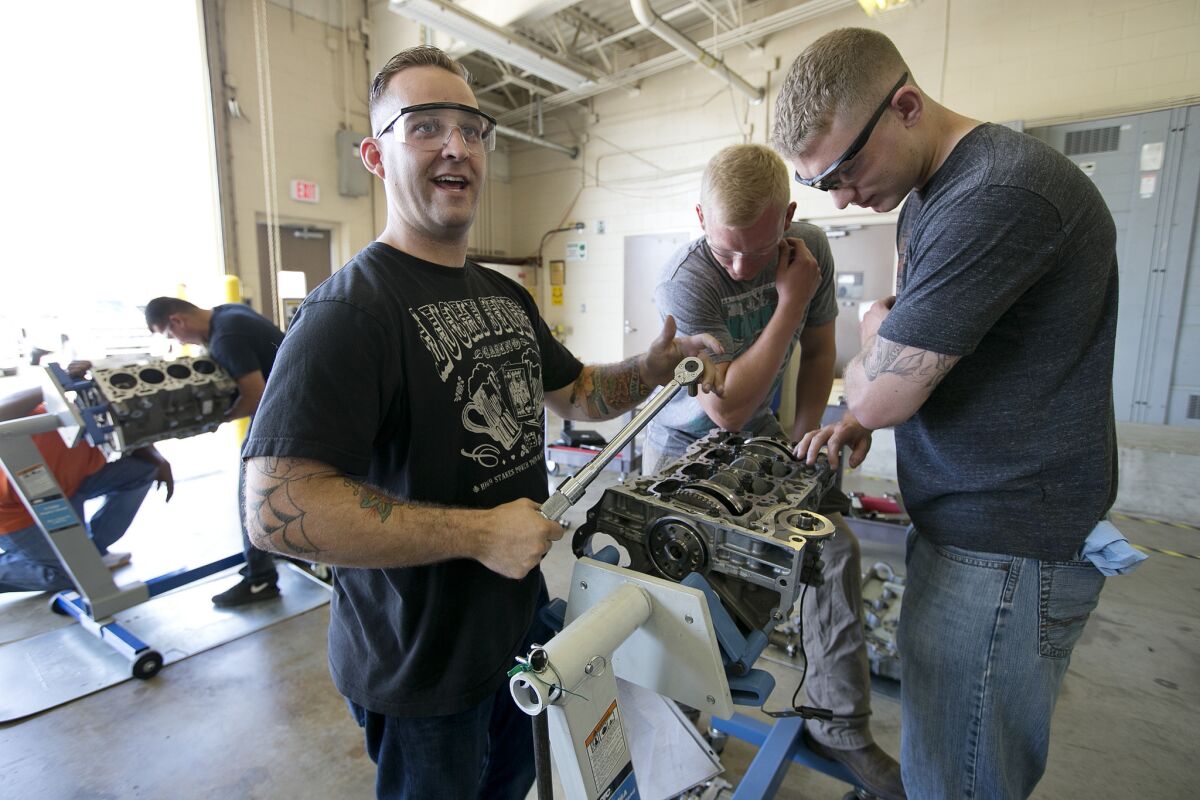 Reporting from Washington —
After another month of solid job increases in July and a heartening uptick in wages, something else is more likely to rise by the fall: interest rates.
New data from the Labor Department on Friday pave the way for the Federal Reserve to raise its benchmark interest rate for the first time since 2006, economists said.
"The job creation to date is sufficient to give them the green light," said Chris Rupkey, chief financial economist at Union Bank in New York, who put odds at about 70% that the Fed raises the rate at its September meeting.
The economy added 215,000 net new jobs last month, led by hiring from retailers and healthcare providers.
The unemployment rate held steady at a seven-year low of 5.3%. And in a hopeful sign for consumers, average hourly earnings increased by 5 cents to $24.99 after declining by a penny in June.
"The evidence overall is clear that the labor market has improved dramatically in recent years," said Andrew Chamberlain, chief economist at Glassdoor, an online job search and recruiting website.
Job creation was down from June's upwardly revised figure of 231,000. But the July figure was in line with analysts' expectations and was the 15th time in the 17 months that the labor market expanded by more than 200,000 net new jobs.
SIGN UP for the free California Inc. business newsletter >>
Such "a boring report can be a good jobs report" because it shows the economy is back on track after the Great Recession, Chamberlain said.
But advocates for workers said there still are too many unemployed Americans and wage growth is too slow to warrant an interest rate increase any time soon.
Still, investors appeared worried that a rate hike, which would start to increase business borrowing costs, is coming after the Fed's September meeting. The Dow Jones industrial average dropped 46.37 points, or 0.3%, to close at 17,373.38.
The so-called federal funds rate has been near zero since late 2008 as central bank officials tried to stimulate economic growth during and after the Great Recession by making it cheaper to spend and borrow than save. The rate applies to short-term lending between banks but has become a benchmark for consumer and business loans.
After their meeting last month, Fed policymakers said a rate hike would be appropriate when there was "some further improvement in the labor market."
Economists said Friday's jobs report showed conditions were getting better.
"A similar report for August … would likely be enough to 'seal the deal' for a mid-September rate hike," said Gus Faucher, senior economist at PNC Financial Services Group.
Last month, retailers added 36,000 net new jobs in July, healthcare providers increased payrolls by 28,000, and positions in professional and technical services, such as architects and computer system designers, were up by 27,000.
Manufacturers also posted a strong gain of 15,000 net new jobs, the best since January and nearly as many positions as were added in the five previous months combined.
Still, many of the new jobs are in low-paying sectors and wages are growing slowly. They were up just 2.1% for the year ended July 31, although that is well above the low inflation rate.
In a small positive move, the length of the average workweek inched up for the first time in five months and matched the highest level since the end of the Great Recession.
The Labor Department revised job growth in May and June upward by a combined 14,000 net new positions. That modest gain means the economy averaged 235,000 jobs a month created from May through July. The figure is down from a 246,000 average for the year ended July 31, but is still considered solid job growth.
The unemployment rate remained at its lowest level since April 2008, in the early days of the Great Recession.
The labor force grew by 69,000 in July after shrinking the previous month, when some discouraged workers stopped looking for work.
But the percentage of adults in the labor force remained extremely low at 62.6%. The last time it was lower was in 1977.
The low rate is one of the signs that the job market still hasn't returned to normal, said Claire McKenna, an analyst at the National Employment Law Project, a worker advocacy group.
"It's true that the pace of monthly job growth has accelerated and that overall unemployment is low, but a number of indicators ... suggest the economy still is not fully recovered from the recession," she said.
The number of people out of work for six months or longer increased by 59,000 in July to 2.2 million. And though annual wage growth has improved, it still is well below the 3.5% to 4% that the economy needs, McKenna said.
"The Fed should really continue to wait for more significant and sustained improvement in the labor market before acting to raise interest rates," she said.
Follow @JimPuzzanghera on Twitter
ALSO:
Q&A: How a key Fed interest rate affects the economy
TrueCar posts big 2nd-quarter loss; CEO Scott Painter to step down
A 'media meltdown'? Disney remark on TV viewing sends industry into tailspin
---
Sign up for the California Politics newsletter to get exclusive analysis from our reporters.
You may occasionally receive promotional content from the Los Angeles Times.