The downside to the 16-year-low unemployment rate and other takeaways from the jobs report
Reporting from WASHINGTON —
Unexpectedly lackluster job growth last month triggered concerns about the strength of the labor market, but probably not enough to derail an expected interest rate hike by the Federal Reserve this month.
Here are the highlights from the report released by the Labor Department on Friday.
The economy added 138,000 net new jobs, well below expectations.
The unemployment rate declined to 4.3%, its lowest level since 2001.
Wage growth slowed a bit, with average hourly earnings up 4 cents.
"There's very little about the report that you can look to and draw a positive from," said Mark Hamrick, senior economic analyst at financial information website Bankrate.com.
But the Trump administration shook off concerns about the underwhelming report.
"We're not worried about slowing job growth," Gary Cohn, director of the White House's National Economic Council, told CNBC.
These are the key takeaways.
May's job growth was down from 174,000 the previous month. The April figure was revised down from an initially reported 211,000.
Combined with a downward revision of 29,000 for March, the economy now has averaged a gain of just 121,000 net new jobs in the last three months. In 2016, the average was 187,000 a month.
Economists had expected job gains of about 185,000 in May.
But after 80 straight months of job growth, economists said the labor market is limited in how much more it can expand. The U.S. is nearing full employment, meaning just about all the workers who want a job have one.
"When you get to this point in an employment cycle, you should see gains tick down," said Patrick Schaffer, global investment specialist with J.P. Morgan Private Bank in Los Angeles.
Federal Reserve Chairwoman Janet L. Yellen has said the economy needs to add about 100,000 net new jobs a month to keep up with population growth.
Economists have expected wage gains to increase as the job market got tighter, but average hourly earnings increased just 4 cents in May, to $26.22. That was compared with a 5-cent gain in April, a figure that was revised down from the initial estimate of 7 cents.
For the 12 months ended May 31, wages have risen 2.5%. That was only slightly above the 2.2% annual increase in the consumer price index.
"The tighter job market is leading businesses to raise pay, but wage growth remains disappointing given that the expansion is now eight years old," said Gus Faucher, chief economist at PNC Financial Services Group.
The unemployment rate ticked down a tenth of a percentage point to 4.3%, the lowest in 16 years. But that was largely for the wrong reason: About 429,000 people dropped out of the labor force.
The percentage of working-age Americans in the labor force declined last month to 62.7%, the third-straight monthly decline after an uptick over the winter.
The participation rate has been trending down since the late 1990s as baby boomers retired, but fell off sharply during and after the Great Recession as discouraged unemployed Americans gave up looking for jobs. It has hovered near a four-decade low since 2013.
Cohn highlighted a continued decline in a broader measure of unemployment that includes discouraged out-of-work Americans and people working part time but who want full-time jobs. That figure, known as the U-6 rate, dropped to 8.4% in May, and Cohn noted it is down a full percentage point since President Trump took office in January.
"We're clearly bringing people back into the job force," Cohn said.
But with May's reduction, the labor force has expanded by only 68,000 people since January, according to Labor Department data.
Still, Patrick Schaffer, global investment specialist with J.P. Morgan Private Bank in Los Angeles, said the decline in the broader unemployment measure was a good sign for the economy.
Although he described the jobs report as "underwhelming," Shaffer said the labor market remains strong and that there are no signs of a looming recession.
"It might have missed expectations but the economy continues to be very steady, and that ultimately is the biggest takeaway," he said of the jobs report.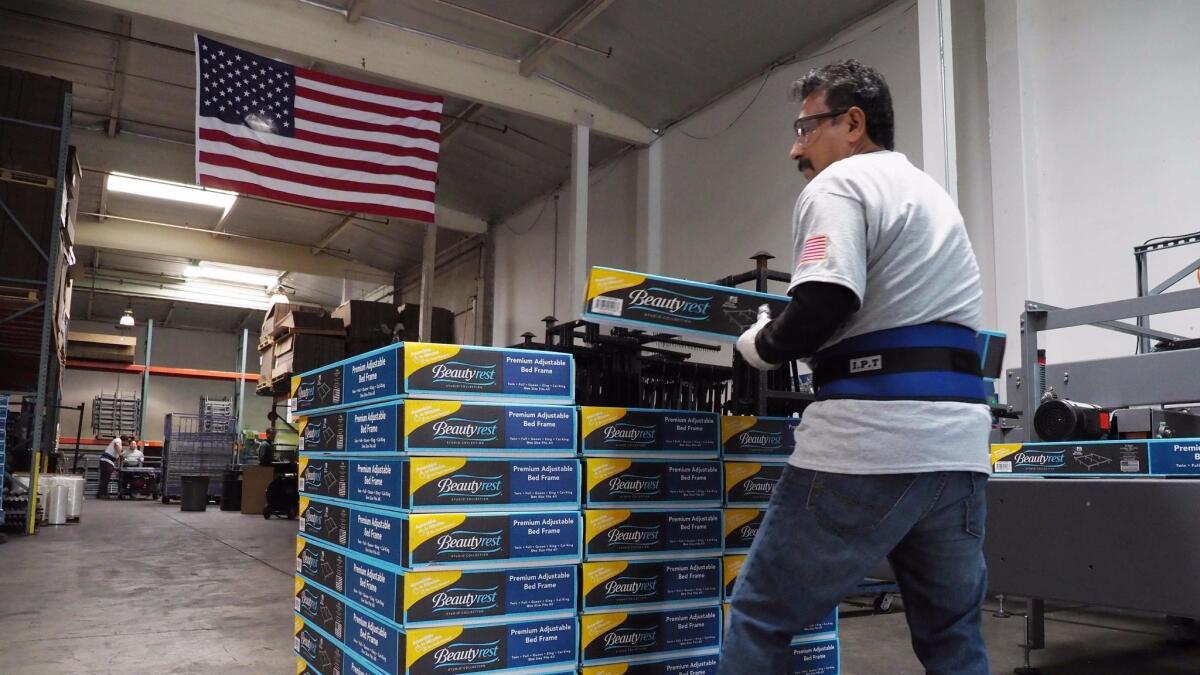 Construction companies increased their payrolls by 11,000 in May after shedding 1,000 positions the previous month.
But that was one of the few bright spots as growth in May was down across many sectors.
Manufacturing was a mirror image of construction. Factories reduced their payrolls by 1,000 in May after adding 11,000 net new jobs the previous month.
Retailers continued to struggle, shedding 6,100 net jobs after a 5,800-position reduction in April. And government payrolls shrank by 9,000 in May after adding 1,000 net positions the previous month.
The leisure and hospitality industry added 31,000 net new jobs in May, down from 58,000 the previous month. Healthcare and social assistance providers increased their payrolls by 32,300 after a 44,900 gain in April.
The jobs report was the last major economic indicator to be released before Federal Reserve monetary policymakers gather in Washington on June 13 to decide whether to raise their key short-term interest rate.
At their May meeting, Fed officials indicated that they were ready for another small increase if the economy strengthened after a sharp slowdown in growth over the winter that their official policy statement said was "likely to be transitory."
Two days after that meeting, the Labor Department reported that job growth had rebounded strongly in April. But the May jobs data, and a downgrade of April's numbers, could cause some consternation among Fed officials.
The report "will give more caution" to Fed officials about a June rate hike, said Sung Won Sohn, an economist at Cal State Channel Islands. But he and other analysts said they expected the Fed to go ahead with a rate hike at this month's meeting.
"It makes the discussion this month more vigorous and probably raises the possibility that there's some dampening of rate hike expectations going out into the future," Hamrick said..
Patrick Harker, president of the Federal Reserve Bank of Philadelphia, said Friday he still expected the Fed to hike rates two more times this year.
"Job creation is still strong. We had 138,000 jobs in May, which is a good number," Harker, a voting member of the policymaking Federal Open Market Committee, said in a speech in Reading, Pa.
Investors still believe a rate hike is coming this month. On Friday, they put the odds at 93.5%, according to the FedWatch tool of the CME Group futures exchange.
ALSO
JetBlue and Delta begin testing biometrics to identify passengers
Harry Potter boosts Universal Studios attendance; Disneyland visits slip
Tesla's Elon Musk and Disney's Robert Iger quit Trump advisory councils, citing climate change
---
UPDATES:
11:40 a.m.: This article was updated with additional details and comment from Patrick Harker, president of the Federal Reserve Bank of Philadelphia.
8:15 a.m.: This article was updated with additional analysis and comments from Gary Cohn, director of the White House's National Economic Council, and Patrick Schaffer of J.P. Morgan Private Bank in Los Angeles.
7:05 a.m.: This article was updated with comments from Mark Hamrick of Bankrate.com and Gus Faucher of PNC Financial Services Group.
6:05 a.m.: This article was updated with staff reporting and analysis.
This article was originally published at 5:30 a.m.